On November 26, 2022 Catalytic Communities (CatComm) was awarded the 2022 Brazilian Federation of Architects and Urbanists Prize (FNA—Federação Nacional dos Arquitetos e Urbanistas), for our contributions to Brazilian cities.
Below is a full translation of the article published by FNA on their website recognizing CatComm's work.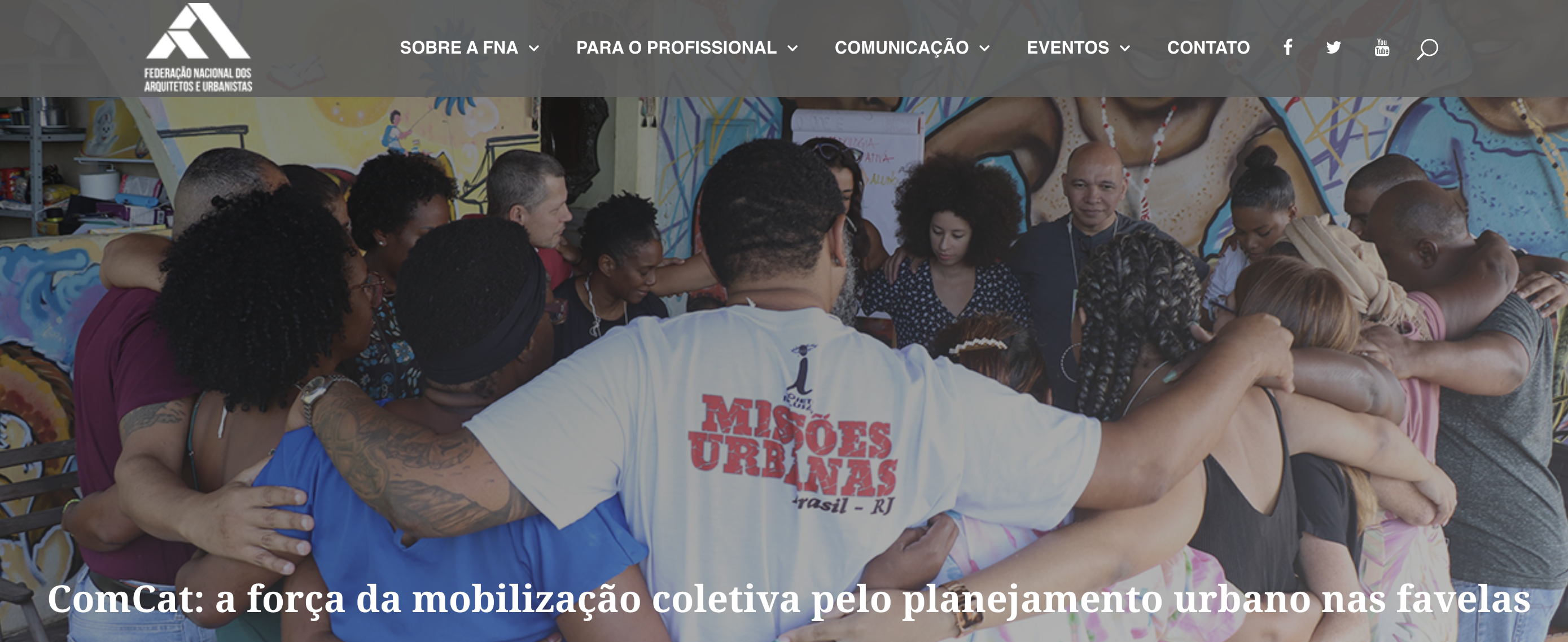 ---
CatComm: The Force of Collective Mobilization for Urban Planning in the Favelas
Understanding cities as ecosystems, respecting people, what they build and the area they live in: this is what drives the work of Catalytic Communities (CatComm), in Rio de Janeiro, Brazil. Operating in Rio since 2000, CatComm seeks to include grassroots architecture in inclusion processes and urban planning. "Urban planners need to dedicate their attention to our favelas. And to respect the nature of these territories, which only grow in complexity over time and vary dramatically from one to the next. We can't impose solutions from the outside. Favela residents must be empowered and their potential realized so they can determine the future development of their own communities," explains CatComm founder and executive director, Theresa Williamson.
It's due to their understanding of favelas' importance and the need for more attentive eyes that the organization concentrates its actions in Rio de Janeiro, not working directly in other regions. The mission, according to Williamson, is to break down barriers that prevent the full development and realization of favelas' potential by working as a network focused on the development of these territories. "Our foundation is community control of decision-making processes, with the starting point being the demands, solutions, challenges, desires, and local assets as viewed by community organizers and residents. We build projects with them which collectively and mutually strengthen everyone. And we invite everyone who gets in touch, from individual volunteers to large organizations, to become part of the support network," explains Williamson.
Of What is CatComm Made?
The consequences of this collective movement take on enormous significance when we look at the impact of CatComm's programs, such as the Casa Community Technology Hub which was recognized by UN Habitat in 2006 as a model to be adopted in other cities. Located in Rio's Port Region, the community technology center and meeting space served over 1,000 community leaders from over 200 favelas between 2003 and 2008.
Another example is RioOnWatch, a bilingual community communication project which emerged in 2010 as a response to the forced evictions occurring in Rio de Janeiro in the period leading up to the 2016 Olympics. "We saw well-established favelas in our network under threat due to social stigma coupled with the authorities' desire to take advantage of the mega-events to carry out evictions that were not only arbitrary, but also counter-productive to the city's development," recalls Williamson. She adds that it was possible to influence the views of the international public and even stop and reduce the impacts in certain eviction processes.
On the list of highlights we also find the Sustainable Favela Network, which started during the UN's Rio+20 environmental summit when CatComm made the film "Favela As A Sustainable Model." Since then, the Network has carried out diverse activities around 11 thematic axes, including the development of a commitment letter and debate between mayoral candidates in 2020. Because of the Network, green infrastructure has been installed in peripheral territories including a bio-system, solar energy, and green roofs, alongside the report "Water and Energy Justice in the Favelas: Research Data Evidencing Inequality and Demanding Action."
The Favela-Community Land Trust (F-CLT) is another of the organization's achievements, having emerged in response to forced evictions and the search for a solution which would result in land regularization without real estate speculation. The first law introducing the F-CLT in Brazil is now a reality in the São João de Meriti Master Plan and four pilot communities hope to implement the model in Rio de Janeiro.
There's also the Favelas Unified Dashboard, which started during the Covid-19 pandemic due to a lack of government action and united the forces of 24 community collectives logging and responding to cases of the illness. #DataSavesLives was the project motto. With support from Brazil's national health institute Fiocruz, it managed to cover 75% of residences in favelas across the city and unmasked the municipal government's total neglect of these communities. The data can be accessed at www.favela.info.
As a collaborative network, it is estimated that CatComm has already had an impact on the majority of Rio de Janeiro's favelas. "I estimate that we have worked directly with over 2,500 favela leaders over 22 years. In five years, during the years of the Casa Community Technology Hub, there were over 1,200 leaders. From then to now, the work has only grown. The Sustainable Favela Network, for example, has 377 registered members with 120 projects in 183 favelas across Greater Rio. The Unified Dashboard ultimately brought together over 50 different collectives and covered 450 territories. RioOnWatch has dozens of communicators influencing readers who take the issues, debates and agendas of the favelas into their lives. The coverage and reports are read by people in over 180 countries, with 75,000 monthly readers," stated Williamson.
All these achievements only serve to expand CatComm's objectives, and the organization's director has a positive view of the prospects for the coming years. "We're going to launch the 'SOS Water and Electricity' app to monitor the right to electricity and water in favela territories, starting with Rio de Janeiro but with national applicability. We're going to develop a sustainable favela youth network, bringing new energy and vision to the projects. And much more to be developed with our partners," she projects.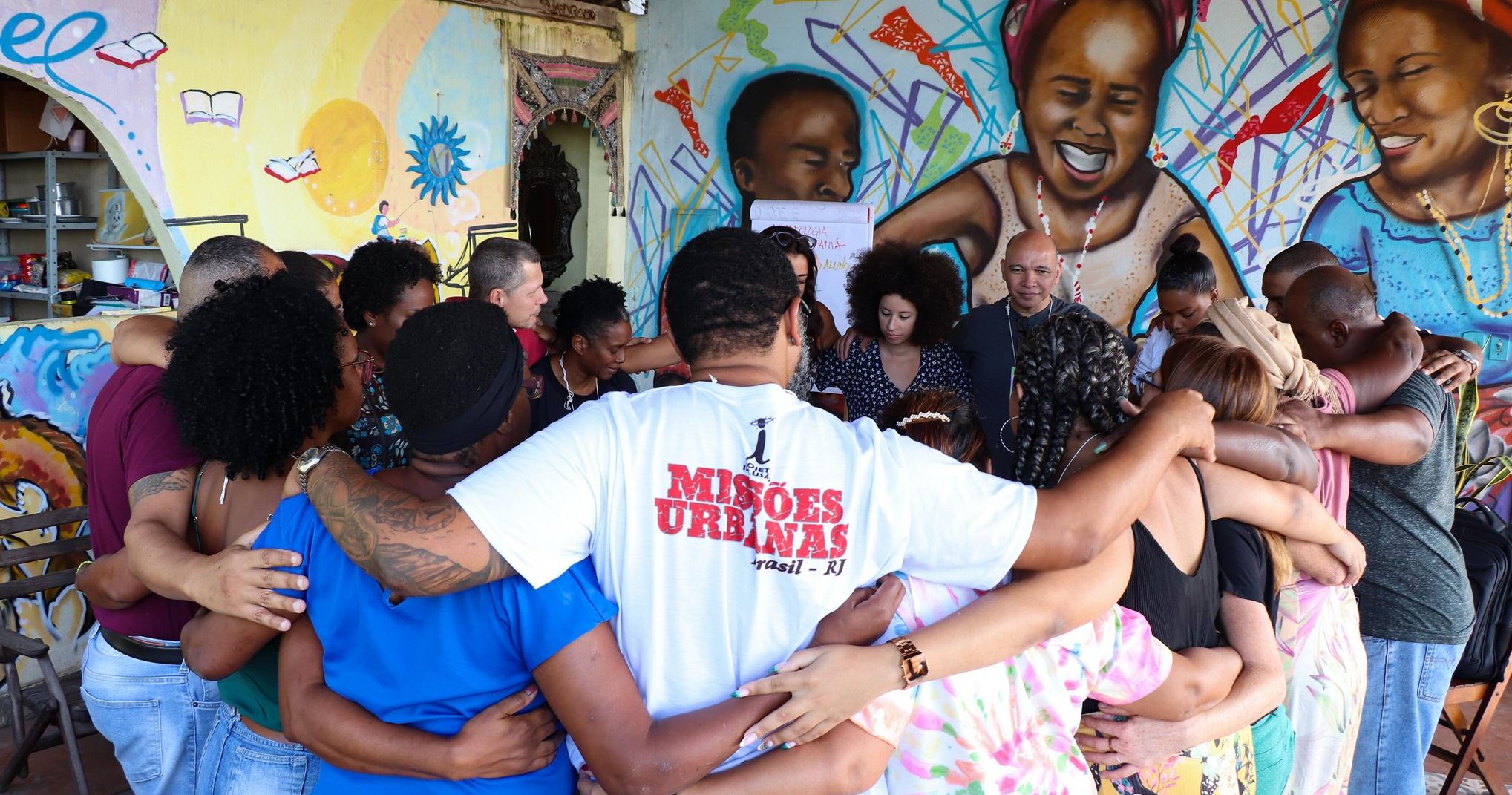 ---
Collectivity is power
"CatComm is a life mission for those of us working on the team and for many of our partners," says Williamson, adding that her motivation is to see a world where everyone feels fulfilled and empowered, acting to benefit others. The organization also highlights the importance of technical allies such as lawyers, historians, sociologists, and architects. "We are planning cities every day as we search for ways to learn with and complement what is built informally, and not overriding these processes," she affirms.
With this dynamic and the tireless work of the team, the director recalls that there have been two decades of exchanges and learning, sharing ideas, contacts, and resources, and that the victories belong to everyone who makes the work happen. "We throw stones strategically in the lake, without knowing exactly where the beneficial ripples will reach. The people best able to say what we have achieved are the community leaders we work with."
Find out more: