Over 130 Emboldened at Launch of Rio de Janeiro's Sustainable Favela Network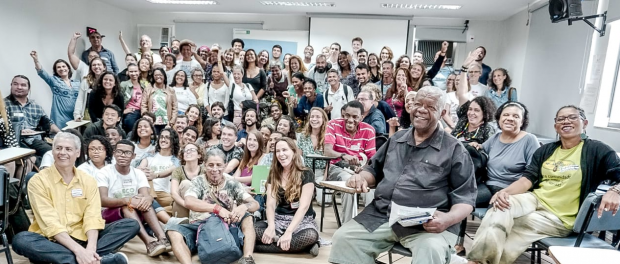 The Sustainable Favela Network (SFN) is a project of Catalytic Communities (CatComm) designed to build solidarity networks, bring visibility, and develop joint actions to support the expansion of community-based initiatives that strengthen environmental sustainability and social resilience in favelas across the Rio de Janeiro Metropolitan Region. The project began with the 2012 film Favela as a Sustainable Model, followed in 2017 by the mapping of 111 sustainability initiatives and the publication of a final report analyzing the results.
In 2018, the project organized on-site exchanges among eight of the oldest and most established organizations that were mapped in the Sustainable Favela Network, followed by a full-day exchange with the entire network that took place on November 10 (which is the subject of this article). The formal launch of the SFN is the culmination of this multi-year effort to identify, map, and connect these initiatives across the region. The next phase of the project aims to develop strategic and targeted trainings for members, foster synergies between communities and promote collective projects, and organize a new series of exchanges beginning in 2019. This 2018 program was supported by the Heinrich Böll Foundation Brazil.
Watch the video that accompanies the on-site exchanges featured in this series by clicking here.
---
Launching the Sustainable Favela Network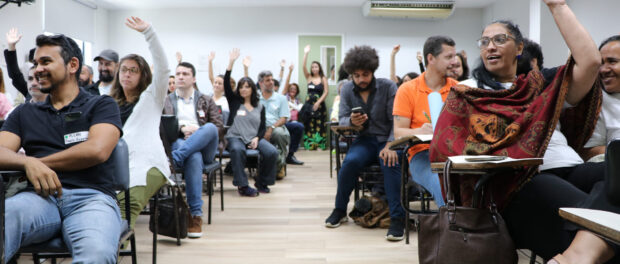 "Each one of us has a mission… Together, we are stronger," pronounced Adilson Almeida, founder of the Quilombo do Camorim Cultural Association (ACUQCA)—one of the now over 120 sustainability initiatives mapped by Rio de Janeiro's Sustainable Favela Network (SFN). "We have to resist, fight forever, and never back down."
Almeida shared these thoughts with over 130 community organizers and allies congregating for the first time for the formal launch of the SFN. The meet-up, held on November 10 at the Rio Public Defender's Office Foundation School (FESUDEPERJ), was a day of both work and festivity—participants assembled not only to exchange ideas, strategies, and experiences, but also to celebrate strength in solidarity and favela residents' determination to address challenges facing their communities.
From the Baixada Fluminense to City of God, participants hailed from across the Rio de Janeiro Metropolitan Region to attend the launch event. More than half of those present were women. Favela residents, who composed a majority, were joined by researchers and technical allies working on sustainability-focused initiatives both within and outside of favelas.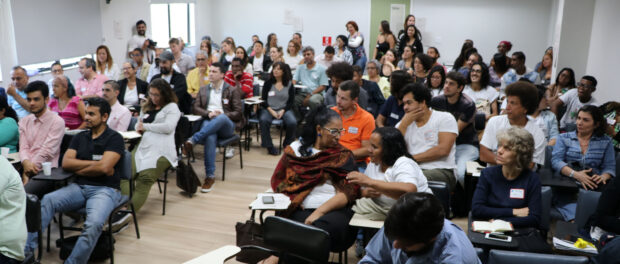 Kick-Off
The day kicked off with a plenary session, during which Catalytic Communities (CatComm) director Theresa Williamson announced the program for the day. The focus was on meeting one another and exchanging ideas through several breakout sessions, and recognizing ourselves as part of a latent, now burgeoning movement of sustainability across the city's favelas. Williamson described the journey that led to the launch of the SFN, starting with an explanation of asset-based community development. Over the years, CatComm has supported sustainability initiatives in favelas in several ways, from the production of the Favela as a Sustainable Model film to the Asa Branca LEED for Neighborhood Development (LEED-ND) assessment. Throughout these efforts, CatComm got to know numerous initiatives painting a very different picture of what favelas are and how they could develop.
In the months leading up to the launch event, CatComm hosted extensive on-site exchanges among eight of the most established sustainability initiatives in Greater Rio: Onda Verde in Nova Iguaçu, the Vale Encantado Cooperative in Alto da Boa Vista, ReciclAção in Morro dos Prazeres, Verdejar in Engenho da Rainha, EccoVida in Honório Gurgel, the Quilombo do Camorim in Jacarepaguá, Alfazendo's Eco Network in City of God, and the Sepetiba Ecomuseum in Sepetiba. In collaboration with local filmmaker Luiza de Andrade, CatComm produced the short film Weaving the Sustainable Favela Network, which was screened at the launch event:
Following a round of applause, participants in the extensive on-site exchanges came forward to talk about their experience. Bianca Wild from the Sepetiba Ecomuseum shared that the exchanges were an indescribable dialogue of experiences and knowledge. Gratitude, solidarity, and optimism were common themes that emerged in the experiences shared. Representatives expressed their thanks for being involved and emphasized the need for communities to work together in the future. Representatives of the different projects held hands as one participant shouted, "No one lets go of anyone!"—a phrase that, for many, has become a slogan to show solidarity in the wake of October's elections.
Following the presentation of the film and reflections by its protagonists, Maria Lucia Pontes, a public defender who works on behalf of favelas threatened with eviction through the Land and Housing Nucleus (NUTH) of the Rio de Janeiro State Public Defender's Office, explained why sustainability is a key part of the struggle. The most common arguments used by authorities to justify evictions use the environment as a pretext: arguments are made that favelas occupy landslide risk areas, or that they damage the environment by generating waste or degrading the forest. Pontes explained that the argument for environmental harm is often false, but that it is difficult to disprove these allegations in a short time frame such to guard against eviction threats. By making sustainable projects and practices visible, Pontes argued, the SFN is of crucial importance in defending land rights.

Breakout Sessions by Project Maturity
The first breakout of the day involved forming groups based on project maturity, ranging from the idea phase to initiatives that are more than twenty years old. This allowed everyone present the opportunity to introduce themselves to their peers. The objective was for organizers to get to know initiatives that had existed for a similar period to their own, to build connections and share experiences about their trajectories and challenges. Each representative was asked to introduce themselves and their initiative and describe their goals for the coming year.
The group with the more established projects included several representatives of the initiatives featured in the Weaving the Sustainable Favela Network film. The discussion focused on resilience in the face of challenges—for example, developing a solidarity economy in the absence of support from authorities and generating livelihoods to prevent young people from getting involved with drugs and crime. Otávio Barros said that he receives no financial gain from his initiative, the Vale Encantado Cooperative, but that he feels gratitude, satisfaction, and joy in living in the community where he was raised and doing the work that needs to be done.
Each project brought a unique set of approaches and priorities. Jay Van Amstel, an environmental engineer from the Environment in Motion Institute (IAM), said that there is a need for data and indicators to inform environmental action. Rodrigo Morelato from Verdejar talked about their work bringing together people involved in urban agriculture and their efforts to create a form of common branding to recognize these initiatives. Edson Freitas, founder of EccoVida, warned against throwing away recyclable materials that could be used to generate livelihoods and suggested that there may be synergy between his recycling initiative and projects that work to create and sell upcycled products. Others talked about the value of intergenerational work and of developing projects even in small communities.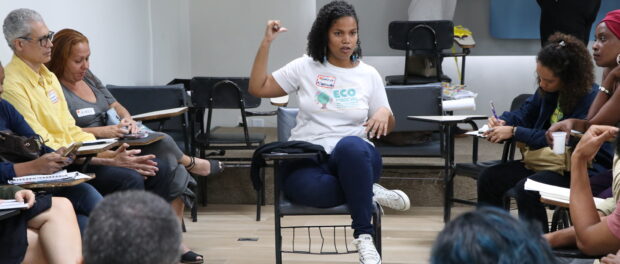 1st Breakout Sessions by Theme of Need
The second set of small group sessions was composed of seven thematic groups based on the expertise of the communities present: energy, sewage, environmental education, community organizing, memory reclamation and cultural preservation, and resistance and resilience through eviction and rebuilding. Each group was led by a SFN member initiative with extensive experience in the area. Participants organized themselves into groups based on which of these issues they felt is most critical to their own communities.
While all participants were encouraged to comment, question, and be critical, each group took a different approach to the discussion. Some groups engaged in open-ended roundtable discussions, while others delved into sustainability topics from a technical perspective. The sewage group—led by three environmental engineers from the Environment in Motion Institute (IAM)—Tito Cals, Leonardo Adler, and Jay Van Amstel—more closely resembled the latter. The engineers carefully presented alternative technology options and asked participants to fill in a form reflecting on their communities' sanitation needs. Some attendees represented initiatives that already address sewage issues, such as Onda Verde, while others came from communities that could benefit from a new approach to waste management.
Over the past few years, IAM has worked with the Vale Encantado Cooperative to develop a sustainable sewage system in their community, a small favela nestled deep in the verdant hills of Alto da Boa Vista, surrounded by Rio's Tijuca Forest. Unserved by formal sewage treatment (as is common across the city, favela and otherwise), Vale Encantado is now home to a pair of biodigesters—large tanks in which organic waste is broken down by naturally-occurring microorganisms. One of Vale Encantado's biodigesters filters sewage, while the other breaks down food scraps. Both produce biogas that is used to power the stoves of Vale Encantado's community-managed restaurant and homes.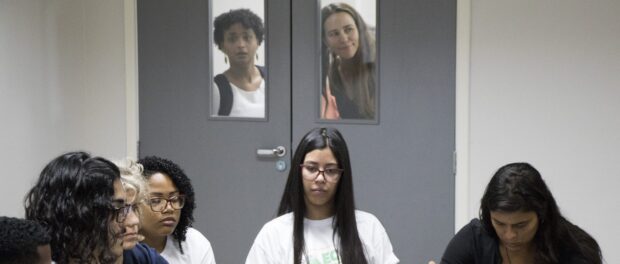 The IAM representatives presented several sustainable sewage systems that have been successfully implemented around the world, from vermifiltration (using composting earthworms to filter waste) to small "floating islands" in rivers, utilizing plants as natural filters to capture environmentally-destructive contaminants. The team detailed both the benefits and limitations of sustainable sewage technologies and acknowledged that in some cases, more conventional methods make more sense. "[Biodigestors] can be connected to individual homes, but generally, the cost-benefit tradeoff is better for collectives [such as Vale Encantado]," Adler explained.
While the group discussed the challenges of scaling these technologies in large favelas like Rocinha, some participants saw parallels and the potential for use in their own communities. "This [discussion] called my attention to the difficulty of communities understanding the importance of basic sanitation," commented Gerusa Vanderlei of Onda Verde. In reference to a photo of a riverine neighborhood that utilizes floating islands to filter sewage, Vanderlei noted: "When I saw this photo, I realized that the house is almost the same as mine."
2nd Breakout Sessions by Theme of Need
After a collective lunch serving specially prepared meals from the kitchen of the Manoel Congo occupation in downtown Rio, participants again organized themselves based on the themes that they perceived to be most important to their community: water and trees (reforestation, gardens and tree-planting), income generation, waste and recycling, sustainable land rights, and physical and mental health. In the first group, the conversation evoked discussions of inequality—for instance, the fact that the wealthier South Zone is the last to be affected by water shortages—but also solutions, such as rooftop rainwater collection and the incorporation of green space in dense urban environments. A resident of Vila Kennedy suggested approaching urban and environmental challenges by asking, "What is my community's potential?"—a perspective that echoes the basic tenets of asset-based community development.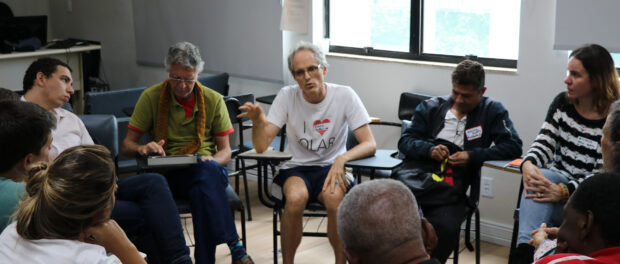 In the face of "public policy that doesn't take people [from favelas] into consideration" participants interested in the solidarity economy reinforce the need for alternative ways of organizing. Clarice Cavalcante of Devas—Maré's Artisans highlighted her desire to "integrate systems, reach more people, and increase the number of participants." She suggested the idea of "mapping who the artisans are, what they do, and what they need."
Breakout Sessions by Theme of Action
The day's final breakout session was organized according to the theme that most resonated with each participant's work in their respective communities and was based on the themes identified over the course of prior surveys and especially the day's prior activities and interactions. It featured a similar but more precise set of groups—water, reforestation and gardens; renewable energy; income generation; sewage and sanitation; waste, recycling, and reuse; education and training; reclamation of heritage and cultural/historical preservation. Participants in each group were encouraged to come up with three actions for the Sustainable Favela Network to take in support of their topic in 2019.
For instance, members of the education and training group suggested mapping which types of training are needed, identifying what favela residents can provide, and then strategically planning how to carry out training initiatives. Members of the reclamation of heritage and cultural/historical preservation group suggested that the SFN facilitate access to information and technical support from national and international partners, provide visibility to the movements and resistances, and further encourage connections between different themes and people.
Next Steps
The ultimate success of the Sustainable Favela Network will be measured by its capacity to strengthen the grassroots member initiatives, support the development of sustainable solutions with the possibility of practical implementation and scalability, and foster a shifting of conscience regarding the potential for favelas as sustainable models in Rio and beyond.
In the meantime, a great deal has been accomplished already. By popular demand and a desire to continue to nurture relationships between different initiatives, SFN participants will host another series of exchanges, paired with targeted training, beginning in early 2019. In addition, the Network will continue to facilitate access to information and resources and provide visibility to initiatives.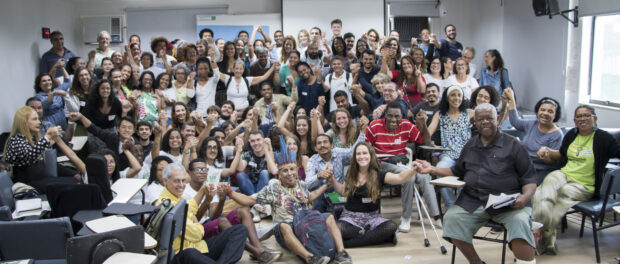 Many participants have dedicated themselves to their projects in their own communities with little outside support or encouragement. For many, simply being in the presence of others like them, who are also working towards developing solutions to local issues, was an empowering experience. A WhatsApp group formed after the event has consistently buzzed with news, the sharing of accomplishments, and the early stages of collaboration—for example, Carlos André do Nascimento, a graffiti artist and creator of Pavuna's Museum of Graffiti, has agreed to beautify Vale Encantado's biodigesters.
As the group prepared to adjourn, a voice in the crowd spontaneously cried out, "Marielle!" in reference to Marielle Franco, the Rio city councilor and tireless champion of favela residents' rights who was murdered in March. "Present!" the room answered in unison. A meeting that began in a quiet room, largely full of strangers, concluded with a declaration of solidarity. Community and collective consciousness are not built in a day, but to those present, the desire to forge ahead together was palpable.
View our photos from the launch event (or click here):