Our Article in Land Lines: Could Favela CLTs Solve the World's Housing Crisis?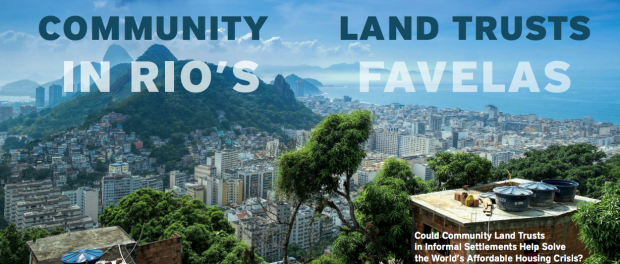 At this very moment, the Lincoln Institute of Land Policy is printing copies of its acclaimed Land Lines magazine and shipping them to readers around the world. CatComm's Executive Director Theresa Williamson had the opportunity, through its pages, to dig deep to answer the question "Could Community Land Trusts in Informal Settlements Help Solve the World's Affordable Housing Crisis?"
The article focuses on the potential of this instrument in Rio de Janeiro's favelas and is an essential read for anyone who wants to understand CatComm's Favela Community Land Trusts (F-CLTs) program. The program is centered on developing a legislative proposal to make F-CLTs a viable possibility in Brazil and on working with communities in Rio de Janeiro interested in piloting a CLT.
As part of the program, this month we will host workshops for community leaders and land rights activists to discuss both the legislative proposal and the pilot CLT. Workshops will be held in partnership with the Caño Martín Peña settlements in Puerto Rico who have successfully modeled the potential of Favela CLTs, and LEDUB, the Brazilian Urban Law Laboratory at the Federal University of Rio.
Read a short excerpt of the article below and find the full text here.
---
"There are three main reasons a household might choose to participate in a Favela Community Land Trust (F-CLT) rather than seek individual title to the land:
Permanence. The residents' main concern is being able to stay in their homes and maintain their community, rather than being able to sell their homes at full market price.
Affordability. They require subsidies because they cannot afford full property tax, utilities, and other market-rate costs of living associated with the "formal city," such as businesses likely to operate in a speculative setting.
Community Management. They prefer their community to manage its own development rather than relying on government agencies, which are often absent or ineffective.
Embracing F-CLTs could be deeply transformative. Communities would ensure their tenure security through cycles of economic growth and decline, amid gentrification and eviction. They would also build on the legacies of resilience and resistance in favelas, preserving the unique characteristics of individual neighborhoods and their residents. They would use their collective, formal status to lobby for cultural recognition, subsidized utilities, and other amenities, and material improvements."
Read the complete in-depth analysis of the potential of CLTs in Rio's favelas in Land Lines.
Click here for the text version.