Our Op-Ed in Today's Americas Quarterly: The Fight for Rio's Future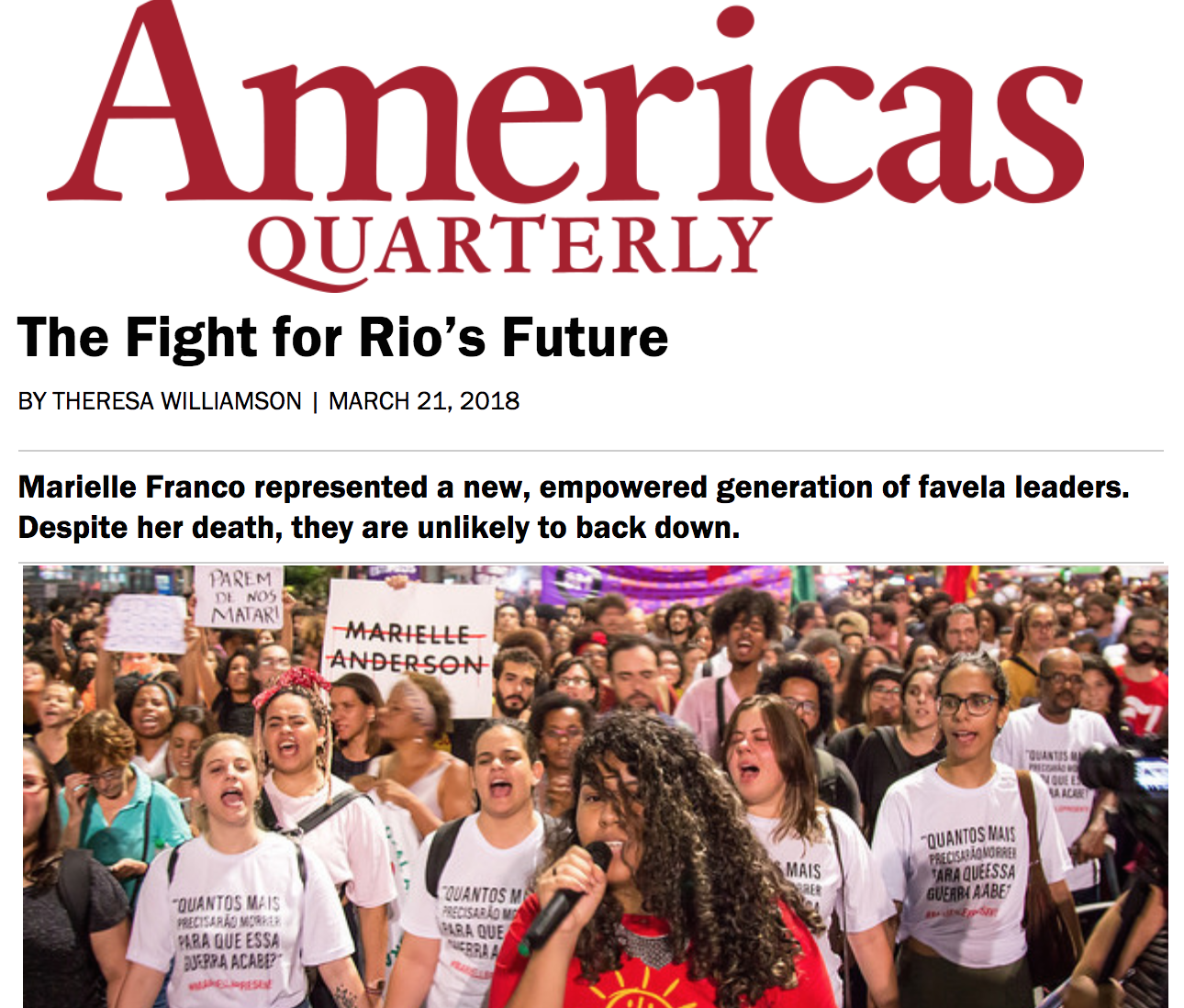 "They tried to bury us, but didn't realize we are seeds." – Proverb cited at events marking the March 14 death of Rio de Janeiro city councilwoman Marielle Franco.
RIO DE JANEIRO – When Brazil abolished slavery in 1888, enslaved Africans comprised 40 percent of Rio de Janeiro's population. Lacking rights in what was, and remains, one of the world's most unequal countries for land ownership, newly freed slaves mostly settled into informal communities, favelas, which today shelter 24 percent of Rio's population.
More than a century of public policy, often repressive and discriminatory by design, has kept the favelas and their residents from realizing their potential and from making full use of the assets they have developed in their communities.
Though the deck has been stacked against them, Rio's favela residents have succeeded in weaving together a vibrant cultural and collaborative fabric over generations. This emerging, more positive favela identity has been made possible by a growing generation of local leaders who have taken on roles to organize themselves, improve their communities and confront often neglectful authorities.
Marielle Franco, a city councilwoman who on March 14 was shot and killed in what authorities say was a targeted assassination, was one of those leaders. A 38-year-old black LGBT woman and human rights defender from the Maré favela – in a country where a black youth dies every 21 minutes, a woman every other hour, an LGBT person once a day, and a human rights defender every five – Franco, more than anyone in Rio, represented hope for the city's dispossessed.
But she was not alone. Indeed, if the public outcry in the days since Franco's death has proved anything, it is that Rio's favela residents won't give up her fight to change the status quo…
Read more on Americas Quarterly.
Or click here to read the full piece on RioOnWatch.
Please share on Twitter and Facebook.