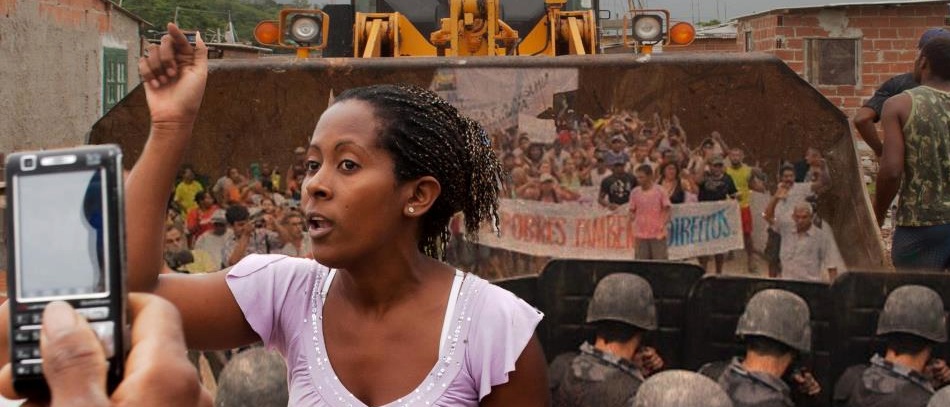 In May 2010, CatComm launched Rio Olympics Neighborhood Watch (RioOnWatch), a program to bring visibility to favela community voices in the lead-up to the 2016 Olympics, to be held in Rio de Janeiro. From 2010 to 2016 this news site, RioOnWatch.org, was our primary vehicle for publishing the perspectives of community organizers, residents, international observers, and researchers on the fast-paced urban transformations that characterized pre-Olympic Rio.
Beginning in 2017, RioOnWatch's new editorial line is committed to:
Documenting favela residents' views of and for public policy so as to inform municipal decision-making and international development professionals.
Publishing favela-specific columns and opinion pieces written by residents so as to mainstream favela perspectives on their own communities.
Highlighting organizing strategies, community solutions and green technologies from favelas in Rio and around the world so as to inform and inspire collaborative and sustainable grassroots development initiatives.
Popularizing urban planning concepts so citizens can develop their communities more effectively.
Observing the Olympic legacy and monitoring international and domestic press coverage of favelas so as to maintain and build on the legacy of RioOnWatch as an Olympic watchdog news site and offer lessons for cities contemplating or hosting mega-events.
Analyzing parallels and showing solidarity for informal communities around the world so as to establish connections, networks of support, and a sense of common experience and purpose across traditionally isolated communities worldwide (and in partnership with groups or sites similar to CatComm/RioOnWatch).
Continuing to analyze, introduce and inform local policy and social debates on Rio so as to dramatically strengthen the contextual understanding and compassion necessary to engender larger political shifts that would benefit the entire society.
From its outset, the RioOnWatch program has worked to grow the participation of community journalists and international observers in reporting on Rio's transformations and has dialogued with the mainstream and alternative press to engender a more accurate picture of favelas, their contributions to the city, and their perspectives.
RioOnWatch Phase I Explained:
As Rio de Janeiro prepares for the 2016 Olympics, the city is undergoing rapid urban transformations. Private investment, construction and infrastructure projects and government interventions are reshaping Rio and its famous favela communities, yet favela voices remain conspicuously absent from the media dialogue surrounding their communities.
RioOnWatch (Rio Olympics Neighborhood Watch) is Catalytic Communities' program to redress the balance and bring visibility to favela community voices in the lead-up to the 2016 Olympics to be held in Rio de Janeiro. Launched in May 2010, the news site, RioOnWatch.org, is the only English and Portuguese site dedicated to publishing the perspectives of community organizers, residents, and international observers, in light of the fast-paced urban transformations that currently characterize Rio. The program also works to grow participation of community journalists in reporting on Rio's transformations.
RioOnWatch aims to be a resource for journalists, researchers and anyone interested in the community perspective on what is currently happening in Rio and the favelas. Forced evictions, Pacifying Police Units, federal and local development policies, gentrification, favela culture, creative community solutions and resistance are all explored in depth on the site with commentary from community leaders, favela youth, researchers and international observers. The site is heavily tagged and interlinked, providing additional depth and to facilitate browsing. To learn more about RioOnWatch editorial line, correspondents, strategy and origins check out this interview.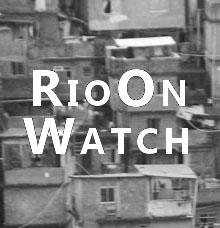 By publishing in English and Portuguese and promoting stories widely to international networks via social media and an extensive international mailing list, RioOnWatch reaches international journalists, researchers, and opinion leaders. With municipal authorities highly concerned with the city's international image, bringing visibility to community perspectives has been essential in securing more favorable results for local communities. In several cases our media presence during evictions helped stopped demolition or led to improved compensation offers.
For further information on any article or topic, to be featured on the site, or to contact a community journalist or leader featured on RioOnWatch, please contact us at contact@rioonwatch.org.
2010, RioOnWatch's Original Call To Action
After three decades of stagnation, Rio de Janeiro is now one of the Americas' fastest growing cities. Pricier than New York, recently receiving more than twice the international investment of São Paulo, a city marked by decades of poor governance and disinvestment was intent on taking advantage of recent offshore oil discoveries and having been selected to host the 2014 World Cup and 2016 Olympics, to reconstitute itself a "global city."
Yet despite initial positive press for policies intervening in the city's favelas, beginning in 2009, and significant work on the part of the city administration to engender a positive image in the face of international public opinion, the tide changed in 2013 with escalating debate and conflict over policies which have proven only to exacerbate Rio's infamous inequality. Known as the "Marvellous City" for its geographic beauty, Rio is also known as the "Divided City" by locals, who often live side-by-side rich and poor, yet face significant disparities and historic segregation in access to public services, with low-income cariocas being stigmatized, rather than supported, in their pursuit of opportunity.
How will Rio's "coming of age" unfold? What will the fate be of the city's world-famous favela communities, numbered at over 1000 today? How is the city currently handling these communities? What can we foresee? Will Rio take advantage of this moment to grow and consolidate its economy without compromising its unique cultural heritage, and in a way that reduces inequality?
This is the subject of RioOnWatch.