Our Opinion Piece on Brazil Protests in New York Times Debate Forum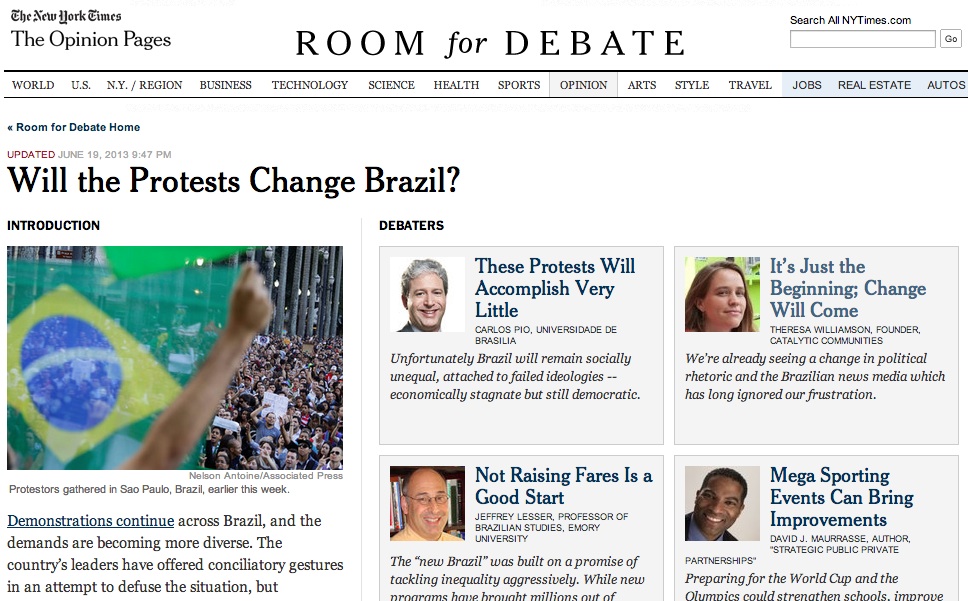 Click here for article published in the New York Times Room for Debate Forum on June 19, 2013. Or here for full response.
It's Just the Beginning; Change Will Come to Brazil
By Theresa Williamson, a city planner, is the executive director of Catalytic Communities, a Rio de Janeiro-based organization that provides media and networking support to favela communities and publishes RioOnWatch.
Despite improvements in economic growth and reduced inequality of recent years, Brazil suffers from horribly inefficient public services, thanks to corruption and the lack of political will to prioritize their proper delivery. Transportation, education and health care are woefully inadequate. For example, though Brazil spends 5.7 percent of G.D.P. on education, two-thirds of Brazilian 15-year-olds are incapable of more than basic arithmetic. Brazil spends about 9 percent of G.D.P. on health, yet ranks lower than comparable economies in Latin America on infant mortality, life expectancy and a range of other indicators. All this while we spend $20 billion on the World Cup, more than the past three World Cups combined.
We're already seeing a change in rhetoric from politicians and the Brazilian news media, which has long ignored the frustration that was clearly there.
Transportation has been the banner of this movement and rightfully so. It represents mobility in the most literal sense. Rio and São Paulo have some of the highest bus fares in the world.
The largest protest so far was in Rio de Janeiro on Monday, where grave misspending in preparation for the 2014 World Cup and 2016 Olympics is rife. At least $27 billion will be spent on the Olympics, all in Rio. The authorities' city "plan" is taking advantage of the mega-events to institute policies under the guise of "integration" and "poverty reduction." In reality, however, they are fueling the expulsion of the city's low-income groups, especially residents of the city's favela communities to the urban periphery. Many of these favelas are thriving neighborhoods that have provided centrally located affordable housing to people for decades.
Fortunately we've reached the last straw. And thanks to social media — Brazil is the world's second-biggest user of both Facebook and Twitter — and the fact these protests are decentralized, unaffiliated with political parties, and that Brazil is, despite its growing pains, a democracy, the protests will intensify and persist.
We're already seeing a change in rhetoric from politicians (after consulting with marketers) and the mainstream Brazilian news media, which has long ignored the restlessness and frustration that was clearly there. Even traditionally conservative news media outlets have been forced to cover the protests. This gives a large segment of the population access to knowledge of the real motivations and the peaceful nature of protesters.
On June 19, in response to the protests, a city council member in Rio launched an application for a parliamentary investigation into Rio's bus mafia and, later in the day, Rio and São Paulo announced bus fares are coming down. This in addition to at least six other cities that have lowered their fares. Protests are not likely to diminish, however. People have now tasted direct democracy and there will be no going back.