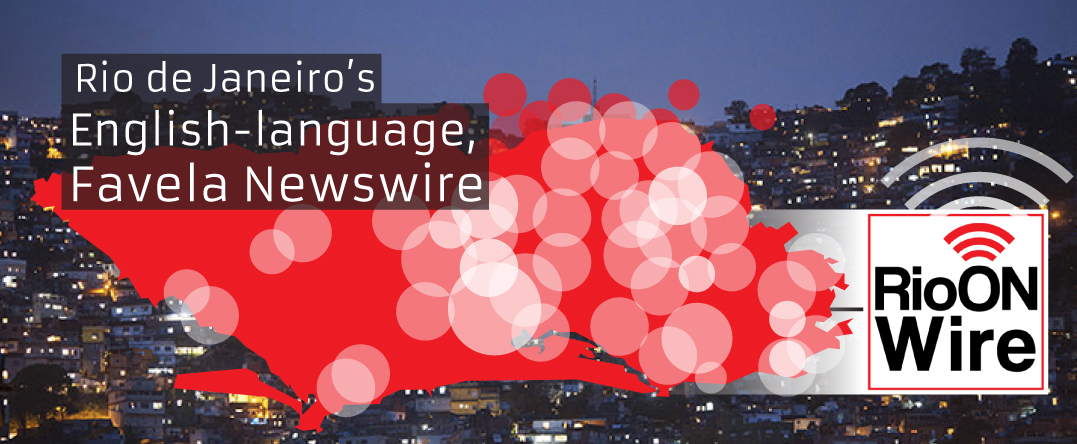 April 1, 2015–Alongside our hyperlocal news site RioOnWatch, CatComm has now launched a public, English-language favela newswire: @RioONWire. Read about the newswire's conclusion here.
Different from our regular @RioOnWatch Twitter feed (for general news, in English and Portuguese, including retweets and conversations), our @RioONWire Twitter feed behaves like a traditional Wire service (think Bloomberg, Reuters or CNN scrolling updates along the bottom of your screen or in Times Square) but focused on favelas and real-time news, in English, and with some extra punch: after every NEWS, BREAKING or EVENT item, you'll find tweets offering BACKGROUND, CONTEXT, CONTACT information, and more, to help you understand and contextualize that original news item. The idea is: anyone, anywhere, can follow in real-time, the latest news from Rio's favelas, in English. And journalists spending only a short period in Rio will no longer have any difficulty detecting worthwhile stories and understanding the context behind changes occurring in the city.
RioONWire provides earlier and deeper insights from favelas across all five major zones of the city as the 2016 Olympic Games approach and citizens respond to the wide range of changes taking place. Providing content featured on RioONWire are a diverse network of community organizers, reporters and research collaborators throughout the city sharing, writing, photographing and filming content which we share on our Twitter wire service. From breaking news and event reports to research findings, RioONWire is an invaluable resource, offering real-time information on the relationship between favelas, mega-events, public policy and development in Rio de Janeiro.

@RioONWire was beta launched on April 1, 2015. Here's a sample of the 50+ tweets from those first two days: