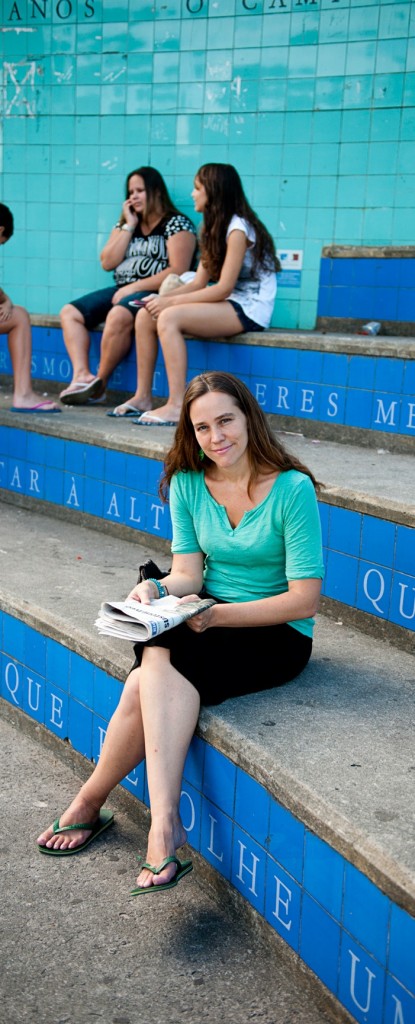 Winner of the 2012 National Association of Housing and Redevelopment Officials (NAHRO)'s John D. Lange International Award for her contribution to the international housing debate, and Honorary Councilmember with the Consortium for Sustainable Urbanization, Catalytic Communities founder and Executive Director Theresa Williamson has become an outspoken and respected advocate and informant on behalf of Rio de Janeiro's favelas in the face of current fast-paced urban transformations.
Theresa has published four Opinion pieces in The New York Times in 2012, 2013, and 2016, as well as in Architectural Review and openDemocracy. She was recently interviewed exclusively by Guernica and showed The Today Show's Matt Lauer around Santa Marta favela. Theresa has also been interviewed in O Globo, Marie Claire, Yodona, and Tricycle, and quoted in The New York Times, The Guardian, BBC World, France TV, Al Jazeera, NPR's Worldview, The Atlantic Cities, Next American City, Places: The Design Observer, Architectural Record, WBGO Journal, as well as SBS Dateline (Australia), CBC TV (Canada), CBC Radio (Canada), The Independent (UK), El Mondo (Spain), Rádio CBN (Brazil), Folha de São Paulo (Brazil), O Globo (Brazil), Revista Piauí (Brazil), and 45 Minuuttia (Finland), among others.
With a small and agile team at Catalytic Communities, Theresa works to promote a more creative, inclusive and empowering integration between the city's informal and formal communities, in which the city's favelas are recognized for their heritage status and their residents fully served as equal citizens. Theresa is also Editor-in-Chief of RioOnWatch, CatComm's internationally recognized watchdog news site and favela news service. Since 2010 RioOnWatch has been tracking the increasingly intense impacts of the 2014 World Cup and 2016 Olympic Games on Rio's infamous favelas, providing a global platform for often-ignored community perspectives that hold valuable insight for cities across the world.
In May 2004 Theresa received her Ph.D. from the Department of City and Regional Planning at the University of Pennsylvania. Entitled Catalytic Communities: The Birth of a Dot Org, her dissertation won the 2005 Gill-Chin Lim Award for Best Dissertation on International Planning and was one of three finalists for the 2004 Barclay Gibbs Jones Award for the Best Dissertation in Planning. She has published articles from this dissertation and related research in Progressive Planning, The Journal of Urban Technology, and Cidadania.org. Theresa received her undergraduate degree in Biological Anthropology from Swarthmore College. Raised in the Washington, DC area, she is a dual Brazilian and British citizen and lives with her daughter in Rio de Janeiro, Brazil.
Theresa is available for public lectures in Rio de Janeiro or during her annual North American University Tour. Her email is theresa [at] catcomm [dot] org.
Notable Radio & TV stints, Op-Eds & Opinion Pieces with/by Theresa Williamson