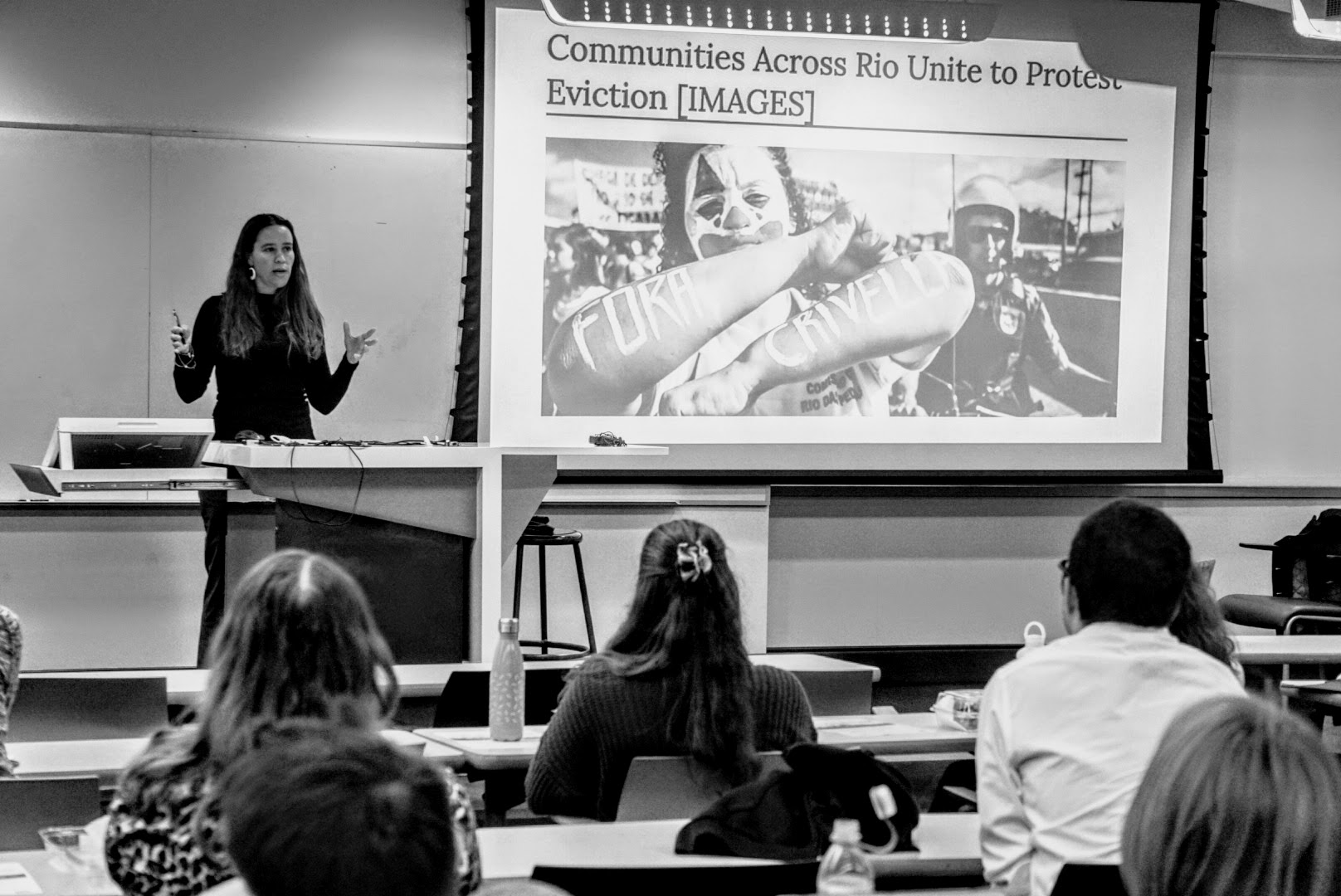 Theresa Williamson, PhD, is a city planner and founding executive director of Catalytic Communities (CatComm), an NGO working since 2000 in support of Rio de Janeiro's favelas through asset-based community development approaches. CatComm has become known for successfully busting the age-old stigmatizing and sensationalistic narrative of favelas through its award-winning RioOnWatch hyperlocal-to-global favela news platform and other communications strategies. More recently, the organization launched Rio's Sustainable Favela Network and Favela Community Land Trust programs, both gaining ground quickly towards producing successful pilot communities in Rio de Janeiro and garnering international attention. Dr. Williamson is an outspoken, respected advocate for the recognition of favelas' heritage status and their residents' right to be fully served as equal citizens with many publications including multiple book chapters and four op-eds in The New York Times. She been cited in hundreds of publications and television. Dr. Williamson received the 2012 NAHRO Award for her contributions to the international housing debate, 2018 American Society of Rio prize for her contributions to the city, and 2005 Gill-Chin Lim Award for Best Dissertation on International Planning. Dr. Williamson earned her B.A. in Biological Anthropology from Swarthmore College and PhD in City and Regional Planning from the University of Pennsylvania.
Long Bio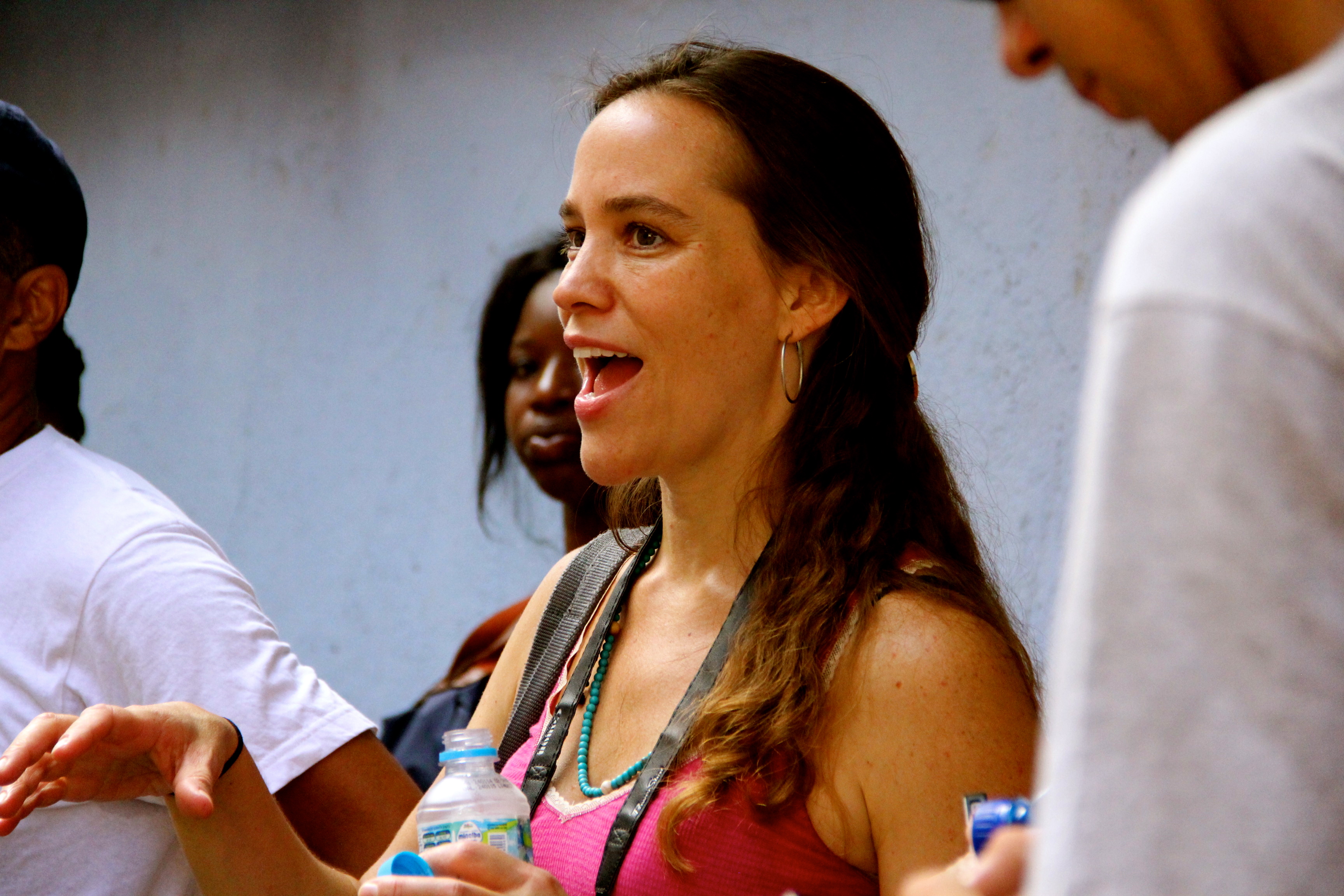 Winner of the 2012 National Association of Housing and Redevelopment Officials (NAHRO) John D. Lange International Award for her contribution to the international housing debate and the 2018 Ralph Greenberg Award from the Rio de Janeiro American Society for her "unselfish contribution of time and effort to the betterment of the Rio de Janeiro community," with four Opinion pieces published in The New York Times in 2012, 2013, and 2016, and Americas Quarterly, urban planner and Catalytic Communities (CatComm) founder Theresa Williamson is an outspoken and respected advocate and informant in support of Rio de Janeiro's favelas.
She has been featured in Guernica, O Globo, Marie Claire, Yo Dona (Spain), and Tricycle, and quoted in The New York Times, The Guardian, Al Jazeera, Le Monde, NPR's On the Media, Rádio CBN (Brazil), SBS Dateline (Australia), The Atlantic Cities, BBC World Service (UK), CBC TV (Canada), Next American City, The Independent (UK), El Mondo (Spain), Folha de São Paulo (Brazil), O Globo (Brazil), Places: The Design Observer, Architectural Record, Revista Piauí (Brazil), 45 Minuuttia (Finland), The Washington Post, NBC, and numerous other outlets.
Watch Theresa's August 2016 participation on NBC's Today Show, BBC World, and TRT World (Turkey), as well as July's HBO Real Sports With Bryant Gumbel and Vox short doc.
With a small and agile team coordinating a network with hundreds of close collaborators at efficiently-designed Catalytic Communities, since 2000 Theresa has worked as the organization's Executive Director to promote a more creative, inclusive and empowering integration between the city's informal and formal communities, in which the city's favelas are recognized for their heritage status and their residents fully served as equal citizens.
Theresa is also Editor-in-Chief of RioOnWatch, CatComm's internationally recognized hyperlocal-to-global watchdog news site and favela news service with 2016 accolades in the form of a Webby award honoree recognition, a The Development Set piece proclaiming RioOnWatch "changed reporting on the favelas during the Olympics," and recognition for its work in preparing journalists for the Olympics from the International Journalists' Reporting Network. Since 2010 RioOnWatch has been tracking the increasingly intense impacts of the 2014 World Cup and 2016 Olympic Games on Rio's favelas, providing a global platform for often-ignored community perspectives that hold valuable insight for cities across the world. The site has established itself as necessary tool for community organizers in Rio, reporters from around the world covering the city, and researchers on Latin America and is now being documented in a RioOnWatch Replication Manual for Organizers.
While launching and running CatComm over the past nearly two decades, Theresa has also worked to bridge the academic-practitioner divide by producing academic pieces and working with researchers in the city's favelas. In May 2004 she received her Ph.D. from the Department of City and Regional Planning at the University of Pennsylvania. Entitled Catalytic Communities: The Birth of a Dot Org, her dissertation won the 2005 Gill-Chin Lim Award for Best Dissertation on International Planning and was one of three finalists for the 2004 Barclay Gibbs Jones Award for the Best Dissertation in Planning. Theresa is honorary councilmember with the Consortium for Sustainable Urbanization and a technical advisor to the Center for Community Land Trust Innovation.
Theresa has published articles from this dissertation and related research in openDemocracy, Architectural Review, DETAIL (Germany), Progressive Planning, The Journal of Urban Technology, and Cidadania.org. Most recently, Theresa contributed a chapter to Occupy All Streets: Olympic Urbanism and Contested Futures in Rio de Janeiro (2016). Theresa received her undergraduate degree in Biological Anthropology from Swarthmore College. Raised in Rio and Washington, DC, she is a dual Brazilian and British citizen and lives in Rio de Janeiro, Brazil.
Theresa is available for public lectures in Rio de Janeiro or during her annual North American University Tour. Her email is theresa [at] catcomm [dot] org.
Radio & TV stints, Op-Eds & Opinion Pieces with/by Theresa Williamson