Favela News Digest Archives
Our regular RioOnWatch News Digest compiles, in one place, the latest news and opinion on Rio's favelas from our community news site RioOnWatch, as well as what broader news sources have to say on Rio's current favela trends. It's the best summary of English-language favela news compiled anywhere on the Web.
View past digests by clicking on the links below or view all CatComm mailings here.
2018:
July 22–August 10: Land Rights Victory, Resignifying Favelas, Black July, 35 Political Parties, Black Women in Office
July 14-21: World Cup, Eviction Tactics Dissected, Understanding the Favela Vote, Mothers Say Enough!
July 7-13: Marielle, Malala, Militias, and a March for Justice
June 30-July 6: Black Women & Technology, #FavelaLivesMatter, Favela Literature, Mega-Event Legacies
June 24-29: Black July Organizing, Participatory Metropolitan Planning, World Cup and Favelas
June 16-23: Favelas as UNESCO Sites, Contrasting Discourses on Eviction, 'Sustainable Turn,' Deadly Police Operation
June 9-15: 3 Months Without Marielle, Race, Planning, Entrepreneurship, Corruption, Mega-Events, Safety
June 2-8: Marielle Letter to 'Bastard Students,' Favela Poetry Slam, Occupations, Land Use & Evictions
May 26-June 1: Our Work in 'O Globo,' Favela Organizing & Solutions, CLTs in P.R., Congo Refugees in Rio
May 19-25: Quilombo, Indigenous & Favela Organizing, Favela Tourism & Representation, Police Accountability
May 12-18: Special Edition—Museum Week 2018: Favela Museums of Resistance, 130 Years After Abolition
May 6-11: RioOnWatch Turns 8, Occupations, Policy Debates, Favela Tourism, Black Resistance
April 28-May 5: Marielle Bills Pass, Monitoring Crivella, Raull Santiago Interview, Evaluating Military Intervention
April 14-27: Floods and Evictions, Green Sustainable Favelas, Who Killed Marielle?, Electioneering 101
April 7-13: Favela Opinions on Lula & Marielle, Organizing Victories, Tourism, Brazil Politics
Mar 31-April 6: Favela Activism and Resistance Through Culture, Drug Trade and Politics, Marielle's Legacy
Mar 10-30: Marielle's Legacy, Favela Culture, Eviction Threats, Military Intervention, Zero Poverty
March 18: Special Issue–Marielle Franco's Assassination and Legacy
Mar 3-Mar 9: Land & Housing Struggles, Art & Memory, Military Intervention, Sustainable Favelas
Feb 24-Mar 2: Favela CLTs, Countdown to 2018 Elections, Military Intervention, Brazil's Digital Divide
Feb 17-Feb 23: Political Carnival, Military Intervention, Favela Responses, Olympic Resistance, '18 Elections
Feb 10-Feb 16: Carnival 2018, War on Popular Culture, Pool Party Protest, Sexism, Politics & Funk
Jan 30-Feb 9: Carnival 2018, Favelas Respond to Violence, Communication Rights, Valuing Informality
Jan 13-29: Media Portrayal of Favelas, Community Voices on Police, Funk & Feminism, Utility Hikes
Jan 1-12: Culture & Housing Struggles, Trafficking+Corruption, Olympic Legacy, Public Education
2017:
Dec 16-29: Best/Worst International Reporting 2017, Facebook vs. Evictions, Favela Solutions, Drug Policy
Dec 9-15: Public Security, Stray Bullets, Sustainable Carnival, Fashion Stereotypes
Nov 25-Dec 8: Insurgent Cartography, Power of History, Right to Housing, Healthcare, Olympic Legacy
November: Special Issue–Black Awareness Month in Brazil
Nov 18-Nov 24: Powerhouse NGO in Alemão, Attack on Afro-Brazilian Faiths, Rolezinho at City Council
Nov 11-Nov 17: Citywide Evictions Protest, Black Awareness, Favela Journalism, Urban Indigenous
Nov 4-Nov 10: Jury Now In On Rio 2016 Transport Legacy, Sustainable Favelas, Africa x Rio Connections
Oct 28-Nov 3: Favela Eviction Victory, Madonna's Visit, Favela Tourism, Role of Academics
Oct 21-27: Tactical Urbanism, Hip-hop and Craft Beer, Violence and Favela Tourism
Oct 14-20: Environmental Education, Community Media, Funk Under Attack
Oct 7-13: Sustainable Favela Network, Massive Evictions Protest, SOS Hate Crimes
Oct 1-6: Favelas Resist Evictions, Organize Solutions, Respond to Army Occupation & Mayor's Plan
Sept 18-30: Rio's Strategic Plan, Community Organizing, Army Occupation
Aug 22-Sept 17: Eviction Threats, Resisting 'War,' Race, Challenging Stigma
August: Special Issue–One Year Since the Games
June-July: A Year Since the Games, New Mayor, Eco Week, Land Titling, Black July, Police Violence
May: May Update from Rio | Favela News: Community Organizing, Police Violence, Sustainability
March-April: The Latest from Our Work in Rio | Favela News
2016: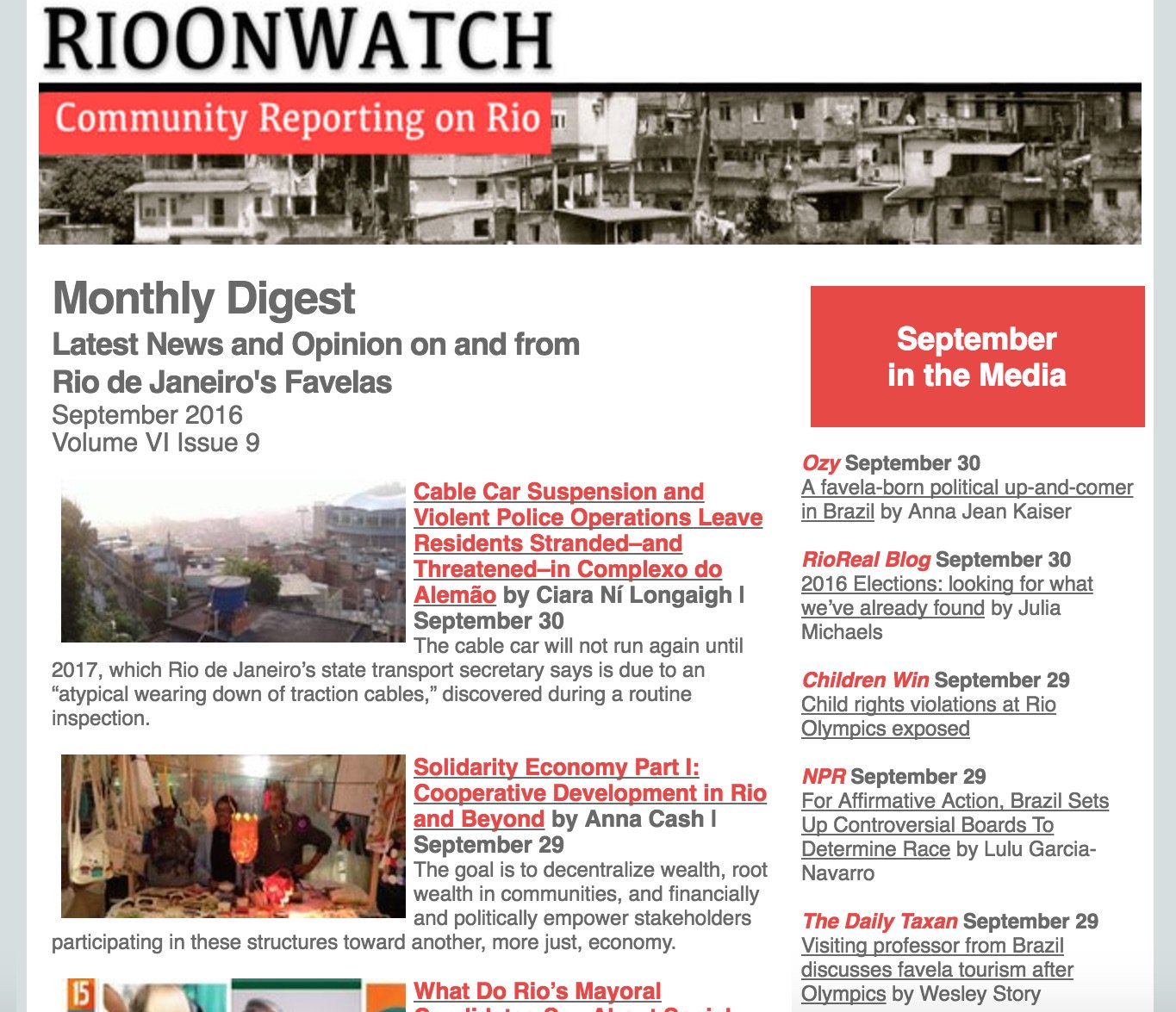 December: Celebrating Sustainable Community Solutions from RioOnWatch
October-December: Human Rights Day is Today: Best of RioOnWatch
September: Paralympics | Elections | Olympic reflections | Violence
August: Rio's Favelas During the Olympic Games
July: Vila Autódromo Win | Black Lives Matter | Post-Games Solutions
June: Olympic Cleansing | Creative Organizing | Informality as an Asset
May: Banality of Violence | Right to Housing | School Occupations
April: 100 Days To Go | Impeachment | Evictions | Memory
March: Women's Day | Evictions | Community media
February: Olympics 6 Months to Go Special: Vila Autódromo
January: Vila Autódromo | Truth Commission | Police violence | Social media
2015: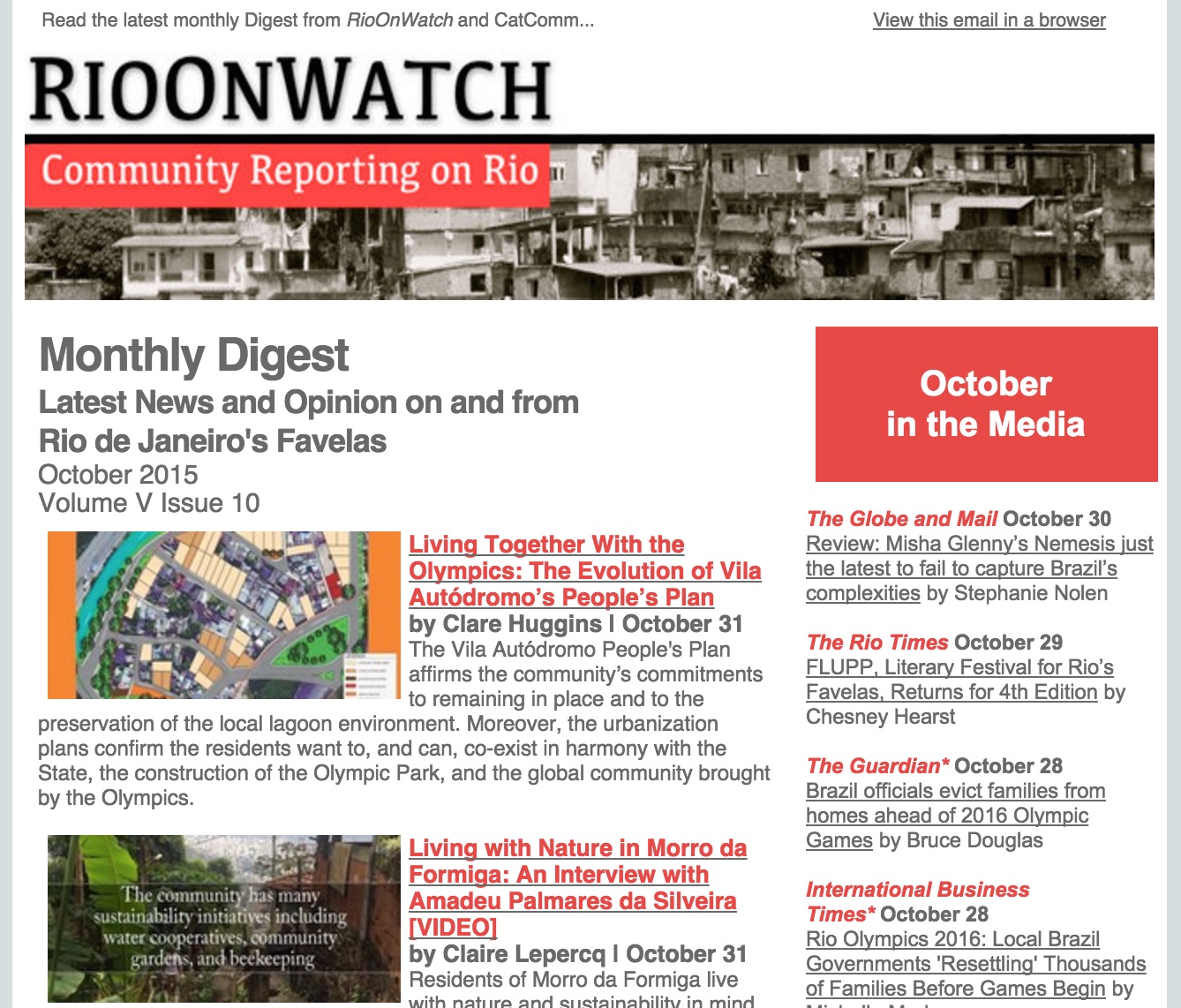 December: Int'l Reporting | Human Rights | Vila Autódromo
November: Black Awareness | Gender | Resistance & Celebration
October: Segregation | Raise Your Voice | Designed to Live Together
September: Police x Social Media | Stigma | Affordable Housing
August: One Year to Go to #Rio2016 | Best/Worst Media | Participation
July: Olympic Evictions | Good News in Housing & Organizing | Help Us
June: Lightning Evictions | Sustainability | Collective Leadership
May: Evictions & Demolitions | Police Violence | Slavery History
April: Pacification Tensions | Housing Crisis | Sustainability
March: Broken Olympic Promises | Sustainability & Tech | Women's Day
February: Carnival | Police & protests | Community solutions
January: Slavery & the Port | Land compensation & tenure | Language
2014:
December: Year-End Update, Evictions, Resistance, Victories in Rio's Favelas +++
November: Housing Crisis and Victories, Black Awareness Month in Rio's Favelas +++
October: Elections, Inequality, Culture, Evictions in Rio's Favelas +++
September: Escalating Violence, Evictions, Resistance & Success in Rio's Favelas +++
August: Ferguson vs. Rio, Vila Autódromo update, Post-WC in Rio's Favelas +++
July: World Cup Journalism Report Card, favela crackdowns & gondolas +++
June: World Cup journalism, mobilization and evictions in Rio's favelas +++
May: *New Design!* Police, evictions, mega-event impacts in Rio's favelas +++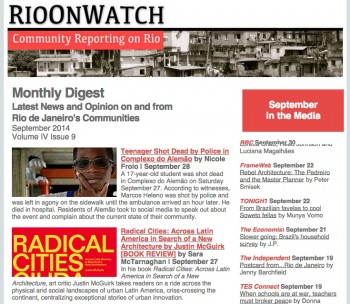 April: Violence, gentrification, innovative architecture in Rio's favelas +++
March: Demolitions, UPP clashes, gentrification, community responses in Rio's favelas +++
February: Violence, eviction, Olympic legacy in Rio's favelas +++
January: Eviction, gentrification, rolezinhos, landslide risk in Rio's favelas +++
2013:
December: Landslides, gentrification, 2013 Worst Reporting on Rio's favelas +++
November: Black awareness, growing resistance, NYT sees Rio's favelas as 'models'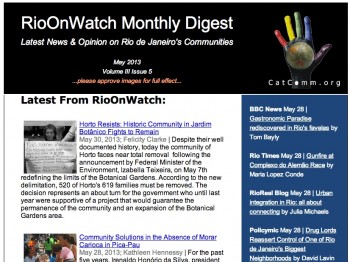 October: Community organizing, human rights, and legal action in Rio's favelas +++
September: Evictions victory, health, transport, and tenure in Rio's favelas +++
August: Evictions victory, Grassroots Planning, Exigencies in Rio's Favelas +++
July: Protests Intensify, Pope's Visit, Police Violence in Rio's Favelas +++
June: Protests take Brazil by storm, Community resistance, Police violence +++
May: Community Resistance, Public Security, Evictions in Rio's favelas +++
April: Mobilization, evictions, business, participation in Rio's favelas +++
March: Evictions, police occupation, community resistance in Rio's favelas +++
February: Forced evictions intensify, favela economy & Internet access expand +++
January: Business, tourism & gentrification in the favela, all about the laje +++
2012:
January | February | March | April | May | June | July | August | September | October | November | December
2011:
May | June | July | August | September | October | November-December