And the 2014 Rio Raffle Winner is…
A HUGE thanks to all who supported Catalytic Communities through your recent donations and participation in our 2014 Rio Raffle! Because of your support, we raised an incredible $24,247 from 641 different people in 28 countries on ALL 6 continents, breaking last year's record. Over 150 people helped reach out to friends, with 103 of you attracting 46% of all donations. As a result of this campaign's success, we can sustain and expand CatComm's favela advocacy at this critical and transformational moment in Rio's development.
And The Winner Is…
Today we asked Roberto Marinho, community organizer who helped stop evictions in Providência, journalist and editor Artur Voltanini of favela media outlet Favela 247, and Flavia Santos who is currently helping lead the battle against evictions in her community of Vila União de Curicica, to generate and confirm this year's winner from 2556 tickets. None had participated in or had any stake in the Raffle. While Flavia generated a random number using www.random.org, Roberto and Artur held the lists of ticket numbers and first names, and confirmed the winner. The result is…
Bob and Karla Weldon of Normal, Illinois, are the winners of the 2014 Rio Raffle!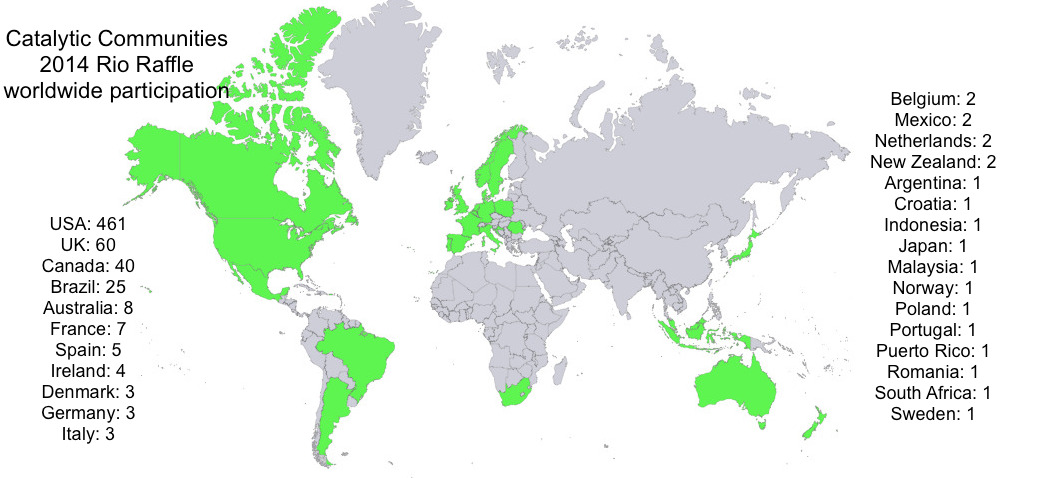 Illinois farmers and Rotarians, Bob and Karla are interested in international development and peaceful conflict resolution. They've been involved in efforts to foster peace in the Middle East and fight polio in India. We look forward to welcoming you to Rio next year!
Thank you for making this year's raffle our biggest and most successful ever. We definitely plan to repeat the Rio Raffle again in 2015! We'll let you know when the time comes. And, like this year, if you donate again, we'll add an extra "thank you!" ticket for every prior year you've participated. So your chances will get better over the years! In the meantime, if you're interested in supporting us in other ways, please consider setting CatComm as your Amazon Smile nonprofit in time for holiday shopping. We also want to let you know about Jason O'Hara's exciting Indiegogo campaign for his immensely important film, State of Exception, about resistance to forced evictions in Rio's favelas. He's doing an amazing job and his project deserves all our support!
We'll keep you informed of all that your contribution makes possible. We encourage you to accompany our work on a more regular basis, by liking us on Facebook and following @CatComm and @RioOnWatch on Twitter.