CatComm Launches Community Journalism Initiative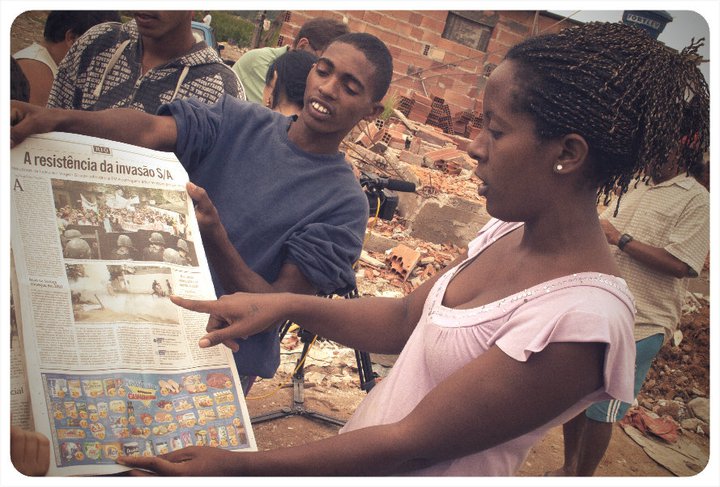 November 8, 2012–RioOnWatch.org, a project of Catalytic Communities (CatComm), is seeking proposals for articles, videos and photo-essays from community journalists in Rio de Janeiro. Selected submissions will be published in Portuguese and English on RioOnWatch.org. Four authors and their submissions will be selected for publication and paid for their work each month during the program's pilot phase (November 2012-February 2013), followed by an expansion of the program in March 2013. The inaugural theme is: favelas and their stigmas.
CatComm's Community Journalism Initiative is an outgrowth of our community journalism trainings which took place in 2011. Counting on the dozens of effective journalism, photography and media training programs preparing favela communicators today, the program aims to harness their potential through www.RioOnWatch.org, CatComm's community news site publishing favela perspectives in the lead-up to the 2016 Olympic Games.
RioOnWatch (Rio Olympics Neighborhood Watch) was created to facilitate and promote the inclusion of favela perspectives within the growing media coverage of Rio in light of the city's fast-paced transformation in the lead-up to the 2016 Olympic Games. This Initiative aims to support the professionalization of the field of community journalism while magnifying Rio's favela voices in Brazil and worldwide. Publishing in both English and Portuguese, RioOnWatch provides perspectives from favela leaders and residents, as well as international observers regarding the rapid urban transformations currently characterizing Rio and their impacts on communities.
In 2011, CatComm offered courses in journalism and video editing for youth from diverse communities. Since then, our readership has expanded to include international media figures and Brazil specialists. This has triggered international visibility for issues important to favelas in Rio. RioOnWatch's impact was recognized 9 months after beginning its activities in early 2011 when the Associated Press, the largest news organization in the world, contacted us for what would be the first mainstream media article on favela evictions. This prompted other stories in The Guardian, BBC, Telegraph, Al Jazeera, cyberpresse.ca, Edge of Sports, The Independent, CBC Radio Canada, National Public Radio, New York Times, among others. Consequently CatComm and our network of community collaborators are sought out today to provide opinions and deepen the understanding of issues of increasing importance in Rio and around the world.
Our goal is to achieve a new standard of flexible, adaptive, and creative public policies in Rio, rooted in civic participation, appreciation of the achievements and history of favelas, and guarantees to improve the quality of life of residents. This includes ensuring resident rights to remain in their homes, despite the bullish housing market and arrival of mega events.
RioOnWatch makes use of the media to achieve this goal, opening a global conversation about the qualities of favelas and the importance of ensuring the stability and quality of life of residents, while recognizing the necessary steps for proper public policy implementation. In our search for community journalists, we value the work of favela residents who have developed critical thinking skills and communication techniques.