Favela Community Land Trusts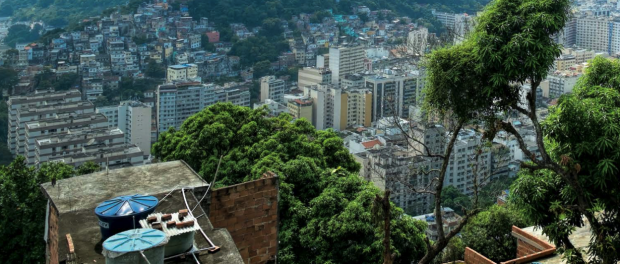 Catalytic Communities' newest project has the potential of offering a land tenure security model for informal settlements around the world. We are studying the development of Community Land Trusts (CLTs) in Rio de Janeiro's favelas. This grassroots organizing model allows residents to individually own their houses, while also maintaining a nonprofit that has collective ownership of the land and manages it to provide affordable housing in perpetuity. The model offers the highest level of tenure security possible and simultaneously preserves residents' right to collectively develop the neighborhood and to individually sell their homes. The tool offers the maximum level of protection from evictions and gentrification.
At the moment, we are developing a legislative proposal to make CLTs viable in Brazil and are working with favelas interested in establishing a pilot Favela Community Land Trust (F-CLT). From August 23-27, 2018, we co-hosted a series of workshops on the topic, alongside a delegation from the Fideicomiso de La Tierra del Caño Martín Peña, a CLT encompassing 8 communities in Puerto Rico's capital, San Juan.
Read on for more details about Favela CLTs and our work thus far.
What is a Community Land Trust?
A Community Land Trust is a community-managed nonprofit organization or association established to provide permanent affordable housing and build community assets in the territory that it owns and governs. CLTs are grounded in community participation and stakeholder cooperation.
Born in the 1960s from the Civil Rights Movement in the United States, CLTs have spread through different continents and contexts, resulting in an abundance of rules and structures. CLTs have been shown to be the most robust way to secure long-term affordable housing.
CLT residents own their respective buildings and, in effect, co-own the associated land, guiding and governing the nonprofit landowner as members of the CLT. Since land is normally the primary cost in urban housing, the CLT keeps home prices affordable.
Core Aspects of Establishing a CLT in Any Community:
Opt in to the CLT

: No one is obligated to participate in a CLT. Individuals may freely choose to join an existing CLT, to vote with their neighbors in developing a new CLT, or to pool individual titles to property. Opting in is a must.

Collectively-owned land via the CLT

: The CLT institution is the owner of all land on which a CLT operates, and is managed collectively.

Individually-owned homes

: On the CLT's land, the buildings within the CLT are owned or rented by residents with owners able to buy and sell their properties. This may involve selling at pre-established prices and/or purchasing and reselling homes via the CLT itself.

Community control of the CLT

: The CLT's management is voted in by residents of the community and determines what community qualities will be developed by way of the CLT (e.g. housing, commercial activities, gardens, culture), with

permanent affordability

as the core quality common to all CLTs. Community residents vote for a tripartite board to the CLT which includes owner-residents, neighbors with a direct interest in the community, and technical advisors from outside the community.

Permanently affordable: The CLT's primary mandate is to maintain and develop the CLT to keep it affordable for perpetuity.
Favela CLTs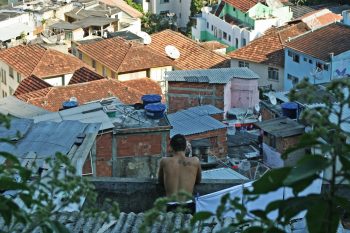 The basic logic of CLT governance is not much different from favela governance today, except formalized. Residents own and sell their homes at affordable prices through an active parallel affordable housing market. Meanwhile, they do not own the land on which they live, which is, in a sense, owned collectively because it is publicly owned. Finally, residents' associations and other neighborhood institutions engage in and advocate for infrastructure improvements in the community, and maintain records of home sales.

The major difference between the two is that favelas are kept precarious through tenuous governance by the authorities, whereas CLTs are sanctioned to manage land, represent the community, and take action to improve that land, and their mandate is unequivocally recognized by residents and authorities. A CLT form of ownership in the favelas would provide residents with security from eviction and real estate speculation. It would also provide public, legal recognition, along with a greater likelihood of improved infrastructure and services.

In the context of informal settlements, the CLT approach recognizes—and even welcomes and builds on—the inherent complexity and dynamism of these neighborhoods without compromising their existing characteristics.
Theresa Williamson's article in Land Lines magazine
Get a better understanding of CLTs and their applicability in Brazilian and informal contexts by reading the article "Could Community Land Trusts in Informal Settlements Help Solve the World's Affordable Housing Crisis?". Written by CatComm's executive director, Theresa Williamson, the article was published in July 2018 by the Lincoln Institute of Land Policy in their Land Lines magazine.
The Caño Martín Peña CLT in Puerto Rico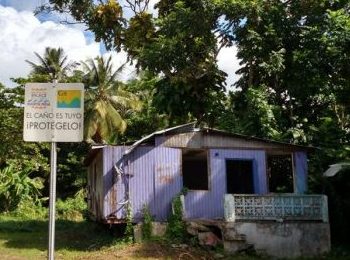 Our biggest inspiration for the F-CLT project in Rio is the Caño Martín Peña communities—the first group of informal settlements in the world to organize under a CLT. Located in San Juan, Puerto Rico, the group of eight communities fought off gentrification by establishing a CLT model in the early 2000s. Today, the Caño is a widely studied example and shows that CLTs can effectively provide formal, titled ownership without the risk of gentrification, while building on the community's existing social attributes. On top of establishing a CLT encompassing 2,000 families, Caño families managed to approve a law that stresses the CLT's role as a "mechanism of collective possession in order to solve the problem of the lack of ownership titles" and to "avoid involuntary displacement" of residents.
Workshops with the Puerto Rican delegation
In August 2018 Catalytic Communities and the Fideicomiso de la Tierra del Caño Martín Peña hosted a series of workshops to promote debates between favela residents, technical supporters and a delegation from the Caño, who was in Brazil exclusively for the workshops. The workshops kickstarted our investigation of the applicability of CLTs in Brazil and in Rio's favelas. Exchange, reflection and learning define those five days.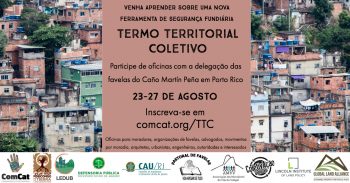 The workshops were also supported by LEDUB – Brazilian Urban Law Laboratory at the Federal University of Rio, The State of Rio de Janeiro's Public Defenders Office – Land and Housing Nucleus, Pastoral de Favelas do Rio de Janeiro, CAU/RJ – Architecture and Urbanism Council of Rio de Janeiro, Lincoln Institute of Land Policy, Center for CLT Innovation – Global Land Alliance and AMVV – Vila do Vidigal's Residents' Association.
The members of the Puerto Rican delegation that brought the model to Rio included:
CLT Working Group
A Working Group of over 130 members including over 40 favela organizers from 25 favelas and technical allies from a number of institutions is building on the movement initiated by the CLT workshops and collaborating to develop a CLT model in Rio. Meeting biweekly, the group is divided into a Mobilization Group and a Legislative Group and is actively working with interested communities to develop a pilot CLT while simultaneously working on legislation to promote Favela CLTs in Brazil.
Among technical allies are representatives of the State of Rio's land titling agency ITERJ, the State Public Defenders' Land and Housing Nucleus, urban planning faculty from the Federal University of Rio de Janeiro and the Fluminense Federal University, the Architecture and Urbanism Council for Rio de Janeiro, the Pastoral Committee on Favelas, the Metropolis Observatory, and the Favelas Observatory.
If you are interested in participating, email ttc@comcat.org with the subject "GT do TTC – Interesse em participar". Meetings are conducted in Portuguese.