We Need You: Support Our Covid-19 Response Efforts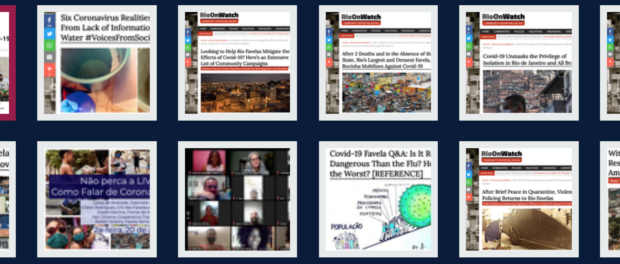 July 5, 2020—Since Covid-19 reached Rio de Janeiro we have seen a growth curve with no sign of letting up. The impact is particularly felt by favela residents where public sector neglect, insufficient water supplies, limited resources, dense living conditions, poor access to information, the inability to forego work, insufficient access to medical care, growing anxiety and high comorbidity all dramatically increase the chance of community transmission of the virus and death. On top of that, Brazil's leadership has downplayed the pandemic, testing is grossly insufficient with two week wait times and a month's lag for results, insufficient and tardy economic support has made it hard even for those who want to self-isolate, the government is severely undercounting and not reporting favela deaths, and we have witnessed a return of violent police operations in favelas.
The result is a crisis, making it impossible to know how grave the situation is, where the hotspots are, and thus how possibly to flatten the curve, a concern that has been left to Rio de Janeiro's civil society to address. Even with severe undercounting, Brazil is now second in confirmed cases and also in confirmed deaths. Rio de Janeiro is second only to São Paulo as Brazil's hotspot of Covid-19 deaths, however the death rate in Rio is significantly higher among confirmed cases. And if taken as a proportion of population, Rio de Janeiro is harder hit.
Since the pandemic hit Rio four months ago, Catalytic Communities has focused exclusively on supporting favela organizers at the frontlines of prevention and mitigation. At least 100 favelas have now been infected, with the number growing daily. In favelas, the percentage of deaths is at least twice that of the city as a whole.
In response, we have ramped up our community reporting efforts on RioOnWatch to offer daily coverage as these resistance efforts unfold. We have held 76 live community Zoom meetings hosting a total 1269 people and checking in with 197 community organizers from 60 favelas and 361 technical allies and volunteers who are working together to respond to the pandemic and develop strategies for social change in these trying times. We have provided food stuffs to those on the frontlines and distributed a hygienization alternative to gel alcohol in partnership with Engineers Without Borders. We are raising funds for waste pickers who conduct 90% of Brazil's recycling yet are among the hardest hit groups by this pandemic. We are part of a group advocating to the federal government for civil society-monitoring of water utilities. After initially monitoring the spread of Covid-19 and calling attention to disparities with public data, we are this week launching a Unified Covid-19 In Favelas Dashboard, crowdsourcing data through a network of favela rapporteurs. Finally, we are connecting favela organizers with global media outlets who are covering their stories, and speaking virtually on international panels, from the UN to Land Portal and the Global Summit, sharing real-time updates from Rio. And we are organizing live teach-ins online where up to 100 organizers weekly learn from those who've been successful in their resistance efforts.
Below, we have set up this special fund to help us fight the coronavirus in Rio's favelas and we desperately need your help. Most of our promised funding for the year has been called off due to the economic impacts on our donor institutions and partners, and we are unable to travel to raise funds through public talks or events. We need you more than ever.
Please take a moment to set up a one-time or recurring donation, of any amount, today. Help us address this current crisis while continuing to work for systemic change in support of favelas in these uncertain times. US-based donations are 100% tax-deductible.

Thank you!
—The CatComm Team