Submit Your Abstract to EcoCity World Summit 2019
"Informal Solutions for Sustainable Development" is one of 4 themes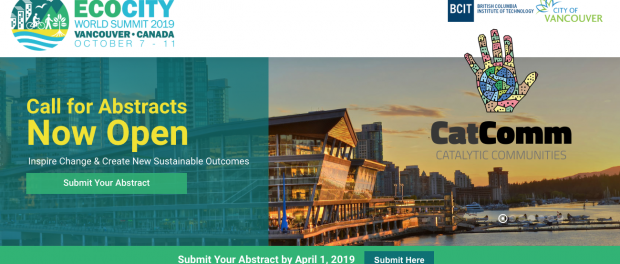 Working towards a sustainable future? Please join Catalytic Communities at this year's EcoCity World Summit in Vancouver on October 7-11, 2019. We highly encourage our network to submit conference abstracts—today, April 1, is the last day!
Note that one of the sub-themes for the conference is "Informal Solutions for Sustainable Development," the theme we have been most engaged in with ED Theresa Williamson among the summit's Program Committee members.
The primary theme is "Socially Just and Ecologically Sustainable Cities" with three sub-themes contemplated under this umbrella: (1) Climate Action; (2) Circular Economy; and (3) Informal Solutions for Sustainable Development.
Abstracts can be submitted by academics as posters or presentations and by practitioners as posters, presentations or workshops.
CatComm has participated in the past two EcoCity World Summits, in Abu Dhabi (2015) and Melbourne (2017). We're thrilled to have been invited to play a more active role this year. The EcoCity World Summit is unlike any other event, bringing together political leaders, practitioners and academics in powerful ways to build a sustainable urban future. We are absolutely thrilled Vancouver's organizers from the British Columbia Institute of Technology (BCIT) have identified the fundamental role that informal solutions play in a sustainable urban future!