Join CatComm at 2019 Ecocity World Summit in Vancouver
Building Socially Just and Ecologically Sustainable Cities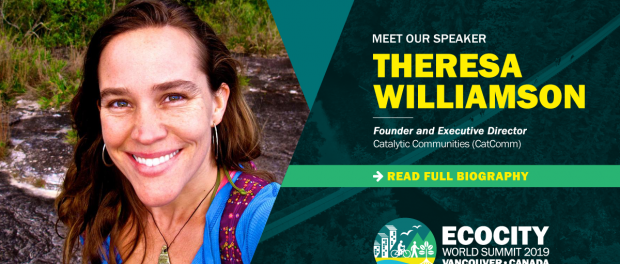 The Ecocity World Summit is the longest-standing international summit that addresses building cities in balance with nature. This year, the Summit will take place in Vancouver, Canada, from October 7-11, 2019.
CatComm has participated in the past two EcoCity World Summits, in Abu Dhabi (2015) and Melbourne (2017). We're thrilled to have been invited to play a more active role this year. The EcoCity World Summit is unlike any other event, bringing together political leaders, practitioners and academics in powerful ways to build a sustainable urban future.
The primary theme is "Socially Just and Ecologically Sustainable Cities" with three sub-themes contemplated under this umbrella: (1) Climate Action; (2) Circular Economy; and (3) Informal Solutions for Sustainable Development. We are absolutely thrilled Vancouver's organizers from the British Columbia Institute of Technology (BCIT) have identified the fundamental role that informal solutions play in a sustainable urban future!
Catalytic Communities' Executive Director, Theresa Williamson, will be speaking and participating at multiple events, always putting a spotlight on favela sustainability and resilience efforts and encouraging reflection on the qualities of informality. Check out her speaking schedule during the Summit and join us!
Highlights
Public Talks by Theresa Williamson
Monday, October 7 – 10:15-12:40
Workshop #03 | "Shatter Your Lens and Sharpen Your View: Rio de Janeiro's Favelas Will Make You Question Everything You Thought You Knew About Sustainable Cities" by Theresa Williamson

Location: BCIT Downtown Campus Room 284 (555 Seymour St, Vancouver, BC)
Rio de Janeiro's favelas offer an exceptional laboratory from which to reflect on the nature of multi-generational self-built development of informal settlements, to consider what the world might learn from these settlements, the relationship of housing to belonging and sustainability, and to use this knowledge to create more flexible, adaptive, singularly diverse, creative and resilient cities—all qualities of informality that are conspicuously absent from most formal environments. Tools and divergent perspectives from Rio de Janeiro's Sustainable Favela Network where informal settlements are working to develop their own model of sustainability, built on their qualities and assets, will be presented.
The workshop will engage the public in three activities designed to shatter their traditional thinking and renovate their perspectives on sustainable urbanism, to help them think outside their traditional disciplines and contexts, a necessary skill as we work together to develop the highly creative solutions we need moving forward.
Thursday, October 10 – 14:00-15:00
Keynote 4 | Informal Solutions for Sustainable Development – Urban Redesign to Reduce the Weight of Cities

Informal settlements and informal solutions are not marginal. In some places, they are larger and more impactful than their formal settlement counterparts. In this session, we explore how informal solutions for sustainable development can unlock powerful insights for the future of cities.
KEYNOTE
Maarten Hajer, Professor of Urban Futures at Utrecht University & Member of UN International Resource Panel, Urban Redesign to Reduce the Weight of Cities
SESSION PANEL
-Theresa Williamson, Executive Director, Catalytic Communities
-Eliana Sousa Silva, Redes de Desenvolvimento da Maré, Rio de Janeiro
-Dr. Richard J Smith, Wayne State University
-Heba Allah Khalil, Cairo University
Thursday,  October 10 – 19:30-21:30
Free public lectures to the Vancouver community

A free public lecture will take place with PechaKucha style presentations from the invited keynote speakers: Richard Register, Paul Downton, Theresa Williamson, Gerban van Straaten, Erik Assadourian, Mark Angelo, Cathy Oke, and Zena Cumpston.
Friday, October 11 — 1-2:30pm
Closing Ceremony

Ecocity World Summit 2019 concludes with a celebration of major themes and milestones and with five major announcements, including the reveal and handing of the baton to the next Ecocity World Summit host. A panel, moderated by Jennie Moore, and including Theresa Williamson, will share key reflections, insights and predictions of where the Ecocity movement goes from there.
Other Events with Theresa Williamson
Monday, October 7 – 15:30-17:55
Workshop #09 | "Uprisings: An Interactive Workshop on Harnessing the Energy and Creativity of Citizen-Led Sustainability Projects"

Cities everywhere need to engage many more residents in support of the behavioural and systemic changes needed for ecocities. This workshop will bring together leaders of six successful citizen-led projects from Africa and the Americas—and 50 delegates—to explore how local decision-makers can free-up citizens to experiment in building more socially just, ecologically sustainable cities. The workshop will be informal, interactive and enjoyable, with elements of PechaKucha (concise presentations by project leaders) and speed-dating (leaders interact directly for short periods with small groups of participants).
Facilitated by James Boothroyd, co-author of Project Green Bloc, and Kirstin Miller, Executive Director of Ecocity Builders, this session should be of interest to local government decision-makers, planners, grant-makers, community groups and activists.
Tuesday, October 8 – 15:30-17:55
Workshop #20 | "The Practice of Community Co-Design in Medellin: Case Studies and Workshop"

PRESENTERS
-Stephen Passmore, Resilience Brokers, United Kingdom
-Holly Pearson, Ecocity Builders, USA
MODERATOR
Theresa Williamson, Catalytic Communities
This interactive practitioner workshop will introduce session participants to a range of collaborative design approaches being introduced and piloted in Medellin, Rio de Janeiro, and beyond. The range of approaches all systematically involve multiple sectors and stakeholder groups and are applied to complex, "on-the-ground" interventions and solutions.
WORKSHOP FORMAT
PART A – CASE STUDIES: Following an initial framing presentation providing an overall of community planning approaches, with examples from Rio de Janeiro of Catalytic Communities' community-driven integration between informal and formal community planning (Theresa Williamson, CatComm), the speakers will share short presentations on case studies from Medellin, including on: (i.) the participatory engagement and use of citizen science in the development of a neighborhood sustainability plan (Sydney Moss, Ecocity Builders); (ii.) human-centered design as a methodology for innovative, community-focused problem solving to address complex urban challenges in the Moravia neighborhood, where informal houses were built on a formal landfill (Holly Pearson, Independent Planning Consultant); and (iii.) the pilot project on data integration for resilient cities for CODATA of the International Science Council, around the city-selected themes on the links between air quality, public health, urban green space and social and economic outcomes, which was conducted collaboratively with a range of actors, including the Ruta-N Medellin and the novel Medellin Data Council, an informal, voluntary group of data scientist stakeholders including 'citizen scientists', university researchers, civic tech entrepreneurs, community open data activists, and representatives from the municipality. (Stephen Passmore, Resilience Brokers). Followed by Q&A.
PART B – BREAKOUT DISCUSSIONS: The session's second half will include two rotations of breakout discussion groups, which will allow participants to identify and discuss community co-design approaches in their own geographical, community and institutional contexts around the themes of the case studies (e.g., citizen science, open data and systems thinking; human-centered design (HCD) methodologies and applications to community planning, urban design / master plans; community-led integration between informal and formal community planning through strategic communications and technology). Finally, the tables will report back to the group for a final discussion. 
Thursday, October 10 – 11:30-12:40
Session 6C | Socio Cultural Features—Community Capacity/Governance: Harnessing Informal Innovation for Inspiration
MODERATOR
Theresa Williamson
SESSION PANEL
-Jean-Claude Bolay, Ecole Polytechnique Fédérale de Lausanne (EPFL), Switzerland—Urban Planning in the Global South: A World Challenge for a Sustainable Future
-Heba Allah Khalil, Cairo University, Egypt—Supporting Informal Areas Resilience: Reinforcing Hidden Green Potentials for a Better Quality of Life
-Daniela Teran, Harvard University, United States—Study on Rural Communities of Ecuadorian Highlands to Co-develop Innovative and Sustainable Solutions to Develop New Economic Opportunities Through Their Resources with Social Innovation Strategies
-Marion Town, Vancouver Airport Authority, Canada—How A Governance Structure Can Support Both Sustainability and Innovation
See the full schedule of activities and further information here.