CatComm Facilitates Penn Lauder Institute Educational Community Visit to Vidigal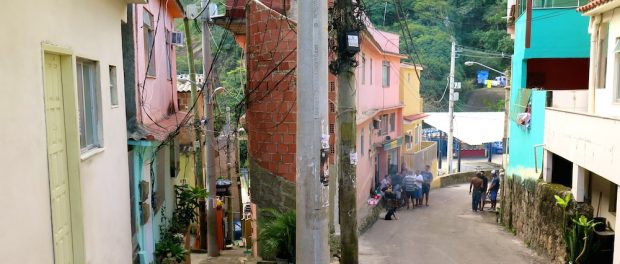 On the afternoon of Friday, June 16, 2017, Catalytic Communities introduced students and professors from the Lauder Program, a joint MBA/MA International Studies degree program at the University Pennsylvania, to the South Zone favela of Vidigal as part of our Educational Community Visits program. Led by André Gosi, the cultural director of the Vidigal Residents' Association, and CatComm's Theresa Williamson, the group of approximately thirty visitors discussed the favela's history and current struggles with government neglect, the Pacifying Police Unit (UPP) that was established there in 2011, and the ongoing threat of gentrification in the community.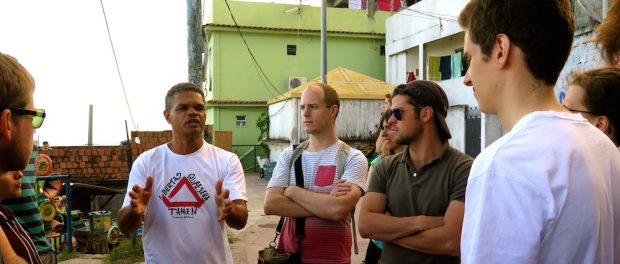 The group split off into two, with Portuguese-speakers led by Gosi and English-speakers by Williamson. Starting in the rapidly-gentrifying peak area of Arvrão, both groups discussed the nature and implications of gentrification in the community and then descended down characteristic alleyways describing the daily reality of residents who built the community over the past 76 years. The Vidigal Residents' Association will turn 50 this year, and the community's successful movement to stop eviction during the military regime will celebrate 40 in October.
Gosi's focus during the visit was on education and citizenship. In a period during which government policies and rising real estate prices have pushed longtime residents out of historic communities in the South Zone and Rio's Port Region, favela residents need more information about their rights and how to use their vote and voice to the best effect. CatComm has been supporting the community in these efforts since 2013 when we held a series of workshops, leading to four community-wide debates, on gentrification and its prevention.
Even as gentrification takes hold, though, basic infrastructure problems persist. As part of the boom in building and real estate speculation that occurred in Vidigal after the installation of the UPP, vertical construction often added third and fourth floors to houses without an accompanying expansion of sewage and water systems taking place, straining the community's already precarious access to resources.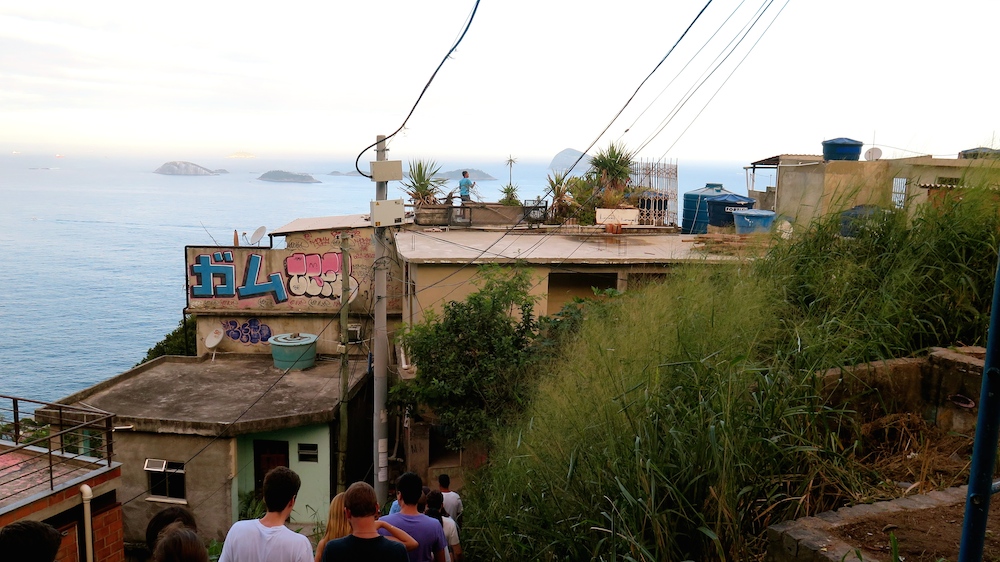 As Brazil's ongoing economic and political crisis continues, along with the city of Rio's post-Olympic slump, the Residents' Association in Vidigal is looking to provide care for members of the community, people who face the same stresses and difficulties as those living in the formal city but who find themselves without adequate resources to cope. As part of a remodeling plan just approved but not yet funded by the City government, the Residents' Association plans to begin offering psychological services within its headquarters, as well as expanding its on-site cultural activities to include music in addition to existing martial arts and language classes.
Williamson's focus during the visit was on the history of Vidigal and threats to that history posed by gentrification, problematizing gentrification as 'development gone wrong,' and describing potential solutions such as Community Land Trusts or community-led development. The qualities of informal construction, social environments and economic development were discussed, countering many of the assumptions traditionally made of favelas and making comparisons with public housing and favelas elsewhere in Rio and beyond.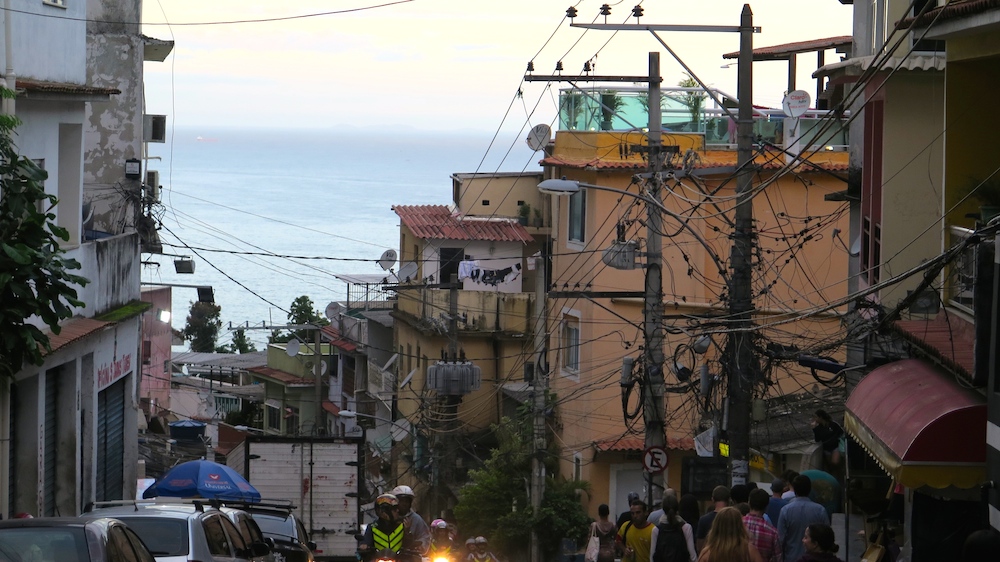 Beyond to the Residents' Association headquarters, the group visited community institutions like the Nós do Morro renowned theater school whose students have gone on to star in both Brazilian and Hollywood productions; Todos Na Luta, a free boxing school for community members whose athletes competed in both the London and Rio Olympics; and a long-time community-based NGO Ser Alzira de Alleluiah that offers free language classes by foreign volunteers, as well as dance and soccer lessons. These highly successful local initiatives turned the focus of the visit to community solutions, a topic of interest to the students, who are spending their summer studying management in a Latin American context. In addition to Brazil, the group will travel to Peru, Colombia, and Mexico before returning to the United States.