Vidigal Debate Series: 2nd Debate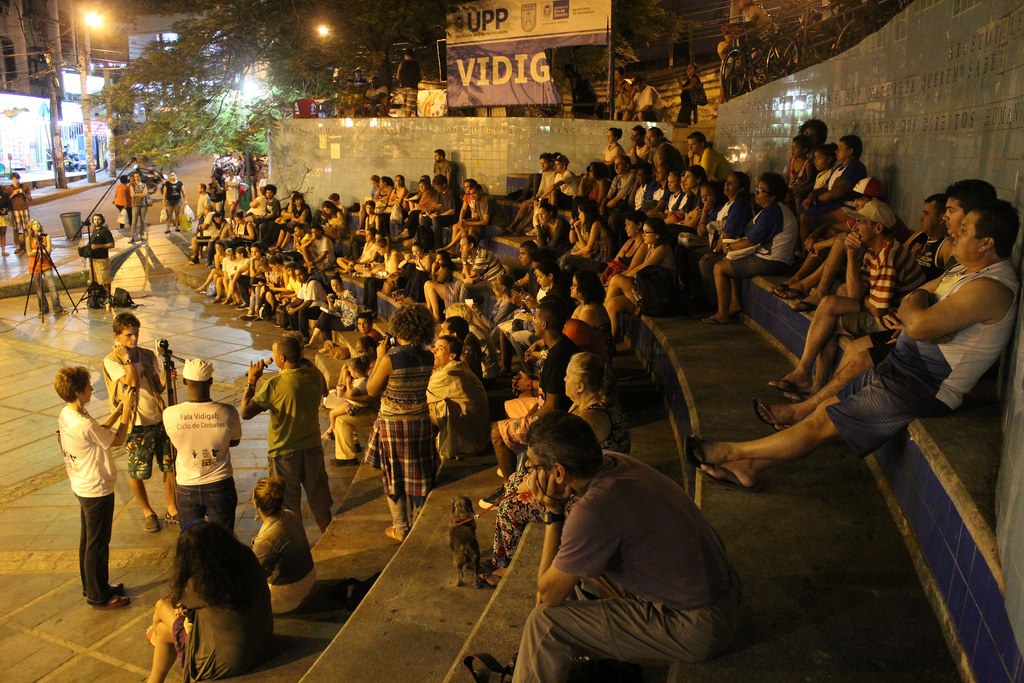 [Click here for debates: 1, 3, and 4]
On Tuesday April 8, Vidigal hosted the second of four debates. Organized by the Vila Vidigal Neighborhood Association, Catalytic Communities, the Intersectoral Forum of Vidigal, the Albergue da Comunidade, and Vidblog Vidigal the debates give residents the opportunity to discuss the process of gentrification and what it means for the future of their community.
The first debate, hosted on March 18, started the conversation with a panel discussion on the definition of gentrification, the history of Vidigal, the origins of favelas as affordable housing, and resident reactions. The second debate expanded the discussion on recent changes in Vidigal, allowing for a widespread and comprehensive discussion among residents defining community assets that cannot be lost in this transformation as well as necessary improvements and what residents want for the future of Vidigal.
With roughly 120 people in attendance, the debate was launched with a specially prepared video in which a variety of residents from a range of locations within Vidigal were asked what they think of the community and the changes underway. William de Paula, or Ninho as he is affectionately known, a life-long resident and actor in the well-known community theatre organization Nós do Morro, stated, "We made this video to see what everyone was thinking about this process of gentrification, because (new development) has impacted our lives in a positive and negative way. This is our objective tonight. [Real estate speculation] is happening in our community. It is happening everywhere: in Vidigal, in Rio de Janeiro, and nationally."
The debate began with a testimonial from André Gosi, who has lived in Vidigal for 52 years, his family for 70, and who is one of the current directors of the Vidigal Neighborhood Association. Reflecting on those residents who've been tempted to sell to newcomers because they've never before imagined their house would be so valuable, André cautioned: "The person has to be aware that their house has a high human value. They have to think about whether it's really worth leaving here for R$200,000. You don't just change your address. You [have to] change your habits, the time it takes to do things. Later you get depressed because the people who lived nearby moved far away. So you have to start thinking about this. The favela is the most original side of Rio de Janeiro. Where people live very close-knit. The neighbor who loans you some sugar, the solidarity is fantastic–you get sick and I'll take you to the hospital. All of this must be weighed…[people need to] think about whether it's worth selling their homes to move somewhere far away."
André was followed by Manoel, one of the founders of the eco-park Sitiê and an elderly community gardener, who defended the value that foreigners–often identified as having begun the gentrification process–interested in the community have brought in recent years: "I've been grateful to receive foreigners who come to see Brazil and the community differently [from others who look down on it]. Vidigal is…beautiful, it is a unique community. Not just today, but we have had many visitors since the 1970s and 1980s…Foreigners help educate us and bring culture."
Sylvia Cassanello, an Uruguaian who's made Vidigal her home for the past 24 years and who is an activist on behalf of abandoned and mistreated animals in the community, pointed out that not only foreigners are moving into the community, but that middle class Brazilians unable to afford homes in the high-priced neighborhoods below have been moving in as well.
She was then followed by a middle class Brazilian actor who moved to the community when he was working with Nós do Morro one year prior: "I came to exchange with Vidigal. I think it's an incredibly open community, colorful, with diverse people, and with high self-esteem…I don't want it to lose its nature of people being open to talking to everyone [else]…Those of us who come from outside make demands as well. We see the garbage in the street and start picking it up. Our contribution is to make demands…I think Vidigal should have a bank and hospital. Those of us from outside had these things outside [of the community] so we will demand we have them here too…What I want for the future is that this is a formal neighborhood like any other."
Ivanete Alleliuiah of the Women's Association of Vidigal (A.M.A.R.) then took the mic, disturbed by some of what she'd heard: "For me everything's wrong with [how things are going in] today's Vidigal. Everything. I want to know who's receiving an electricity bill that's arriving high?…It's the electricity bill coming high, it's the water bill coming high. Shortly favela residents will be paying property tax. So I cannot condone what's happening. There's a 3-story NGO being built up there [at the top of the community] while I, a resident who's lived here more than 50 years and active in the Women's Association, [can tell you that] we don't even have a space to build an office. Anyone can just show up and build, if they have lots of money. And with regards to a bank, yes it would be good to have one here, but everyone should be aware of what bank will enter the community, to offer low-interest loans so residents will take out loans and then as a result of the interest due will lose their homes. Beware. I want my favela, I don't want a comunidade."
Next came Adalberto Ferreira, or Beto, a samba composer and member of the Horizonte NGO. Building on Ivanete's conerns around justice, and emphasizing that Vidigal residents had remained in the community, investing in their lives and living through such difficult times, he was adamant: "The government guaranteed that following the arrival of the pacification police there would be security, so the next step would be social programs. [But] Santa Marta was the first pacified 5 years ago and there haven't been any improvements in education, in health, in housing, anywhere…In Vidigal, when there was drug trafficking, no one wanted to go up. Us residents, when we came home from work, we had to wait down here in the square, with the BOPE (Special Operations Battalion) there, not letting us go up because of the crossfire. So no one wanted to come [live] here. So we lifted ourselves up by our bootstraps. Since the 1980s the State was absent… and we experienced many difficulties. With pacification the police officers arrived. They are also lab [rats]. They are given a quick training, come without psychological preparation, without physical preparation, with a low salary, to do their work…We await the government that never appears. Since the community was founded, a leader, Paulinho, always says, that eviction threats come every ten years…[Yet people] build their houses brick by brick. Working on minimum wage with great difficulty. People from that period didn't receive instruction, some studied, but all receiving low salaries, wanting to survive…How is it that these people will pay a high electricity bill, a high water bill. And [what about] the people being coerced to leave the community?…We need to call on the government, all of society here…to create concrete proposals [for public programs]. We don't want to live on handouts."
Adding to Beto's critique of state neglect, high school teacher Fábio de Barros Pereira took the mic and made an impassioned appeal for the community to take interest and ownership of their local school, where he teaches: "Education plays a central role in building the future, whatever future that may be…In this sense I think that to build a good future, that guarantees rights and prepares citizens, and prepares students [to work and contribute to society], we need a school that is completely different from the one we have today. Vidigal's Almirante Tamandaré State School is over 50 years old. It is inside the community, but has its back to the community. And the community has its back to the school. During such a crucial moment in Rio, with the crazy militarization we are experiencing, schools have an important role to play.
"What school do I want to see in the future?…One that forms citizens. In such a decisive situation as that we're living in now, with the installation of a UPP that plans to pacify things, we need to form citizens who think, who experiment, who exercise democracy. Our school doesn't do this. It's authoritarian. Teachers and students have no voice. Why is it important for teachers and students, and especially the community, to participate in the school? I don't know one example of a successful school where the community did not embrace the school. Why is this important? Because we are seeing an increasingly militarized city. Every bit of energy and every penny spent hiring police officers and buying more arms rather than investing in social benefits, we are building a city in a certain direction. The more I buy weapons, the more I nurture war. Schools should work in the opposite direction, building democracy. Why is it important to build democracy? Because democracy has two key aspects. First is popular participation. In such an exclusive, concentrated society as ours, if we don't prepare youth for democracy we will be permanently perpetuating inequality and injustice. And second is the guarantee of rights. A student that participates in his school will learn…to control the public sphere, public resources, the state. If I see a solution for the occupied communities, for the success and viability of the pacification program, it is the necessity of the community to control the state. The state cannot control the community. The police cannot control the community. This will not take us to a good place. Every penny towards a weapon, I remove from a book. Every police officer I hire, I remove a school teacher. Every car I buy is one less computer, book or library. So we are building a city based on a strategy that does not interest us. Our school should be occupying the central position in Vidigal, radiating values of citizenship and democracy…Finally, Vidigal has an essential quality: it's a community that has a history of relating to art. And the only thing that will save school from the monotony, from the boredom that has become education today, is art…School no longer attracts youth…Art can play an important role in renewing school. Vidigal may be the most appropriate of all places for us to have an experimental, cutting-edge school, that brings art to the classroom…where we experiment other forms, through game, play…"
Following Fábio's proposal the floor was taken up by a Spanish architect, Miguel Plaza, who moved to Vidigal one year ago and has been engaged with a range of programs in support of the community: "I know many foreigners here but none of them are buying…Wake up, because it is powerful Brazilians with a lot of money [who are buying]…I'm an architect and came to Vidigal with the intention of helping. Because people invest in the inside of their houses but there aren't a lot of public spaces. I see a practical solution we can employ in the immediate future: the smaller the works, the less resources, the better, the easier to oversee. This gives more strength to the community. When I got here I was fascinated by the view for two months, it's beautiful. But afterwards I was fascinated by the community itself. What's happening to the parties? Why can't we have any more parties? More debates like this one? Because this strengthens us. The community is the most important thing…Let's have more activities, let's get educated, interact with each other. Because in these acts the community gets stronger. This is what I liked when I came here and that's different from other places."
The debate then came back full-circle to another lifelong resident and President of the Vila Vidigal Neighborhood Association, Marcelo da Silva who explained he wanted to speak not as a leader, but as a resident, expanding on Miguel's theme of strengthening the community through unity: "We can't blame the City, State, foreigners, or anyone else if we residents are not united. If we don't understand each other…[Sometimes even] people who've lived next door for forty years [are in conflict over something banal]…It's time to have the mentality of unity…stop blaming past leaders and each other… Now, in terms of [utility] prices, we have to call on the authorities. Insist on a just price for the community. A few [neighborhood] associations are united in this vision now, we're holding meetings, strength in unity. There's been enough of thinking that things are happening in Vidigal and I don't need to worry about other communities. Unity is necessary. Knowing what's happening in Santa Marta, Cantagalo, Babilônia, Rocinha… I've come as a resident to ask that we put blame aside and each of us do our part."
Throughout the debate residents praised community assets of openness, culture, communication, solidarity and a sense of community "not found on the asphalt," or formal city, below. Numerous residents remarked that the current process of gentrification in Vidigal is not just a local phenomenon, but rather the consequence of global economic shifts and former President Lula's policies.
The third "Fala Vidigal" debate will discuss the intentions of new entrepreneurs and business owners entering the community and what they can contribute and will take place on May 6 in the Vidigal plaza at 7pm. The final debate, on June 3, will invite public authorities to discuss their plans for the community and hear resident concerns.
This article was originally published on RioOnWatch.
This is the second in a 4-part debate. [Click here for debates: 1, 3, and 4]
Slideshow of second debate, by Michel Jaquet: