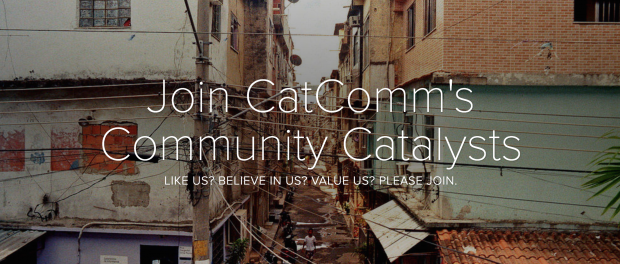 This #GivingTuesday, we are thrilled to launch our Community Catalysts Campaign to ensure Catalytic Communities continues to flourish and generate transformative change on behalf of communities in Rio and around the world. I'd like to invite you to join and become a Community Catalyst. We have thought long and hard about this campaign, and share exciting information on perks, impacts and its role here. Please check it out.
Your monthly support, at any level, even $1, will fund three major programs in 2018:
RioOnWatch will be relaunched with a contemporary news layout by May 2018 featuring new columns, favela reporting partnerships, grassroots solutions, policy proposals and more.
Our Sustainable Favela Network of over 100 favela-led sustainability solutions from all over Rio will receive strategic training and participate in exchanges among this amazing network of local problem-solvers.
We'll launch our Favela Community Land Trust community workshops and engage legal partners to help communities gain collective title to their land.
If you prefer to make a one-time annual contribution, you can donate online here, PayPal, or mail a check made out to Catalytic Communities to PO Box 42010, Washington, DC 20015.
If you're in the US, you can also make Catalytic Communities your charity on Amazon Smile, so a percentage of every purchase will help Rio's favelas.
And as a special thank you, I will personally email everyone who donates on #GivingTuesday a complementary copy of "Rio's Favelas: The Power of Informal Urbanism," the chapter I recently published in Perspecta: Urban Divides by the Yale School of Architecture and published by MIT Press.