Favela Psychologists and Organizers Debate 'Mental Health in Favelas During the Pandemic' [VIDEO]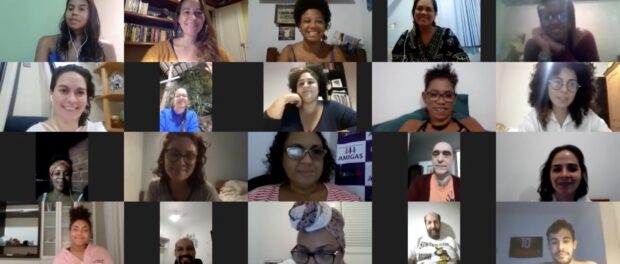 On May 11, Catalytic Communities (CatComm),* through its Sustainable Favela Network (SFN) and RioOnWatch projects, and with support from the Heinrich Böll Brazil Foundation, held its second interactive LIVE teach-in event, "Mental Health in Favelas During the Pandemic." The event's five speakers, all involved in mental health work in favelas from different forms and perspectives, spoke of the psychosocial impact of the coronavirus crisis in the favelas and the importance of care, nurturing, and solidarity during the pandemic. 
The roundtable discussion gathered: historian, social activist and Fiocruz grantee André Lima from the favela of Manguinhos, in the North Zone of Rio de Janeiro; clinical and community psychologist at the Magal Center for Psychosocial Services (CAPS) Nara Goes, who works in the favelas of Complexo da Maré, also in the North Zone; the creator of the Naturalê agroforestry and natural care project Alessandra Alves-Roque, of Morro da Providência in the downtown Centro area; Maré communicator Simone Lauar from the Agência de Notícias das Favelas news agency (ANF) and blog Garotas da Maré; and psychologist and collaborator Ingrid Siss of Casa Dona Amélia and Frente CDD, from City of God, in the West Zone.
The virtual meeting began and ended with breathing practices as tools for dealing with stress and anxiety, guided by Lorena Portela, PhD student in public health at ENSP/Fiocruz, professor of Dakshina Tantra Yoga, and co-coordinator of the Horta Inteligente project (Intelligent Garden), in Providência.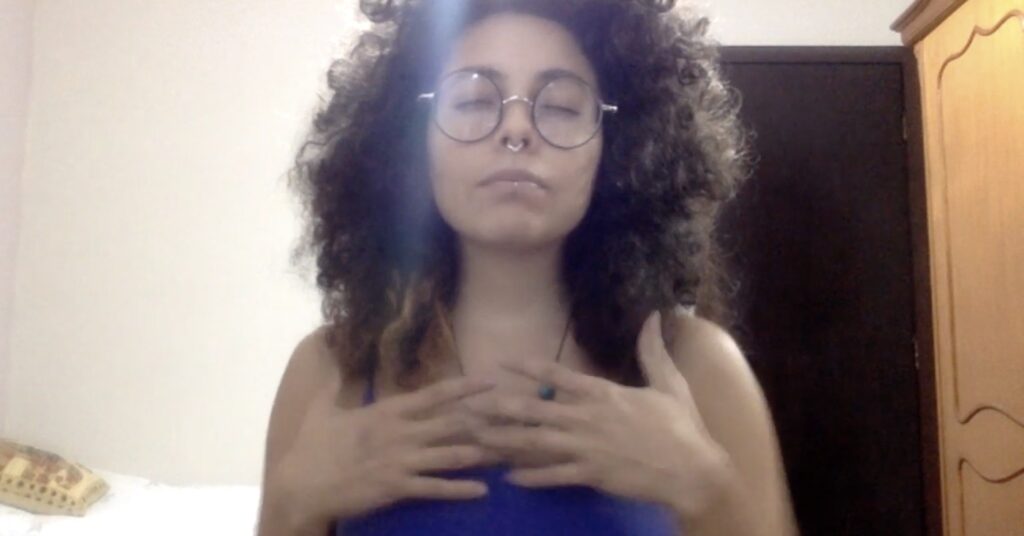 The event was designed to address mental health difficulties arising among favela residents due to the Covid-19 pandemic and as a follow-up request following CatComm's first LIVE, on favela communicators' strategies to inform, communicate, and organize their communities in the face of the pandemic.
The exchange focused on the challenges of mental health suffered due to the Covid-19 crisis and centered around six themes: fear, mourning, coexistence, access to mental health services, gender, and struggle. Uncertainty, illness, death of loved ones and ensuing social isolation, have led to heightened fear, stress, anxiety, insomnia, sadness, depression, loneliness, and lack of perspectives.
The evening's speakers also addressed concerns related to the compounding of structural violence in the crisis, as in the worsening of economic inequality, domestic violence, and emotional burdens on women. All participants had the opportunity to exchange tips on self-care and preserving mental health, particularly for those on the front lines of the crisis.
Psychological Challenges Exacerbated During Pandemic
Alves-Roque tried to put into words one of the most widely shared psychological challenges: "Fear is the greatest feeling at the moment in the favela. The fear of not being cared for, the fear of being alone, the fear of death… Isolation and social distancing bring these [feelings] because it leads us to loneliness, but we are people who embrace each other all the time."
Siss explained that this fear also comes from the unknown and the proximity of the threat. "It is a disease that you do not know where it comes from and underreporting is very real, with more and more deaths close to you, a neighbor who is infected, a friend who we are losing…" she said.
Lauar explained that all of this creates mounting psychological challenges. "Mental health is something that is not talked about much, but it is something that we see happening more and more every day. I have a neighbor who's pregnant and she's suffering from anxiety […], I have heard reports of women who are suffering abuse at home and who have started to develop stress, depression, and panic […], the suicide rate has increased a lot in the favelas […] there are a lot of people having a bad time, a lot of people wanting to kill themselves."
Lauar even shared personal experiences that she and her sister, who suffers from clinical depression, had experienced that were linked to the economic concerns generated by the crisis. "The problems with the deliverance of the emergency basic income caused my sister to have a panic attack in the middle of the street," said Lauar. "I myself had an anxiety attack yesterday because I suddenly have no occupation or income."
For Alves-Roque, these psychological problems should not be ignored: "We favela residents are not used to therapy, going to a psychologist […] but [the pandemic] creates traumas and illnesses in our soul, in our mind. And then we need a professional, a support group to help us."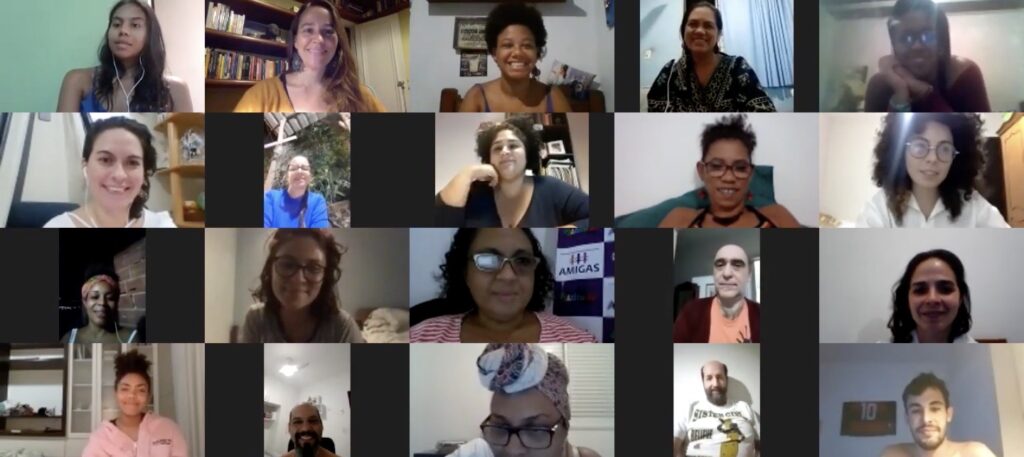 Lack of Public Attention and Structural Inequalities Aggravate Mental Health in the Favelas
But Lauar showed that she always had a lack of access to psychological care in favelas. "My sister was diagnosed with depressive anxiety and panic syndrome in 2007, and since then we have had a lot of difficulty in finding treatment here," she said. "With the pandemic, this has become worse."
Goes explained that the lack of psychosocial attention on the part of public authorities is not new. "There were psychologists at the Family Health Clinic, but they were all fired. Indeed there is the issue of the dismantling of Unified Health System (SUS) and public policy. Mental health care was already vulnerable, and now the network is even more precarious."
Siss also insisted on the importance of understanding the issue of mental health in favelas by looking at the structural socioeconomic inequalities that have always existed and have been exacerbated by the current crisis. Covid-19 is not the only source of psychological stress, said Siss. "The repercussions of the pandemic cause a great burden […] the virus is invisible, but hunger is extremely tangible, the guy who wants to take my house away is visible."
She explained that this structural vulnerability acts as an additional burden, aggravating the situation of the most at-risk populations. "When we talk about mental health in this current context, what jumps out is the isolation or fear of this disease. But these are more bourgeois concerns," said Siss. "Although we are all affected, it is a privileged situation to be affected only by these two issues. The favela is still worrying about very basic issues, which were already very worrying and which were already causing mental health issues, but which are becoming much bigger."
"We're living a different pandemic and quarantine in the city and in the favela […] because we need to understand that a large part of the favela can't stop," said the psychologist. "The city's routine has stopped, but my routine hasn't stopped. What changes is that the bus is empty, and I have to wear a mask. But I still have obligations and schedules to fulfill. The city is living something that I'm not living because I don't have that right."
Investing in the Power of Existing Care Networks in the Favelas
Each speaker mentioned several of their own solutions being developed in favela territories. According to Lima, "The favela is a space of vulnerability, but it is born out of a force, an energy, a power that cannot be ignored, and this is also true when we talk about mental health." He cited Paulo Freire's concept of hope to characterize the strength of the favela to go forward: "To hope is to get up, to hope is to go back, to hope is to build and not to give up!" In fact, for Lima, "if you have a word that the favela has known for a long time, it's resilience, innovating to try to move forward."
Goes agreed, "We have to look at the favela as a place of power, the people in the favela already have their forms and networks of care," she said. Alves-Roque added that "we're going to resist as we always did in the favela." One of the participants added at the end of the conversation that, with these networks, "you don't feel so alone."
Speakers shared concrete pieces of advice for dealing with anxiety and presented initiatives being assembled to help. Siss spoke of Casa Dona Amélia's initiatives with volunteer psychologists, but also with the distribution of food baskets to help alleviate the mental burden of hunger and lack of income.
Lauar described the action in which she is participating with her sister with the "Mentes da Maré" (Minds of Maré) initiative in which they would like to have a round of talks with psychologists, and Alves-Roque described the power of certain herbs by explaining that "in the midst of this nervousness, herbs can help to balance emotions and feelings." She closed the circle by answering the question "now what?": "We make ourselves available to help each other."
The third CatComm LIVE teach-in will take place on May 21, providing space for favela communicators to explain the mistakes that the press are making while covering coronavirus in the favelas.
Watch the Live here:
*RioOnWatch and the Sustainable Favela Network are initiatives of Catalytic Communities