RELEASE: Catalytic Communities Launches Final "Favelas in the Media" Research Report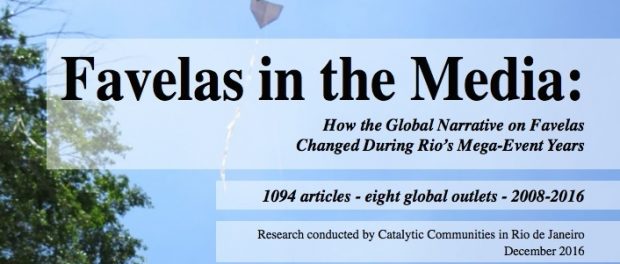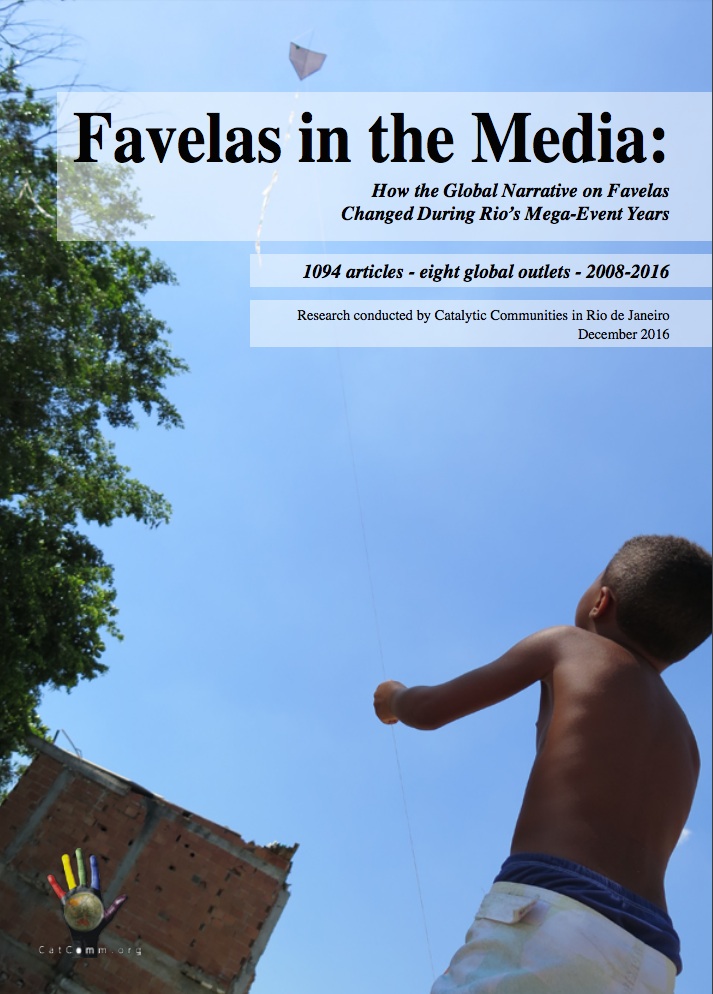 The report, titled "Favelas in the Media: How the Global Narrative on Favelas Changed During Rio's Mega-Event Years, 2008-2016" studies how eight mainstream English-language news outlets reported on Rio's favelas from October 2008—one year before the Olympics were awarded to Rio—through the Olympic month of August 2016. We analyzed all 1,094 articles that mentioned favelas during this period from The New York Times, The Wall Street Journal, USA Today, The Guardian, The Daily Mail, The Telegraph, Associated Press, and Al Jazeera. A preliminary version of this report was published in 2015. The final complete report was launched on Thursday, December 15, from 6-9pm at Casa Pública (Rua Dona Mariana 81, Botafogo, Rio de Janeiro), a widely respected hub for investigative journalism in Rio de Janeiro.
On the panel at the Thursday launch will be CatComm's Theresa Williamson to present the results, with media activist Raull Santiago from Complexo do Alemão's Coletivo Papo Reto; community journalist Michel Silva from Rocinha's Fala Roça newspaper and contributor to The Guardian; community organizer Sandra Maria from Vila Autódromo; Washington Post correspondent Dom Phillips; and favela media-activism researcher Leonardo Custódio. All will offer their take on the role of the international media in covering Rio's favelas in the years leading up to the Olympic Games.
Unsurprisingly, due to the unique global media spotlight created by the mega-events, Rio's historically stigmatized favelas received unprecedented levels of attention during this period. Our results find that although mainstream coverage of favelas has grown dramatically and continues to forefront negative aspects of favelas, the increased diversity and number of articles exploring these communities has provided greater platforms for resident voices and positive stories.
For CatComm research coordinator in charge of the study, Cerianne Robertson, this growth and wider diversity of articles on favelas can make a huge difference:
"It's not the case that heavily stigmatizing reporting has gone away or even clearly diminished during this period. Articles from 2016 still included some wildly inaccurate portrayals that made favelas out to be nothing but terror and hopelessness. But with so much more media demand for stories on favelas as we built towards August 2016, we saw more favelas covered, more favela residents interviewed, and overall more space for different images of favelas as communities and hubs of culture and social change, rather than just sites of violence."
Key findings
General observations
The most stark change in mainstream international coverage of Rio's favelas over the last eight years is the immense expansion of coverage. There were nearly seven times as many articles published in 2015-2016 as in 2008-2009. August 2016 alone was responsible for 14% of all articles in the dataset.
Oct 2008 – Sept 2009
Oct 2009 – Sept 2010
Oct 2010 – Sept 2011
Oct 2011 – Sept 2012
Oct 2012 – Sept 2013
Oct 2013 – Sept 2014
Oct 2014 – Sept 2015
Oct 2015 –

Aug 2016

TOTAL
Articles per year
45
77
83
79
141
224
130
315
1094
During the World Cup when journalists were reporting on events across the country, South Zone Rocinha's relatively easy access drew a disproportionate amount of coverage; for the Olympics, when international journalists focused in on the city of Rio de Janeiro, where the Olympics took place across a number of zones, coverage was spread wider across the city, particularly to Complexo do Alemão and Complexo da Maré in the North Zone and City of God in the West Zone.
Troublesome trends
"Slum" is clearly the word used the most as both a general alternative and a primary alternative for "favela," followed by "shantytown" and "community."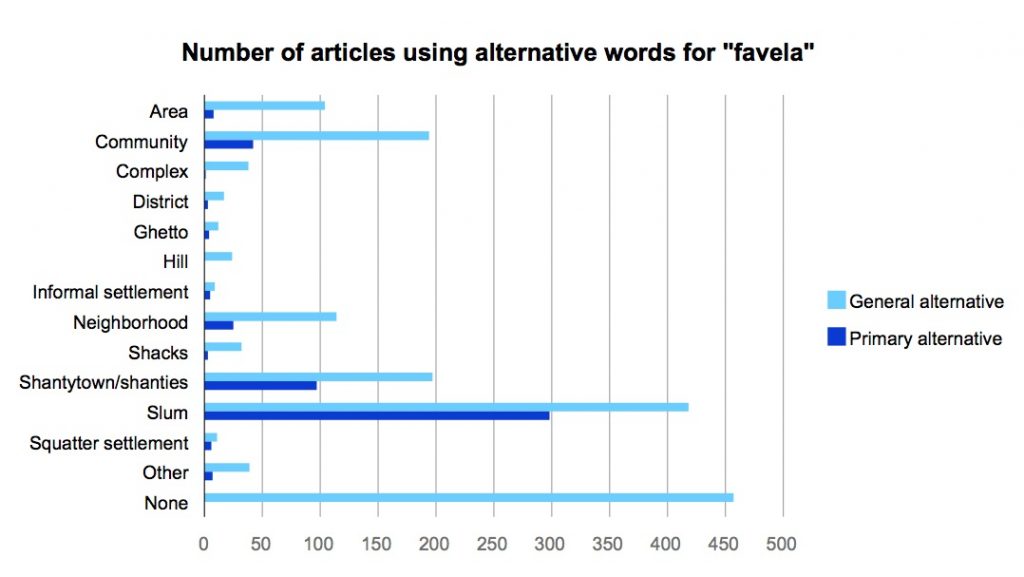 For articles where favelas were the main subject, "violence or drugs" was the most frequent topic mentioned followed by "police" and "pacification."
"Sites of violence" and "sites of drugs/gangs" were the most commonly portrayed attributes of favelas. In both the World Cup year and the Olympics year, the percentage of articles that portrayed favelas as sites of violence and sites of drugs/gang activity spiked in comparison to the years directly before.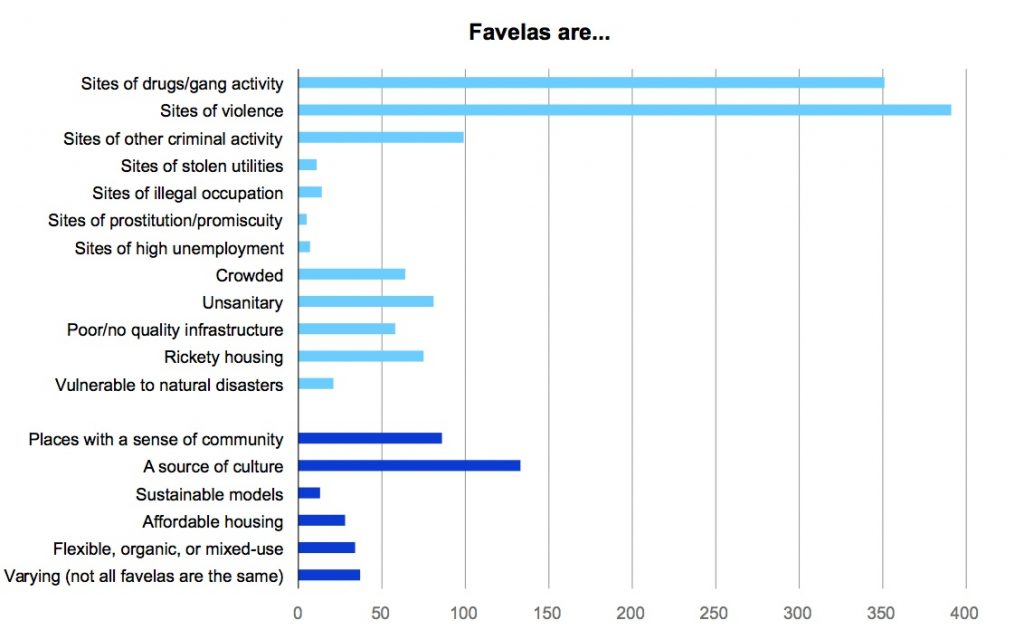 The most common trait attributed to favela residents was "financially poor."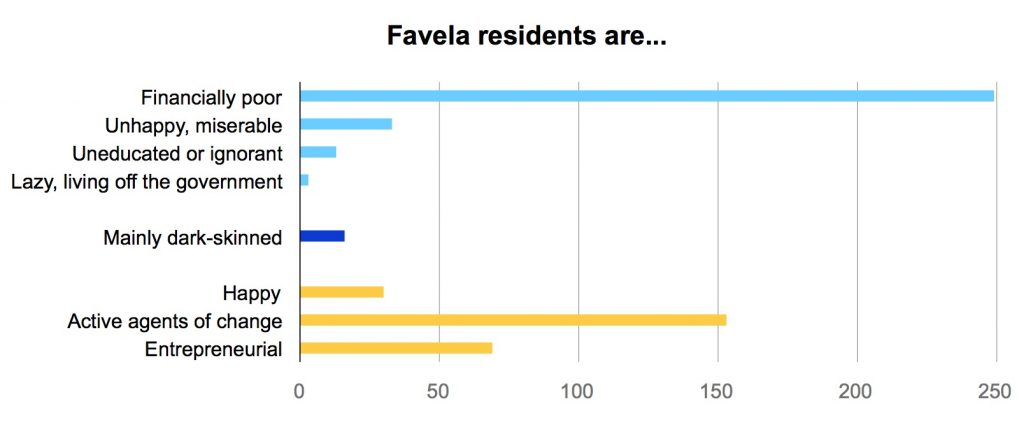 Nearly 46% of articles gave overwhelmingly negative portrayals of favelas, which corresponds with the high numbers of articles focused on violence and drug/gang activity in these communities. A slightly smaller percentage (44%) were neutral, while only 7% were overwhelmingly positive about favelas. About 4% of articles suggested that pacification made favelas better places. These ratios did not change significantly over time.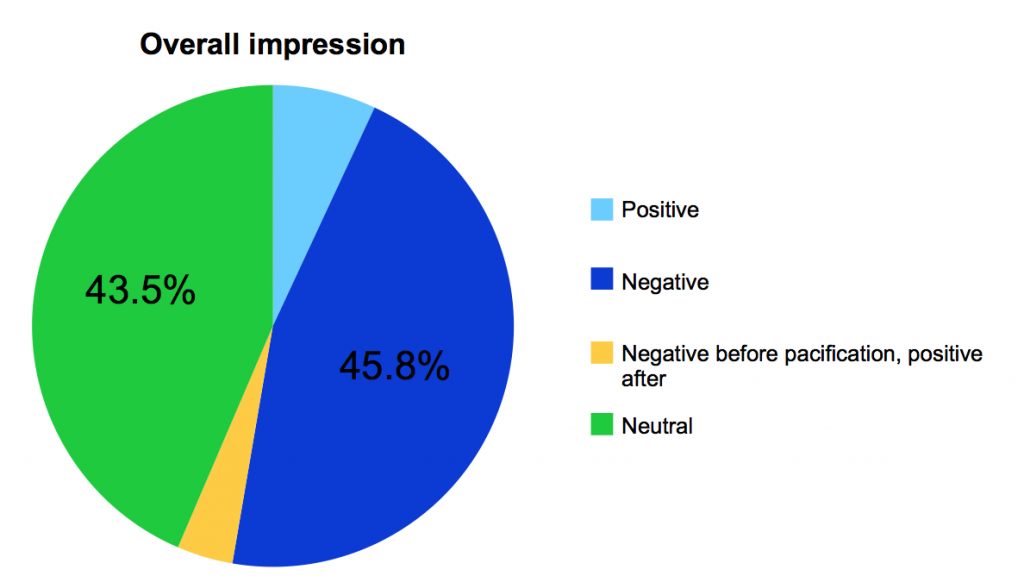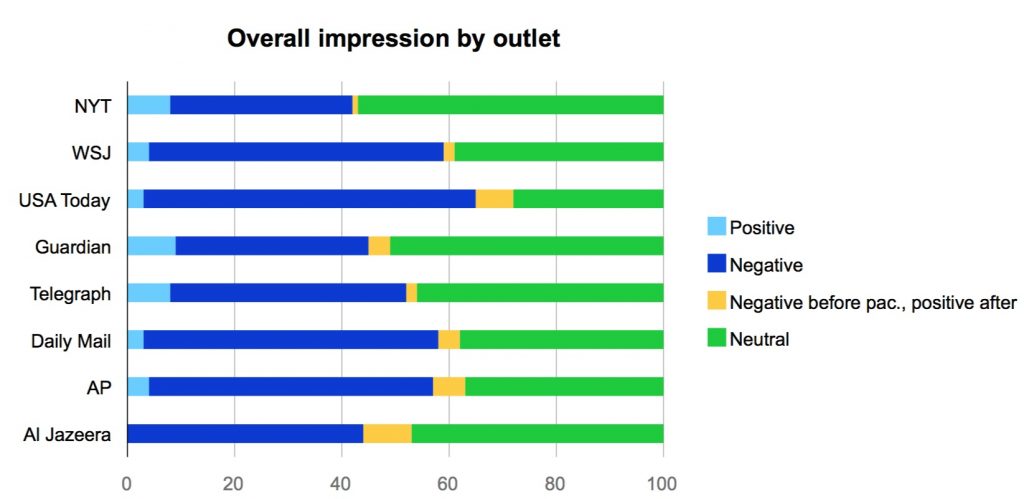 Positive patterns
Favela residents were directly quoted in 112 articles (36%) in 2015-2016, and in only 7 articles (16%) in 2008-2009, marking a 16-fold increase in visibility for favela voices. August 2016, in particular, saw an even higher percentage of articles that gave space to favela voices.
More neutral alternatives for favela like "community" and "neighborhood" increased in use over time, and are more often used as a primary alternative to define "favela" in later years than earlier.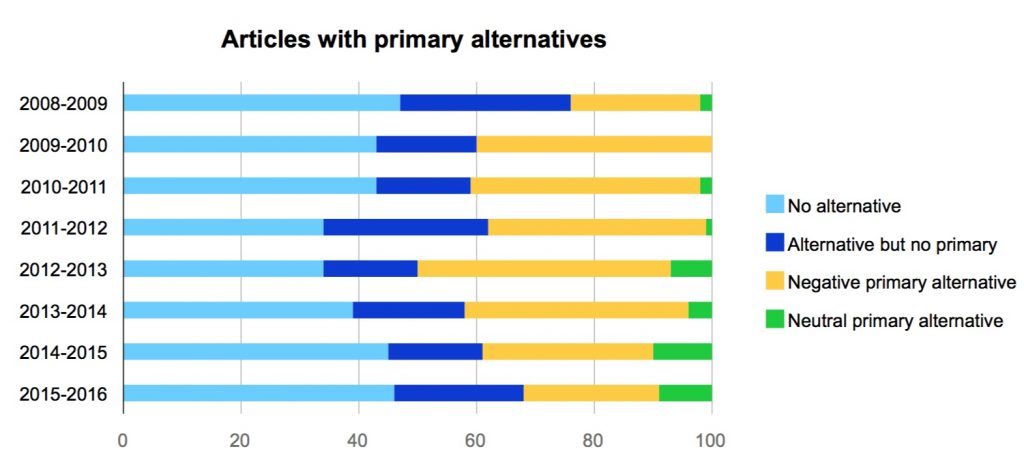 In terms of who the articles portrayed as violent, there was an increase in articles that portrayed only police as violent. This demonstrates increasing attention to Rio and Brazil's immensely high police killing rates as a newsworthy story in itself.
There was a small increase in the percentage of articles featuring positive topics such as community media and community-led social projects over time.
The most commonly portrayed positive attribute was that favelas are a "source of culture." There was also a positive gradual increase in the percentage of articles that explicitly portrayed favelas as having a strong "sense of community."
Residents were more commonly portrayed as "active agents of change" and "entrepreneurial" than as "unhappy, desperate or miserable."
Favela journalism as a model?
Seventeen articles were written or co-written by favela residents. Despite still regularly covering "violence or drugs," "pacification," and "police," favela resident writers covered more diverse topics than the average article in the overall dataset. Not one of the favela-authored pieces portrayed residents as the solo perpetrators of violence, while all seventeen articles mentioned a favela by name. Favela authors preferred "community" and "neighborhood" to describe their homes and only one of their articles used "slum." And while favelas were often portrayed as "sites of violence," they were more frequently portrayed as "places with a sense of community."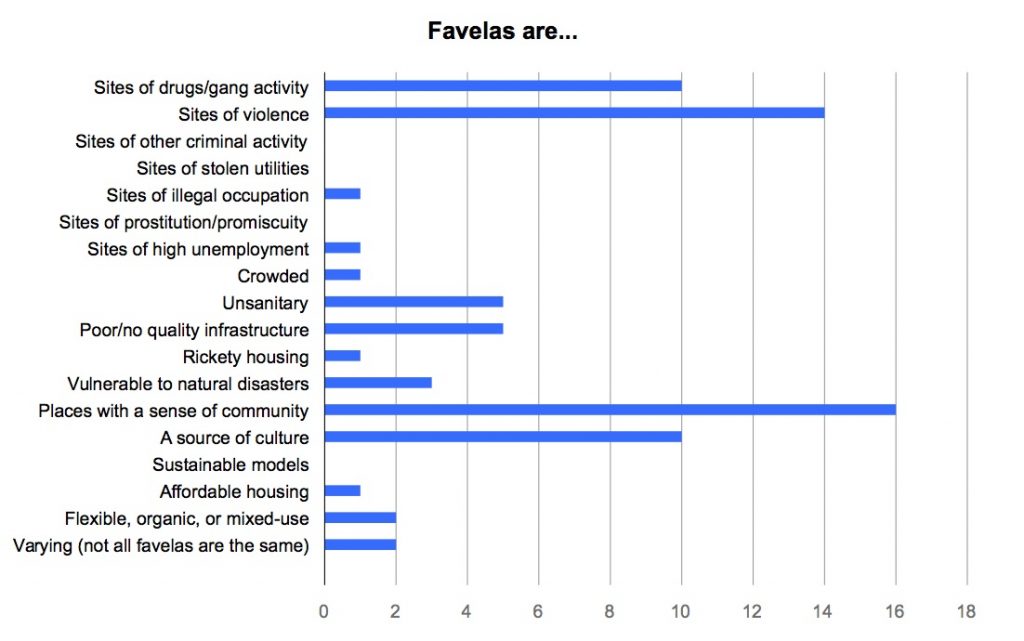 Want us to keep it up? Please take a moment to make your 2016 year-end contribution to CatComm today or set up a monthly contribution to support us in 2017 by clicking here.