Olympics Press Materials: Favela contacts, stories, events for great Rio2016 coverage
With 16 days to the start of the Rio Olympic Games, it's crunch time for reporting on the city of Rio and the transformations that have taken place since Rio was announced host to the 2016 Olympics back in 2009. To support you in producing nuanced reporting on Rio's diverse favelas, in this email we've compiled:
Favela contacts
Over 50 favela leaders and community mobilizers in Rio's metropolitan region have provided contact information and story ideas for what they would like the international media to cover. See the full list of community contacts here.
Or search for leaders by location on our Community Contact Map.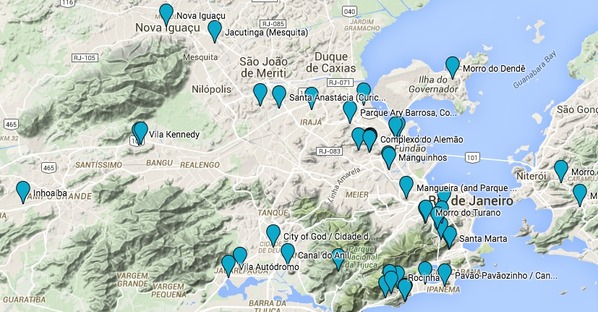 Olympics Resources for Journalists
Rio de Janeiro's favelas are the city's affordable housing stock, but they are also arguably the world's most stigmatized communities. The Olympic media spotlight this year offers an unprecedented opportunity to straighten out the narrative on these neighborhoods once and for all and pave the way for productive policies. In addition to the community contacts list and map, our full Olympics Resources for Journalists packet, available here, consists of essential materials about Rio's favelas and the city's pre-Olympic transformations, organized to support informed and nuanced reporting through the Games.
We also strongly recommend you listen to NPR's 'On the Media' episode prior to reporting on Rio de Janeiro's favelas, an opportunity to learn why how you cover these communities is so important.
And don't forget, if you haven't yet, to sign up for RioONWire, our hourly favela news wire, in English, offering story ideas, news and background through the Games.
Alternative Olympics Tour & Press Briefing
Help us gauge interest in an "Olympics Reality Tour," a full-day itinerary for a group of journalists to visit favelas affected by Olympics preparations, and meet with key community leaders and activists. Take and share the quick survey and tell us of your interest in an "Olympics Reality Tour" here.
A RioOnWatch Press Briefing will be scheduled for the week leading up to and possibly again during the Olympic Games. Please contact us at press@catcomm.org if you would like to attend.
Also check out Amnesty International's events for journalists ahead of the Olympics.
The results are in! Best and Worst Pre-Olympics Reporting on Favelas
There has been a positive trend in recent years towards discussing favelas in nuance and recognizing their incredible diversity. We recommend a quick look at our short new animated video that explains what favelas are. Please call them favelas rather than inaccurate translations like 'slum' or 'shantytown,' and check out some great examples of how to describe them that we have recently added to the end of our Call Them Favelas summary. You may also want to share this with your editors.
And before you start reporting, don't miss our latest best and worst analysis of international reporting on favelas, featuring Vox, the Daily Mail, The Guardian, CNN, and NPR, among others.
Next up in the series, we'll zoom in on the best and worst produced during the Olympics, so make sure we hear about your reporting by staying in touch with us at press@catcomm.org.
Eight big stories that need coverage
1. Media to Cover Olympics Will Be Housed in Apartments Built with Slave Labor on a Slave Burial Ground
Quilombo Camorim contact: Adilson Almeida at camorim@favela.info
2. New homes for the 20 remaining families of Vila Autódromo, by the Olympic Park, are due for completion July 22
Vila Autódromo contact: Luiz Claudio Silva at vila@favela.info
3. Near the airport, Maré never received promised Pacifying Police Units; with Olympics approaching police operations are regular and the army may occupy again
Maré contacts: Gizele Martins at gizelemartins@favela.info or Priscila Rodrigues at priscila@favela.info
4. Rocinha, Rio's largest favela, continues to live with 23 raw sewage waterfalls and channels, compromising resident health, after government abandoned works there
Rocinha contact: José Martins at rocinhasemfronteiras@favela.info
5. Utter Neglect: In Alemão, Favela da Skol Residents Still Without Housing After 6 Years as Social Rent Runs Out
Skol contact: Rosangela Freitas Santos de Freitas Costa at rosangelafreitas9@favela.info
6. The poor remain at risk: Vila Laboriaux in Rocinha faces continued high landslide risks, while City reinforced hills threatening its wealthier neighbors in Gávea
Laboriaux contact: Ricardo Ferreira at Jrdf40@favela.info
7. Babilônia Residents Face Distant Removal Due to Abandonment of Olympic Legacy Morar Carioca Promises
Babilônia contact: André Constantine at Andrekilombola@favela.info
8. Olympic Construction Works and Destruction: Working Class Neighborhood of Ramos is Left Without Leisure Areas, Sidewalks, Trees, and More
Ramos contact: Hugo Costa at hugo.costa.carioca@favela.info
Upcoming events calendar
And check in regularly with our Events Calendar here for many more events related to favelas, the Olympics, and urban developments in Rio de Janeiro. We'll be updating it every day.
Contact press@catcomm.org with any questions or requests for support, or for a list of recommended translators or fixers.