RELEASE: Live Q&A One Year to the Olympic Games, w/ Theresa Williamson & Juliana Barbassa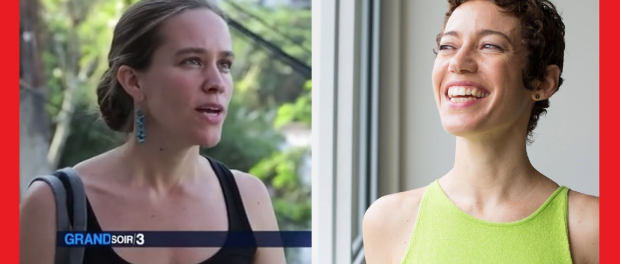 On August 5th, 'One Year to Go' to the Rio 2016 Olympic Games, RioOnWatch will host an open Q&A with two of the most vocal women advocating for a positive legacy from the Rio 2016 Games: Catalytic Communities' Director Theresa Williamson, and journalist and author of Dancing with the Devil in the City of God, Juliana Barbassa.
Founder and Executive Director of Catalytic Communities, city planner Theresa Williamson has become an outspoken and respected advocate on behalf of Rio de Janeiro's favelas in the face of current fast-paced urban transformations. CatComm is a 15-year-old community planning and advocacy nonprofit working on-the-ground across hundreds of Rio's favelas with local leaders and organizers. Theresa is also Editor-in-Chief of RioOnWatch, CatComm's internationally recognized watchdog news site and favela news service, which has also recently launched RioONWire, the world's first favela news wire on Twitter. With three Opinion pieces published in The New York Times in 2012 and 2013, a recent Opinion piece in Architectural Review, Theresa has been featured in numerous major media outlets.
Journalist and author Juliana Barbassa has had a nomadic life between her home country of Brazil, as well as Iraq, Malta, Libya, Spain, and France before settling in the United States, Brazil, and most recently Switzerland. As a journalist her career began with the Dallas Observer, followed by joining the Associated Press (AP) in 2003. She then returned to Brazil in 2010 as the AP's Rio de Janeiro correspondent, and proceeded to write her first book Dancing with the Devil in the City of God which was just released on July 28th.
This Q&A session is an opportunity to ask questions directly to both Juliana and Theresa, on either Facebook or Twitter. With their combined experience and knowledge, they will be answering questions on the run-up to the Rio 2016 Olympic Games, the legacy of this mega-event and the effect it is having on the city of Rio de Janeiro and, in particular, its more vulnerable citizens: residents of the city's favelas.
In addition to responding to questions about the impacts of the upcoming Olympic Games on Rio's favela communities, Theresa will also be answering questions about the role of her organization, Catalytic Communities, and of groundbreaking community media in Rio, including CatComm's Indiegogo crowdfunding 'Favela Olympics Media Package' campaign, currently underway to introduce a number of globally innovative community media services to empower favelas with strategic global visibility through the Rio 2016 Games.
"By channeling and maintaining a spotlight on them, since 2010 CatComm has helped thousands of families in two dozen communities threatened with eviction keep their homes or receive better compensations.

We happened upon something revolutionary. We're taking hyper-local news from what were incredibly isolated, stigmatized and marginalized neighborhoods, and making them globally accessible… As a result outsiders' perceptions have changed, become more humane."
Meanwhile, in addition to responding to questions about the broad legacy and impacts of the Olympics across Rio de Janeiro, Juliana will also be answering questions on her new book, Dancing with the Devil in the City of God, which has received considerable press attention, with reviews including The Washington Post, as well as interviews in The Boston Globe, Only A Game and Huffington Post. Read an excerpt of the book here.
Washington Post writer Dom Phillips' describes the book as 'important':
"The subtitle promises a portrait of "Rio de Janeiro on the brink." Barbassa is not interested in  tourist attractions. Instead she zeroes in on the city's drug gangs, prostitutes, pollution, favela removals, rapacious real estate developers and all manner of injustice and incompetence. This is not the "Wonderful City" the Brazilian government wants you to see. Instead, in a striking phrase she applies to the pollution that stains its rivers and the Guanabara Bay, Barbassa calls Rio 'beautiful and rotten.'"
The Q&A will take place on August 5th, on both Facebook and Twitter:
10-11am EST on Facebook hosted at www.facebook.com/rioonwatch. On Facebook, the conversation will be entirely LIVE.

12-1pm EST on Twitter hosted at www.twitter.com/rioonwatch. On Twitter, you may submit your questions to both Juliana and Theresa in advance by using the campaign hashtag #1Yr2GoQnA, or #AskTW to only ask a question to Theresa or #Ask JB to only ask a question to Juliana. Questions submitted in advance will be answered during the allocated time slot. Those who can't make it should feel free to post questions by these hashtags later for ongoing conversation. We encourage all who are interested to engage in the Twitter conversation, with the hosts and with each other, using #1Yr2GoQnA. Finally, Questions regarding Juliana's book Dancing with the Devil in the City of God may also include the hashtag #DancingDevil. Questions regarding RioOnWatch's Favela Olympics Media Package may also include the hashtag #FundFavelaReporting.