RELEASE: 'Stop Killing Us' Protest This Sunday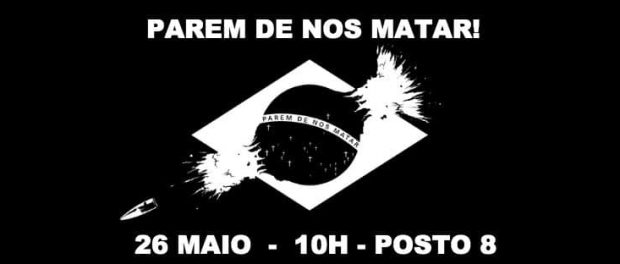 May 23, 2019—RioOnWatch has been witnessing, with grave concern, the implementation of Rio de Janeiro's current state and federal public security policies. Among other actions, we have denounced the increased use of helicopters in police operations, reported on massacres in Rio and Greater Rio, and continually inform international media and civil society about lethal policies being employed in favelas. The international press is recognizing the escalation of extrajudicial killings with the publication of a number of recent articles (see examples from The Associated Press, The Guardian, and The Washington Post), while foreign organizations and solidarity movements are responding by circulating petitions and statements, such as a recent WOLA (Washington Office on Latin America) declaration demanding that Rio authorities bring an end to extrajudicial killings and targeting of Afro-Brazilian neighborhoods. In fact, 54 US Congressional officials have also joined the call by issuing a joint letter to the US Secretary of State.
Below we share a vital opportunity for international media to cover the growing and desperate fight to end extermination policies in favelas. This Sunday, May 26, hundreds will gather across Ipanema and Leblon beaches in Rio's South Zone, joining hands to cordon off the beachfront in a protest called "Stop Killing Us!", organized by residents from numerous favelas.
Please follow event and organizing reports by residents in real time on Facebook and Instagram.
---

Aviso de Pauta: Ato Parem de Nos Matar
Quando: Domingo, 26/05/2019
Concentração: 10h
Local: Praia de Ipanema – Posto 8
Redes Sociais: Evento no Facebook | Perfil no Facebook | Instagram
Convocatória
Os moradores das favelas do Rio de Janeiro convocam a população da cidade para o grande ato de protesto Parem De Nos Matar!, exigindo o fim das políticas públicas de ocupações e intervenções policiais e militares nas áreas residenciais que continuam nos matando e aos nossos familiares e amigos.
Formaremos um cordão humano desde o posto 12 até o Arpoador. Cidadãos de todas as idades e de todos os bairros e favelas da cidade darão as mãos e formarão uma corrente de protesto, exigindo segurança e a garantia da integridade das suas vidas.
Na segunda-feira de Páscoa o gari comunitário William Mendonça dos Santos, conhecido por todos como Nera, foi assassinado com dois tiros na favela do Vidigal, Zona Sul, pela Polícia Militar. Dias antes, o músico Evaldo Rosa dos Santos e o catador de papel Luciano Macedo foram executados pelo exército com 80 tiros na Estrada do Camboatá em Guadalupe, Zona Oeste e o estudante Lucas Brás de 17 anos, foi abatido com um tiro nas costas no Parque Royal, Zona Norte.
William, Evaldo, Luciano e Lucas, todos negros. Todos assassinados pelo Estado do seu país. Dezenas de tiros saídos das armas daqueles cujo juramento e dever é proteger e servir os cidadãos brasileiros. Polícia e exército existem para garantir a segurança e a integridade física dos cidadãos, nunca para os matar.
Segundo dados do Instituto de Segurança Pública, divulgados pelo Jornal Extra, o primeiro trimestre de 2019 registrou 434 homicídios em decorrência de ações policiais. Esse número representa uma média de 4 mortes por dia ocasionadas pela intervenção policial e o aumento de 18% em relação ao ano anterior.
A violência de Estado nas favelas e periferias excedeu, há muito, todos os limites humanamente admissíveis em qualquer país civilizado. O horror atingiu dimensões insuportáveis.
A ação das forças policiais e das ocupações militares, disfarçada de guerra às drogas, não é mais do que um muro segregador, instrumento para a dominação, repressão e extermínio de pobres favelados. Daqueles que não podem ser absorvidos pela "cidade mercadoria" dos grandes empreendimentos e do lucro a qualquer custo.
Policiais e soldados, na sua maioria cidadãos pretos e pobres recebem ordens e licença para matar outros cidadãos pretos e pobres. "A polícia vai mirar na cabecinha e… fogo" anunciou o novo governador do estado incitando o massacre da população das favelas.
Embora a truculência faça parte das táticas policiais desde sempre, os atuais governos estadual e federal ampliaram a Licença Para Matar atribuída às já extremamente violentas forças de segurança pública.
Oitenta tiros, dois tiros, um tiro, vale tudo nessa guerra política que, quando não nos mata, quer nos calar. Não calarão!
Pelo fim dos assassínios de estado, pela paz nas favelas, juntem-se a nós.
PAREM DE NOS MATAR!
Organização
Associação de Moradores do Vidigal
Politilaje
Favela no Feminino
Coletivo Jararaca RJ
Movimento Popular de Favelas
Movimento Moleque
B'nai B'rith
Redes da Maré
Coletivo Feminista Classista Ana Montenegro
Coletivo Juntos pela Paz
Nós do Morro
Bando Cultural Favelados da Rocinha
Associação de Moradores da Rocinha
Mães e Familiares Vítimas de Violência do Estado
Rede de Comunidades
Movimentos Contra a Violência
Rede de Mães e Familiares da Baixada
Levante Popular da Juventude
Favelação
Funperj
MTST
Fórum de Educação de Jovens e Adultos
Comissão Popular da Verdade
Movimento Negro Unificado
Favela Não Se Cala
Frente Brasil Popular
Radio Estilo Livre Vidigal
Frente de Juristas Negras e Negros do Estado do Rio de Janeiro
Frente Democrática da Advocacia
UNEGRO – União de Negras e Negros por Igualdade
Movimento Nosso Jardim
Coletivo União Comunitária
Ser Consciente
Frente Favela Brasil
Militantes em Cena
Frente Povo Sem Medo
Quilombo Raça e Classe
Torcedores pela Democracia
FAFERJ
FAM-RIO
Conselho Popular
MST
Grupo de Resistência Bando Cultural Favelados
ASA – Associação Scholem Aleichem
RioOnWatch
Movimento dos Atingidos por Barragens
Copa por Diretas e por Direitos
Para contribuir para a realização do evento, clique aqui.