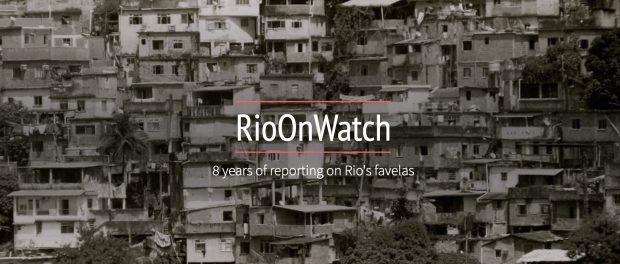 On this, our 8th birthday, we are setting out to make RioOnWatch financially sustainable by engaging the monthly support of fans like you. Read on to see what RioOnWatch has accomplished so far and what makes our work uniquely impactful. Then please join in to guarantee this work can continue for years to come.
Overview in Numbers
8 years of existence
1,500 unique articles published in English and Portuguese (total of 2,500)
25-40,000 monthly readers
Readership: 65% in Brazil, 22% in the USA, 13% in over 150 other countries
90% of reporting done by 'solidarity reporters'
100% of translations conducted by committed volunteers
>250,000 people reached through various platforms every month
Origins
In May 2010, the bilingual news site RioOnWatch came into existence to document favela perspectives on the transformations taking place in Rio de Janeiro as the city geared up to host the 2016 Olympics. Since then, we have published over 1,500 articles, ranging from event reports to favela resident opinions, academic analyses for lay audiences, photo-essays, video stories, interviews, profiles, book and film reviews, and reference pieces. Together, these pieces compile a uniquely detailed "hyperlocal" vision of Rio de Janeiro and its favela perspectives, shedding a global spotlight on a local reality that benefits from the more nuanced media narratives we amplify and catalyze.
Who reads us?
Community organizers in Rio and around the world
Journalists from hundreds of publications in Brazil and worldwide
Researchers focused on Latin America, urban planning, informality, community and international development, journalism, and other fields
Human and housing rights activists from Rio and around the world
Urban planners and urban activists worldwide
International development professionals
Who writes for us?
Community journalists
International observers
Academic collaborators
Volunteer reporters
Special contributors
Editorial Line
In 2017, following the end of the Rio Olympics, RioOnWatch launched its new editorial line. The outlet is now focused on realizing the potential of favelas as sustainable communities by publishing articles promoting community organizing and proactive green community urbanism rooted in Rio's favelas. We also remain committed to watchdog activities tracking policies directed towards favelas, the Olympic legacy, human rights, evictions, and resistance, as well as historical and analytical series.
Our editorial line focuses on:
Documenting favela residents' views of and for public policy so as to inform municipal decision-making and international development professionals.
Publishing favela-specific columns and opinion pieces written by residents so as to mainstream favela perspectives on their own communities.
Highlighting organizing strategies, community solutions and green technologies from favelas in Rio and around the world so as to inform and inspire collaborative and sustainable grassroots development initiatives.
Popularizing urban planning concepts so citizens can develop their communities more effectively.
Observing the Olympic legacy and monitoring international and domestic press coverage of favelas so as to maintain and build on the legacy of RioOnWatch as an Olympic watchdog news site and offer lessons for cities contemplating or hosting mega-events.
Analyzing parallels and showing solidarity for informal communities around the world so as to establish connections, networks of support, and a sense of common experience and purpose across traditionally isolated communities worldwide.
Continuing to analyze, introduce and inform local policy and social debates on Rio so as to dramatically strengthen the contextual understanding and compassion necessary to engender larger political shifts that would benefit the entire society.
Awards
RioOnWatch was an honoree of the 2016 Webby Awards under the "Best Communities" category.
Testimonials
Always there when we need it. We know we can count on it. — Vila Autódromo resident
A front-lines, unbiased news source providing stories that other sources fail to cover, miss or twist. — Mich Cardin, reporter for Broadly
RioOnWatch has produced hundreds of meticulously reported stories that have helped shape international understanding of one of the world's most unequal and fascinating cities. Their reporting […] serves as a model for how newly established organizations can shake up the media landscape and achieve change. — Simon Romero, The New York Times
The most thorough, well-written English language news coverage and commentary on life in Rio's favelas. — Rolf Straubhaar, Texas State University
A model of how one can contribute to the struggles of low-income, marginalized and criminalized populations, in Brazil and elsewhere. — Leonardo Custódio, author of Favela Media Activism: Counterpublics for Human Rights in Brazil
RioOnWatch is an outstanding example of enterprising, pioneering journalism. It has had direct and tangible effects in strengthening the citizenship and defending the rights of residents of informal communities in Rio de Janeiro. — Brian McCann, President of the Brazilian Studies Association
Help Us Celebrate Our Birthday By Showing Your Support:

Learn More here.