Catalytic Communities Provides Training Course for SESC Community Development Workers [IMAGES]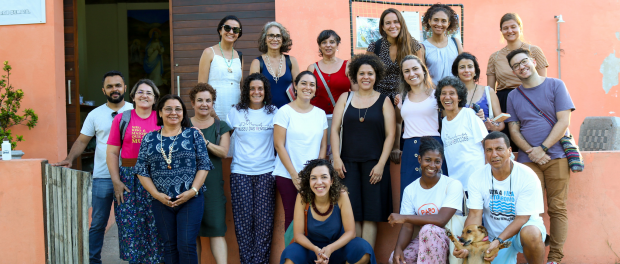 From December 16-18, Catalytic Communities (CatComm) held a training program for 10 representatives of Brazil's national Social Commerce Service (SESC). The three-day, 22-hour training, which included excursions to two Rio favelas, presented community models and solutions-based approaches from around the peripheries of Rio de Janeiro, allowing the SESC community outreach workers to reflect on the challenges and potential of work in favela communities while also sharing their own experiences working with communities across the nation and learning about CatComm's work and approach. SESC, part of Brazil's S-system—a network of 10 private non-profit institutions each reflecting a different industry and providing a range of social services—provides continuing education for its employees, and approached CatComm to provide training for this cohort of community development workers.
Monday: Visits to Asa Branca, Vila Autódromo, and the Evictions Museum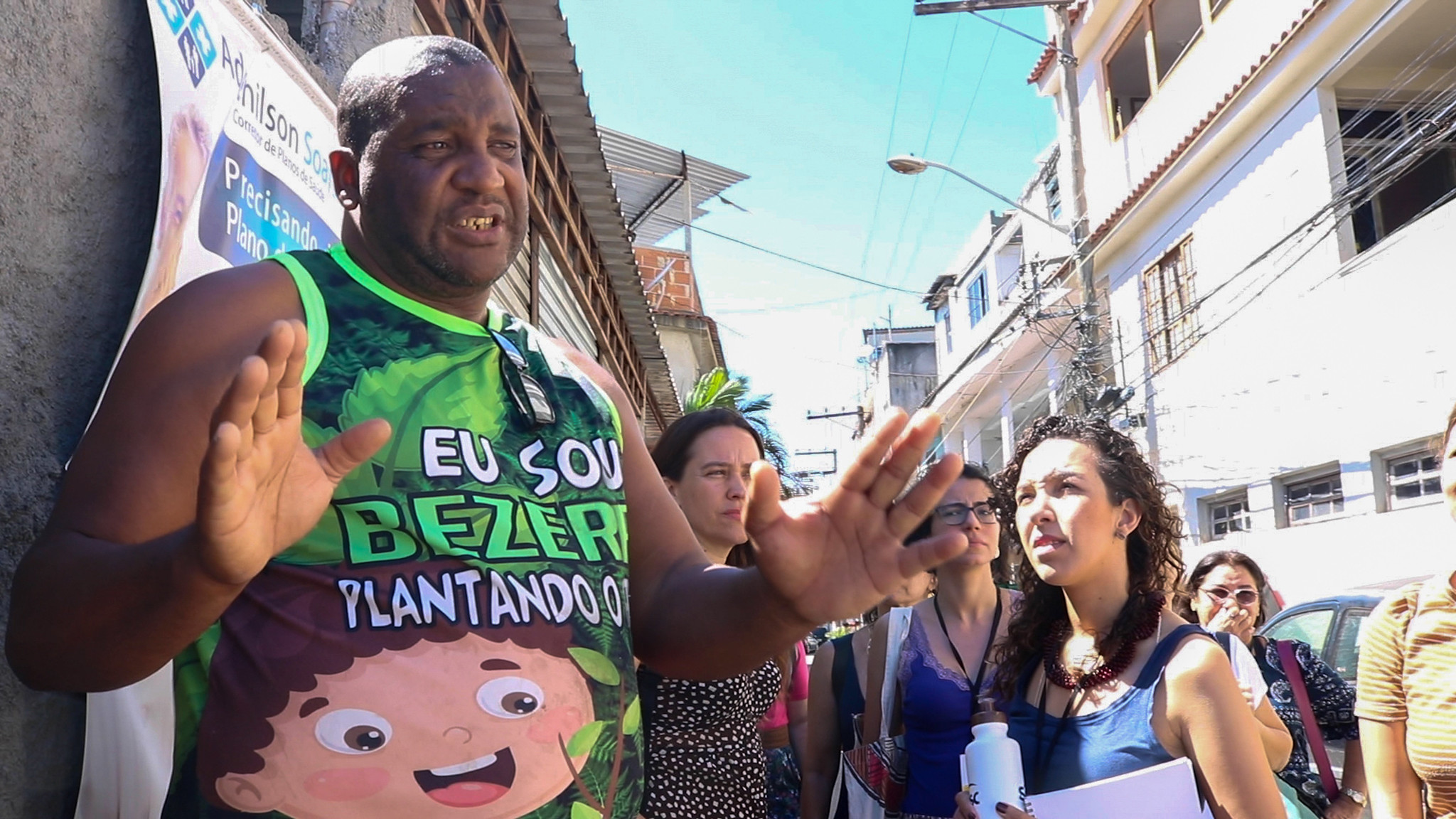 The training began with a trip to Asa Branca, a West Zone favela known as a model of effective community leadership, problem-solving, and sustainability. "Catalytic Communities was inspired by Asa Branca," said CatComm Executive Director Theresa Williamson. Williamson, who noted that CatComm has worked with the community over nearly two decades, said the local residents' association has made remarkable accomplishments in community development in that time. Former residents' association president Carlos Alberto Costa, known affectionately as "Bezerra," seemed to know everyone in his path. He welcomed the SESC group, guiding the participants through the neighborhood.
Settled in 1986, the favela today has around 2000 homes, and the residents' association's efforts have grown in proportion. "In the beginning, there was no school, no association, there was nothing," said Costa. Since its inception, the association has remained engaged with local youth, providing a variety of activities in order to provide structure, leisure, and a network. Amanda, current Secretary, expressed the importance of their work with youth: "We don't want to lose our teenagers. They are the community's future."
Conversations between the day's SESC participants and the residents' association spanned a myriad of topics, touching on everything from community life and the neighborhood's self-built sewerage system, to collaborations with adjacent communities, safety, future projects, and the role of religion. Costa explained that the local Spiritist Church plays a significant role in supporting residents in need of help, but that the community is home to a range of religious institutions peacefully coexisting. And he showed the visitors that, as part of the community's commitment to safety, when it was exposed to more people with the development of the surrounding areas in the lead up to the Olympics, the neighborhood's two central entrances were secured by the association with closed gates in the evenings and monitored by residents and security cameras.
Asa Branca was dramatically affected by the city's transformation in preparation for the 2016 Olympic Games. Threatened by encroaching waves of high-rises built over the last decade, the favela also suffered demolitions due to the construction of the TransOlímpica Bus Rapid Transit (BRT) road. Though development in the surrounding area provided jobs and improved public transportation, said Costa, the community's victories belong to its residents. Asked whether or not the City invests in Asa Branca specifically, Costa replied: "We solve our problems on our own."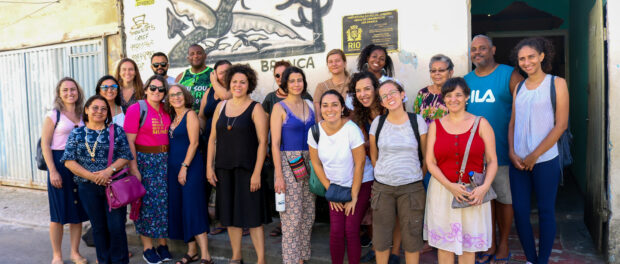 Presenting another powerful example of community leadership and development, the second part of Monday's activities brought participants to neighboring Vila Autódromo. Pre-dating the adjacent Olympic Park in Barra da Tijuca, by nearly 50 years, the community became known by anti-displacement activists worldwide when it experienced violent and traumatic evictions in preparations for the Olympic Games. During that period, the historically peaceful community shrunk from 700 families to 20.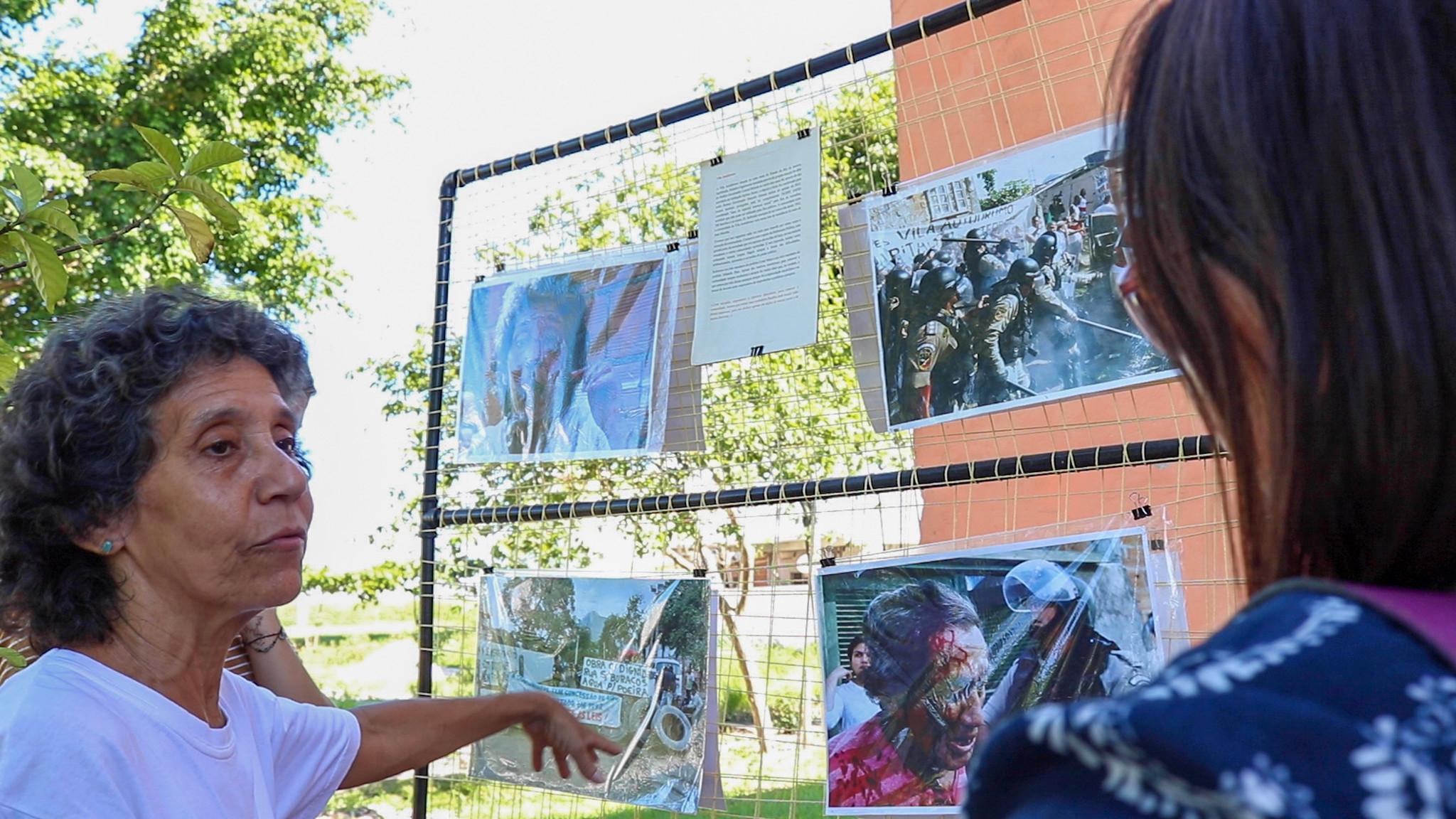 Today's remaining families are those that resisted the city's diverse intimidation attempts and offers, and court orders which forced other resistors out. A number of those who stayed see their mission as preserving memories of the original community and its resistance, as well as supporting other communities in Rio and around the world, facing similar pressure. Thus, shortly before the 2016 Rio Olympics, community members and allies founded the Evictions Museum. Vila Autódromo residents and museum leaders Sandra Maria de Souza, Maria da Penha Macena, and Luiz Cláudio Silva welcomed the SESC group there, showing videos and pictures of the community prior to and during the eviction process, as they told their story. "We live in a city where not everybody has the right to housing," said Macena, who moved from Rocinha, in the South Zone, to Vila Autódromo because it was a good place to raise children. The community suffered repeated eviction pressures over the years, and Macena observed as previous leaders—who were evicted through eminent domain—fought those pressures. Learning about housing rights and documentation, she and her husband continued the resistance against the City's deceptive removal strategy.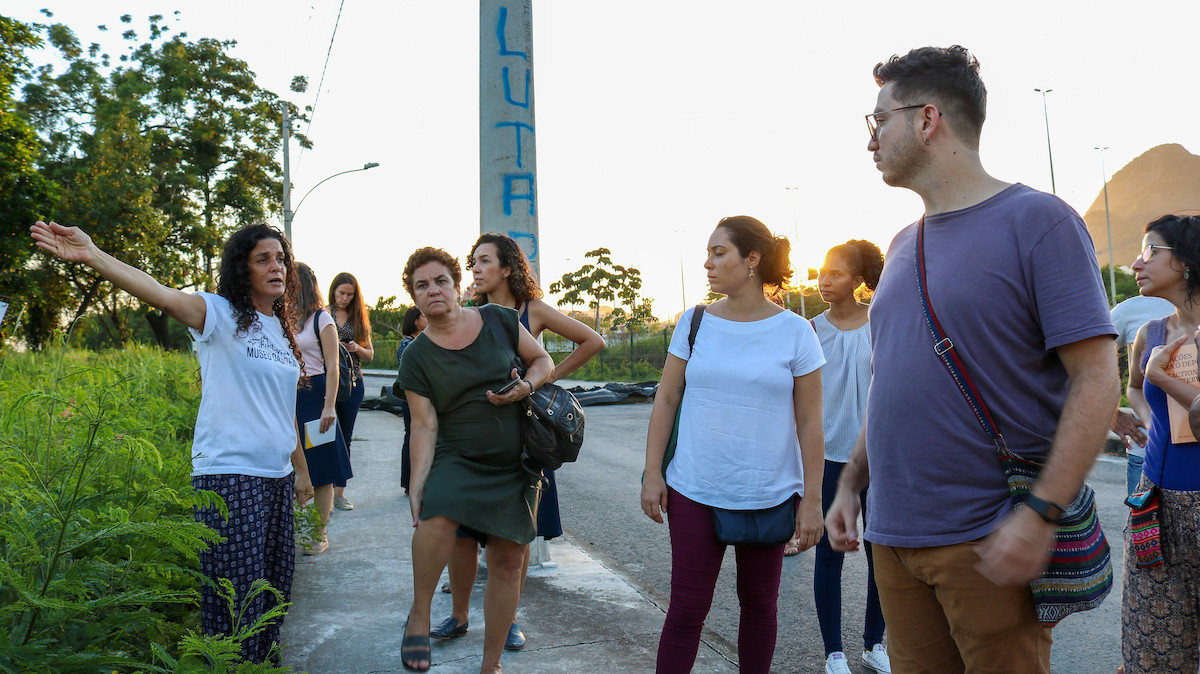 "No money is worth the memory of a home!" exclaimed de Souza, guiding the group through the remaining part of the community. As the tour wound through the sites previously occupied by homes of memorable resistors, de Souza pointed out Evictions Museum signs marking the former inhabitants' homes with quotes on the back of each.
Tuesday: Discussion, Workshop and Community Meet-Up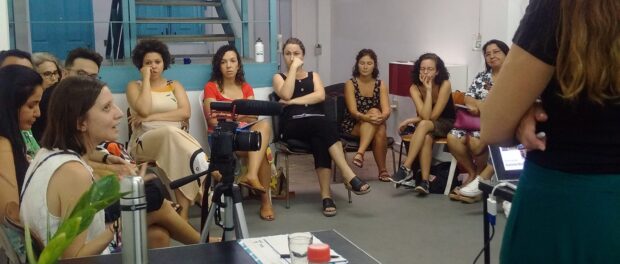 The following morning, SESC representatives regrouped with the CatComm team at the Urban Studies House (CEU), a co-working space in Glória. Before launching into a brief presentation on Catalytic Communities' origins, activities, and approach, Williamson provided time to discuss and reflect on Monday's visits. Participants marveled at the communities' unique social dynamics, solidarity and mutual respect, elaborated concepts, autonomy, welcoming nature, and the overwhelming emotions present in their narratives. "It was one of the most emotional things I have ever seen," said one participant, referring to Vila Autódromo's resistance work. Further, they pointed out the vulnerability of small communities in relation to the city government, highlighting their impressive processes of empowerment and independence as well as the emergence of strong characters and voices.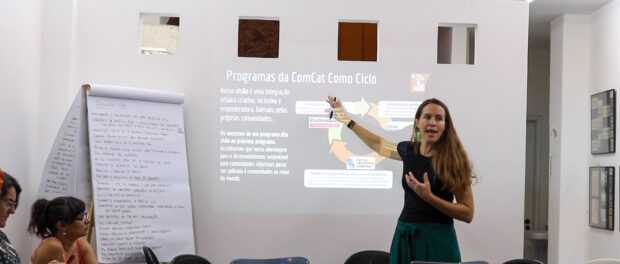 That afternoon, favela journalists and community organizers engaged with CatComm's RioOnWatch and Sustainable Favela Network projects filtered in, invited by CatComm to participate in small group exchanges. SESC members and favela activists paired up, introducing themselves to one another and explaining the work each was engaged in before presenting their partners to the group. The day's participants then dove into a general group discussion and open-ended Q&A. Favela organizers commented on the use of the term "favela" versus "comunidade," or community ("'comunidade' is a way of camouflaging what to some is a pejorative term," said one participant), and answered questions about the complex security dynamics in Rio de Janeiro as well as the positive and negative aspects of the growth of the evangelical church.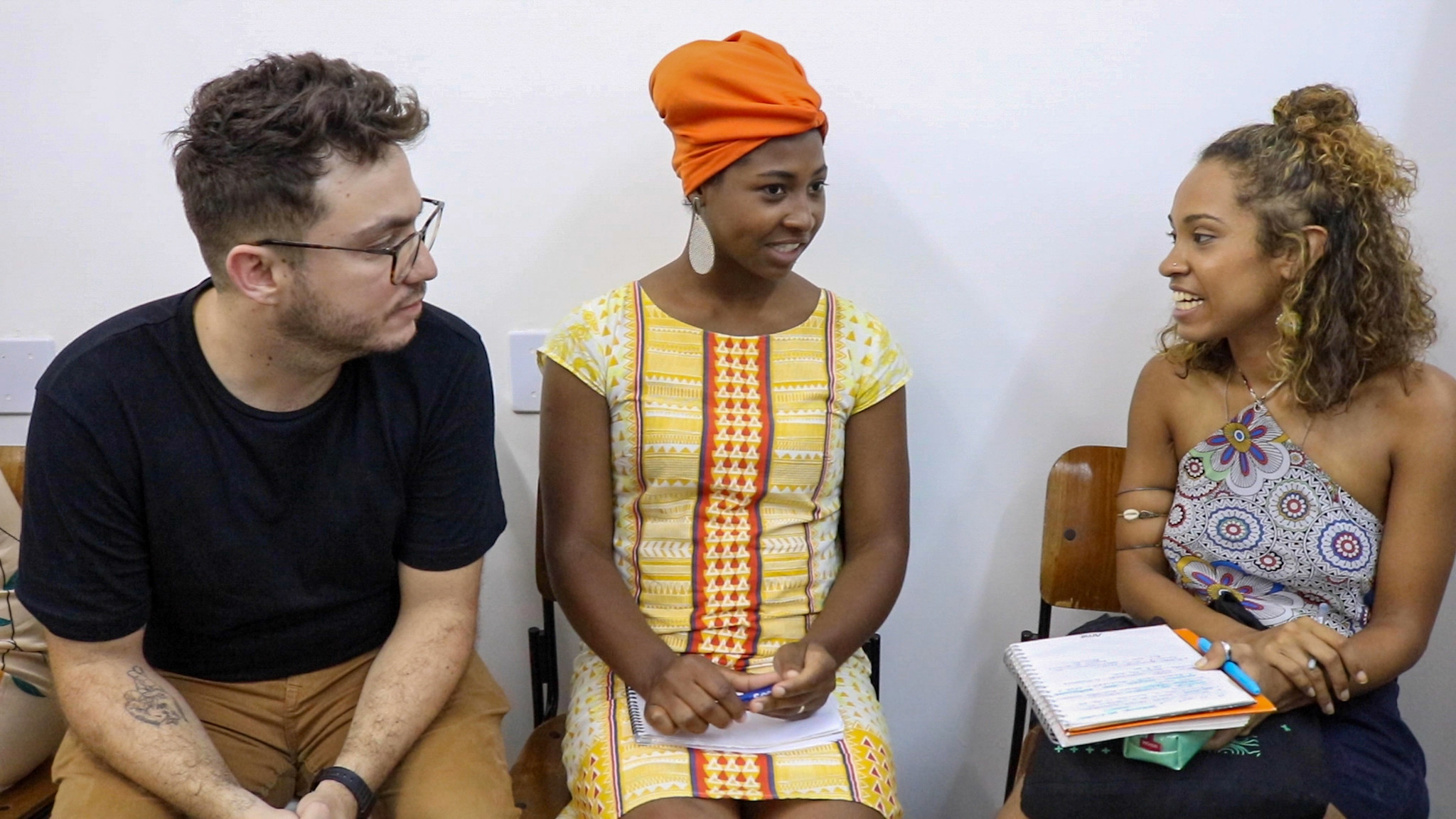 Wednesday: Film Screening and Right to the City Debate
The group met up for their final day Wednesday at the SESC headquarters near City of God, in the West Zone, for a film screening and debate on the 2018 docufiction film Mormaço. Based on the history of the Vila Autódromo evictions and a public defender's quest to shield residents from demolition as she herself faces eviction, the film engages Sandra Maria de Souza as an actress and features real-life images of residents and community organizers, interweaving a predominantly fictional film with real imagery. Following the screening, some 30 participants (from SESC, CatComm, and outside parties) discussed the film with de Souza and Macena, praising it for its merits while pondering the film's focus on a non-resident protagonist.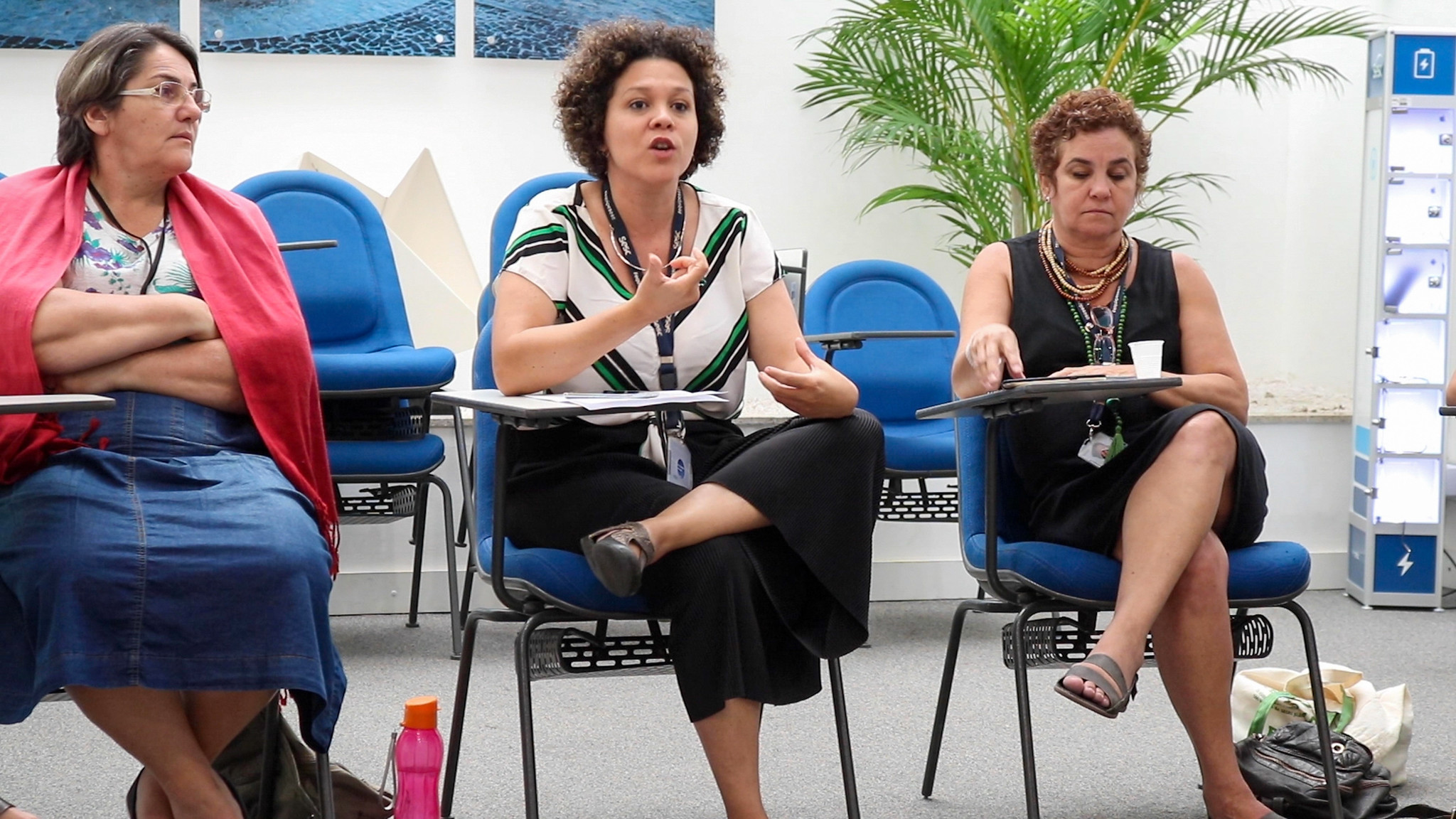 Alongside de Souza and Macena from Vila Autódromo, José Carlos Oliveira, a community organizer from Grupo Esperança—a community-built public housing project working to obtain land titles—joined in for the discussion, describing their intention to obtain collective land titles through a Favela Community Land Trust (F-CLT). Favela CLTs comprise the third program area developed by CatComm.
Later, in a public televised debate on The Right to the City, organized by SESC separate from the 3-day training, Williamson and de Souza took the stage alongside Rio academics and architects Tainá de Paula of BR Cidades, Mario Brum of Proprietas, and Denilson de Oliveira of NEGRA/UERJ.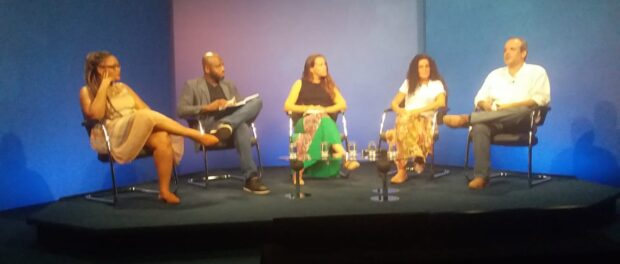 Check out our full album of the SESC training and events (or click here):