World Habitat Day 2019 Letter from our Executive Director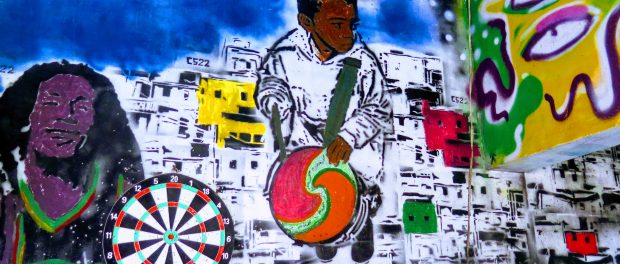 Dear Friends,
On this World Habitat Day (October 7, 2019) I write you from Vancouver, where I'm leading a workshop at the Ecocity World Summit titled "Shatter Your Lens and Sharpen Your View: What Rio's Favelas Can Teach Us About Sustainable Cities."
As I run this and participate in six other panels, workshops, closing ceremony and a public lecture here in Vancouver, our team in Rio is preparing two critical events towards securing a sustainable, vibrant and inclusive urban future. In fact, all of our community events this month are being featured as part of UN Habitat's Urban October.
One Step Closer to a Favela Community Land Trust
In two weeks, on October 19th, we will begin the community-led participatory planning process for Trapicheiros, a small favela that is intent on being Rio de Janeiro's (and South America's) first Favela Community Land Trust (F-CLT). A dozen urban planners and technical allies in our Working Group in Rio, from local universities, NGOs and public agencies, will hold an event with a variety of visioning exercises and opportunities for residents to share their hopes and dreams regarding a future CLT and how they would like their community to develop.
Over the course of 2019 we have held five workshops, one door-to-door survey and two meetings in the Trapicheiros community, helping the residents' association build understanding among neighbors about the potential of a CLT land tenure and community development model in ensuring their collective future. We have held similar events in the Esperança community too, and have also been working behind the scenes to draft CLT-enabling legislation.
In April I went with Paulo Machado, president of Trapicheiros, to an international peer exchange in Puerto Rico, to learn together from the pioneers of F-CLTs. As I write, this week also happens to be the 50th anniversary of the CLT, being celebrated with a pilgrimage of sorts to the site of the first CLT, fruit of the US Civil Rights movement, in Albany, Georgia. We have been celebrating, too, through a special series on RioOnWatch.
Hundreds Expected at Second Sustainable Favela Network Annual Gathering
Meanwhile, our team is also preparing a one-day extravaganza on November 9th to celebrate one year since we formally launched the Sustainable Favela Network (SFN). This year, we have held five inter-community public exchanges to learn from the inspirational work of 9 host organizations, with an average of 72 participants at each, hosted 21 Working Group meetings and welcomed over 500 people to the network. The Sustainable Favela Network is made up of hundreds of favela organizers and their technical allies working towards the realization of favelas as sustainable communities. Check out photo albums from these exchanges here.
On November 9th we will host the entire SFN and expect 200-300 members to join in, for a day of interconnection and mutual strengthening, skills sharing, collective brainstorming, and plan-making. Each Working Group (there are 7, each with a thematic focus: solar energy, sewage, solid waste, gardens, environmental education, memory and culture, and income generation) will present its projects in Rio's favelas and host members of other groups. A number of ludic activities are being planned throughout the day. And all attendees will take part in finalizing plans for the network's actions in 2020.
Our Work in Today's Brazil
I can't continue with this letter without pulling back for a moment and reminding you of the political context we are operating in. A year ago, when the elections took place, we at CatComm made a strategic decision that in 2019 we would focus intensely on face-to-face network-building and building organizing capacity across Rio's favelas in order to strengthen them and our collective resolve—and maintain a sense of hope—in these trying times. The work you read about above is the result of this decision. We are thrilled with its success.
In the meantime, over the course of this year several members of our extended network have been killed by police, with an escalation of police violence in favelas that can only be interpreted through the lens of genocide—that is, the targeting of a population based on race. There has been a 7 percentage increase this year in killings of black versus non-black people in Rio, with the percentage of Afro-Brazilians killed nearing 80%. This policy, among others—like those leading to the fires in the Amazon that have helped make what is happening in Brazil globally relevant—are promoted by Brazil's current president and Rio's current governor. Over the course of the year we have been following the impacts of these administrations on human rights, the environment and democracy, and publishing a special, private, solidarity newsletter sharing detailed updates from the ground in Rio to those who want to subscribe and show support.
The newsletter is in addition to our community news site, RioOnWatch, which is now drawing over 50,000 readers a month, 70% of them in Rio de Janeiro and the other 30% from 150 countries around the world. In Rio, RioOnWatch is read widely by community organizers, members of civil society, journalists, and concerned citizens, introducing important themes into the public debate. Meanwhile, it is perhaps the world's most impactful hyperlocal-to-global news platform and has been successfully working to change the narrative on favelas, locally and globally, for nine years.
Multiple Perspectives on CatComm: You and the SDGs
Last month our team put out a call for statements from CatComm's network of what you believe is valuable about our work. We have since compiled this page featuring some of the 200 illuminating responses we got. We were completely blown away by this widespread show of support and recognition for our approach, projects and impacts over the years!
Together, these statements paint a more complete picture of our work than anything we could write. As a network-based organization, the perspective of every individual in the constellation that is the CatComm network is incredibly insightful. Please take a little time to develop a new perspective on our work and garner a collective understanding of all we do and what we stand for by checking out this beautiful tribute to CatComm.
In the meantime, in order to make the relevance and importance of our work as clear as possible, over a series of meetings, our team dove into the Sustainable Development Goals (SDGs), established by the UN to, among other things, provide a common roadmap for collective organizing towards a sustainable future. The product of the months-long reflection is near completion but I'm happy to share it with you to preview here. Through this page, we hope you will better understand how our three programs (F-CLTs, SFN, and RioOnWatch) form the three pillars that together, we believe, offer a real, viable solution for sustainable urban development in informal settlements worldwide.
We Need You More Than Ever to Realize Our Potential in 2020
Next year CatComm will turn 20. It's so exciting to see this incredible collectively-built effort mature and to think about all we will be able to accomplish from today's fertile soil. Among the plans for 2020 are a 5-day Sustainable Favela Network International Seminar, the consolidation of the process of establishing two pilot F-CLTs, the introduction of CLT-enabling legislation to Rio's mayoral candidates, an F-CLT seminar, monthly SFN working group meetings and the elaboration of network-wide programs (e.g. solar energy "ambassadors"  across Rio's favelas with solar test sites at member facilities; an online catalogue of all products and services sold by members of the SFN; the realization of green roofs and community gardens), and the mapping of the network on a new interactive platform. We also hope to continue publishing our solidarity newsletter. Not to mention the further expansion of RioOnWatch, which we hope to do through a new series of university partnerships.
But the reality is that we depend on you doing your part in order to realize this potential. We are counting on CatComm friends and collaborators—you who values our work—to come together and donate any amount, ideally in a recurring fashion, because recurring donations are what will ensure the flexibility and planning horizons that will allow us to continue and expand in 2020. Setting up a monthly contribution provides us with the most planning certainty, but if you prefer to give annually, please consider signing up for recurring annual.
And when I say any amount I mean it: we have now raised over 40% of our $10,000 goal through the coming together of folks giving as little as $2 a month. Everyone who joins gives our team the energy to carry on and helps us engage others to join in too. We have estimated that our network, based on past support and current excitement with our programs, could triple-fund our those programs if we all came together. Unfortunately, it's not that easy. What could be does not always transpire. And that's why I'm writing to you in particular. As we grow this campaign I believe you are one of those key people who will join in right away, allowing us to build the momentum we know we need now so we can reach our goal by December. A lot is riding on this: if we don't reach that goal, we will have to cut back our critical and exciting programs in 2020.
What I'd like to know is… Camila, based on your past giving can I count on you to either donate or recruit $8 a month by World Cities Day on October 31? I'm reaching out today to exactly the people I believe can come together to get us to our first goal of $5000 by that date. At that point, we will run a Rio Raffle (for a trip for two to Rio) for all those who've donated so far, and get our community excited to reach the next goal: $7,500, when there will be a second Rio Raffle… and a third and final raffle at $10,000! All three have been made possible through mileage donations and the winner (and a friend) will stay in my AirBnB for a week, visit a favela project and have a private dinner with the CatComm team.
Please click here and donate today.
Any questions, reflections, feedback, ideas on how to reach our goal are welcome!
Thanks for making it to the end of this long, hopefully compelling, letter. I was certainly thrilled to write it!
And very much looking forward to hearing back from you, hopefully soon 🙂
Happy World Habitat Day!
Abraços,
Theresa Williamson