Human Rights Day: How Our 2018 Reporting Advanced Rights from a Solutions Perspective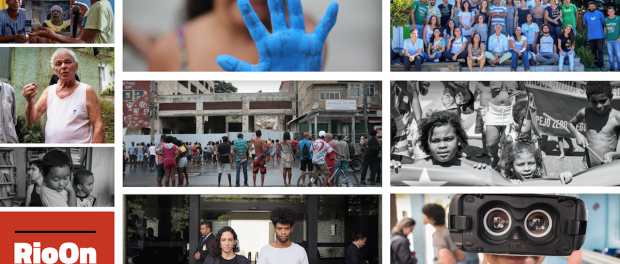 December 10, 2018—RioOnWatch's editorial line and approach acknowledges that defending human rights is not only about denouncing abuses, but also about breaking down stigma and sharing narratives that emphasize that favelas are home to incredible people determined to improve their lives, and often contain solutions to the dilemmas of our time. That is why our 250 articles published in 2018 have spanned from Marielle's assassination to profiles of Sustainable Favela Network initiatives; from the military intervention in Rio to analyses of the potential of Favela Community Land Trusts; and from detailed elections coverage to articles revealing the growth and power of favela museums. Be it through exposing violations or through solutions journalism, RioOnWatch's content honors and defends favela residents' fundamental rights.
This Human Rights day, scroll down to review and celebrate all the ways in which RioOnWatch has promoted human rights in 2018.
2018 Elections
With articles spanning from January to October, our Countdown to Brazil's 2018 Elections series analyzed party dynamics, new electoral rules, proposals from presidential hopefuls, transparency technologies, favela candidacies, and more. In the wake of the elections, we reflected on its contrasting results (which put in power ultra-right representatives as well as progressive favela-based ones) and analyzed the role of WhatsApp, fake news, 'antipetismo' and evangelical churches throughout the electoral process. Community journalists shared opinions from Rocinha and Pantanal, and wrote on polarization, electioneering, campaign strategies and fake news. Find our full elections coverage here.
At the municipal level, we kept a spotlight on Mayor Crivella's actions and evaluated his mandate after 15 months in power.
Marielle Franco's Legacy
Immediately following the assassination of Rio councilwoman Marielle Franco, we denounced the gravity of the crime through an official statement, provided live coverage from marches in her honor and had an opinion piece written by our editor-in-chief, Theresa Williamson, published in Americas Quarterly. We proceeded to highlight the importance of Marielle's work by dedicating a section on RioOnWatch to documenting her legacy. Coverage included articles on an Amnesty International protest demanding more transparency of police investigations, the City Council's approval of bills introduced by Marielle, the importance of having black women as political representatives, the release of her master's thesis, and more.
Community Media Partnerships
This year we published and translated dozens of articles by community journalists, both independent journalists and from vehicles like Favela Em Pauta, DataLabe, and Jornalistas Pretas. Special shoutout to the community media organizations that have a continuous reporting partnership with RioOnWatch: Fórum Grita Baixada, Fala Manguinhos, and FavelaDaRocinha.com.
National Museum in Flames and Favela-Based Museums
As images of one of Brazil's most important museums in ruins traveled the world and brought to Rio a wave of grief, RioOnWatch released a series of articles highlighting the importance of the National Museum for residents of the North Zone (where the museum was located), for low-income cariocas (many of whom had their first, if not only, museum experience there), and for the national and international scientific and academic communities at large.
In May, prior to the National Museum fire, we shed new light on the importance of favela museums by publishing the reference series Museums of Counternarratives and Resistance, covering museums in Vila Autódromo, Horto, Maré and others.
Evictions and Resistance
Unfortunately, this year, communities in Rio continued to live under the threat of eviction. RioOnWatch supported them through reporting on the Popular Council's continued mobilization efforts and resistance organizing in Araçatiba, Horto, Indiana, and Rádio Sonda, as well as ties between evictions and access to electricity in Rio das Pedras and Vila Hípica. We also reported on the first forced eviction to occur since the pre-Olympic era, in Maracajás, and Rio's first collective adverse possession titling ceremony in Chácara de Catumbi. Further coverage included an unmasking analysis of authorities' evictions tactics and reporting on Mayor Crivella's characterization of participants in occupation movements as slaves.
We also published a six-part series that comprises the book chapter entitled "Not Everyone Has a Price: How the Small Favela of Vila Autódromo's Fight Opened a Path to Olympic Resistance" recounting the story of Vila Autódromo's struggle. Written by our editor-in-chief, the chapter is part of the book Rio 2016: Olympic Myths, Hard Realities edited by economist Andrew Zimbalist.
Federal Military Intervention
Through reporting on community responses, academic reports, and in-depth analyses of its impacts, RioOnWatch ensured that favela voices were heard in the debate around the military intervention in Rio. We also provided special coverage of Black July and its denouncing of state violence against black communities.
Favela Community Land Trusts
Our 2018 reporting on Community Land Trusts (CLTs) was intended to disseminate this innovative housing and collective land ownership model so more residents, urban planners, lawyers, and technical allies can be a part of adapting the concept to Rio's favelas. Coverage included a detailed explanation of Favela CLTs, an analysis of Brazil's new land regularization law, a survey of the global applicability of CLTs, and reporting on a series of workshops held by Catalytic Communities (the organization that publishes RioOnWatch) and the Caño Martín Peña CLT, from San Juan, Puerto Rico.
Sustainable Favelas
By profiling over a dozen initiatives from the Sustainable Favela Network, we brought to light how favela organizers are at the forefront of promoting socio-environmental justice in Rio. Covering topics such as music, recycling, memory preservation, sanitation, green roofs, martial arts, Afro-Brazilian ancestry, and permaculture, the articles give readers a broad understanding of the fertile favela sustainability and social resilience community. Coverage on the topic also includes reporting on a series of exchanges held between some of the most established projects within the Network.
Digest Archives
For a full look at what we published in 2018 as well as a selection of international media coverage of favelas, visit our RioOnWatch digest archives, sent out weekly throughout the year.
And here's a concise overview of RioOnWatch's work: